Last week, Alcoa Inc (NYSE:AA), JPMorgan Chase & Co. (NYSE:JPM), Citigroup Inc (NYSE:C) and Wells Fargo & Co (NYSE:WFC) kicked off earnings season. Aside from Wells Fargo, all these reports were very good, lifting the markets higher until a small pullback came in on Friday. Next week things get even more crazy with tons of big names reporting, especially in the tech sector. Many stocks are priced to perfection after the stock market hit new all-time highs. Even with solid earnings, it may be hard to keep the market heading higher. Below are the reports you need to look for with projections based on hours of chart analysis.
After hours of hardcore analysis and stock chart study I created this spreadsheet of every major company reporting in the coming week. For each company it shows when they report, what is expected, the current stock price and the expected price movement on earnings. I will track my results and revist them.
Signup to Verified Investing and opt into my latest Trades. Only reward me if I give you profitable information. Check out my Verified Track Record. Verified Investing verifies every trade I take via their real time quote platform.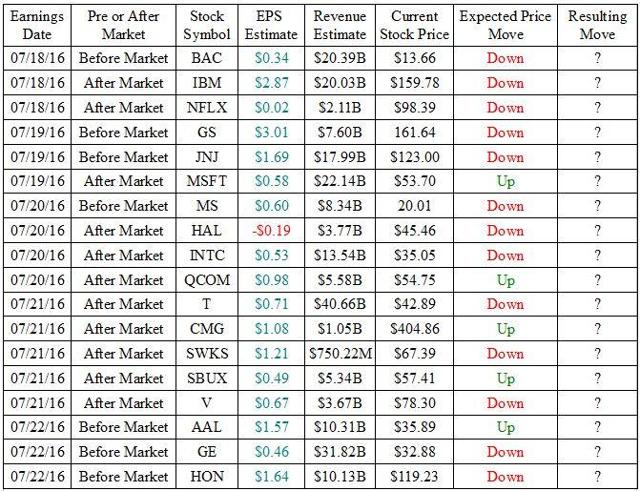 - - -
Jenny Rebekka
Verified Trader