On the 19th of October, the Wall Street Journal (WSJ) released a publication titled, "CEOs Tally Health-Bill Score", where co-authors, Janet Adamy and Greg Hitt discussed the causes and effects of a health bill tallying $829 billion over 10 years. The essence to this work was best described in the subtitle which reads: "Drug Makers and Hospitals Figure to Benefit, While Insurers Brace for a Big Hit".
Where "timing is everything", experienced investors begin forecasting potential new trends and movements in the equity market. The question is, how do we interpret a raw source of information, for instance, the WSJ's article, and put our money to work? Staff at Timeless Wealth took to value companies in the Healthcare Sector, interpreting that is where the market bulls will head next. Our findings? Read on.
American Oriental Bioengineering Inc., listed on the NYSE under the symbol AOB, encompasses the best of both worlds: the roaring Small Cap China market, and the currently underrated Healthcare Sector. Among debt-ridden, overvalued Biotechnology competitors, American Oriental boasts an excess of $100M in cash, with revenues in the last reported quarter (period ended June 30, 2009) growing 21% compared to the same period the in the year prior. EPS (ttm) of $0.60/share, contributes to a P/E ratio of 7.7, less than half the industry average (17.26). In the event the market adjusts to a valuation based on the industry multiplier, the upside to
American Oriental could be as much as $10.35/share, assuming that on the 9th of November, American Oriental does not surprise the market with earnings growth. Bare in mind that for the second quarter 2009, American Oriental recorded its largest net income since the third quarter 2008. Earnings translate to value, and value to high ROI.

The 800-pound Gorilla -earnings season, is where intricate research and analysis play a significant role behind the scenes of speculation and panic.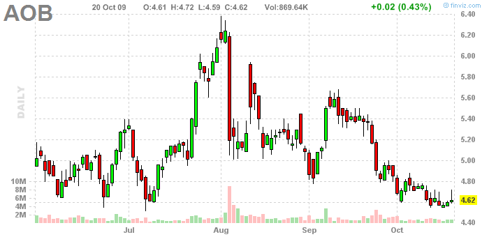 Disclosure: The author is long American Oriental Bioengineering Inc.