New Energy Systems Group (OTCBB: NEWN) announced on Friday approval to uplist to a bigger and better exchange in search for bigger and better things – at least that's the way investors seem to interpret the announcement. Starting on Monday August 16th, shares of the Micro Cap Chinese lithium-ion battery cells manufacturer will be listed on the NYSE AMEX exchange. 
It strikes us as oddly familiar that just 11 months prior, Puda Coal Inc. (AMEX: PUDA), formally PUDZ.ob, jumped from $4.50/share to up over $8.50/share in under five weeks, following an uplisting announcement revealing shares would then trade…on the NYSE AMEX. Perhaps it is irrelevant that the Micro Cap Chinese Company extended to a new 52-week high ($11.90) several months afterwards.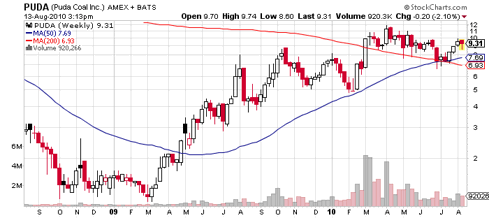 Coincidence? We think not. The market seems to agree with our interpretation as investors place bets on bigger and better things to come once New Energy Systems Group (OTCBB: NEWN) common shares are listed on the AMEX under the ticker 'NEWN'.
We'll even go as far as to suggest a relationship between Small and Micro Cap Chinese companies that seek higher-exchange listings by averting your attention to environmental protection and remediation company, RINO International Corporation (NASDAQ: RINO). Formally traded on the Over-The-Counter Bulletin Board (OTCBB), a fantastic growth story spurred shares onward and upward 775% in under 7 months.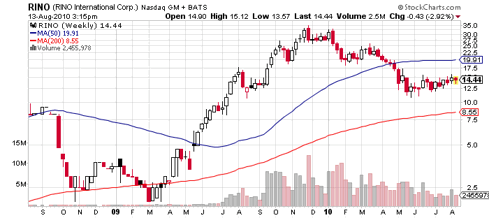 Are we suggested that kind of upside movement with shares of New Energy Systems Group (OTCBB: NEWN)? Certainly not. But with an attractive trailing price-to-earnings ratio of 6.8 and explosive growth in sales, we can see where investors draw interest from.

Click here for the official uplisting transcript.
Daily Chart View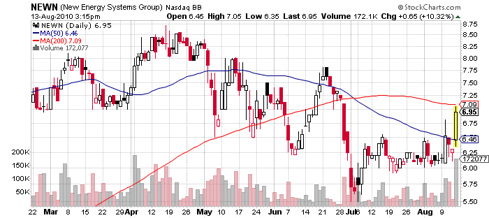 Disclosure:
Author has no position to disclose.