Yesterday's February existing home sales data showed a decrease of 0.6% - the third straight month of decline.  Inventory of unsold existing homes jumped 9.5% to its highest level in two years.  Today's February new home sales data showed a drop of 2.2% while experts had expected an increase.  The poor data is being shrugged off by claims of poor weather.  The market knew of the poor weather (these storms didn't just pop up at the end of February) as did economists and industry experts, and they still came in too high with their estimates. 

On top of the poor data, the Federal Reserve will end purchases of mortgage related securities next week which is another mechanism that has been used to keep mortgage rates artificially low.  Also, there is only one month left of the governments tax break for home buyers.  In order to qualify, the home has to be purchased by April 30 and close by July 1 to qualify.  

So where does this leave the future of housing?  The Fed can't lower rates any more (they are already near zero), unemployment issues are still not abating (yes I know that unemployment is a lagging indicator, but this is ridiculous), and now the middle class will be strapped with a series of new taxes to pay for mandated health care.  

The chart below dates back to 2002.  The black line is the HGX (the Philadelphia Housing Index) which consists of housing related companies. The red line is the S&P 500.  Notice how as early as 2005 that HGX began breaking down as the S&P 500 pushed to new highs.  Following the long, obvious divergence, equities eventually followed housing stocks lower.  Now notice how the two indices re-asserted their high correlation to one another in 2008 - peaking and troughing in the same time frames.  Housing related stocks led the rally, rocketing higher off of the March low, while high correlation was maintained.  That correlation held until September of 2009, when the S&P 500 raced to a series of new highs while HGX remains rangebound.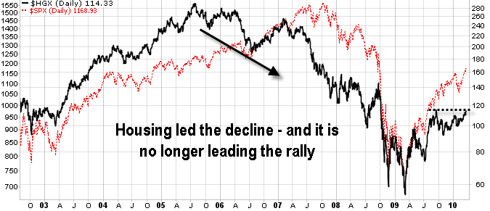 Yes the previous divergence lasted two years as housing broke down well before equities, but the Fed had many tools at its disposal at that time that it used to slow the decline and keep investors at the punch bowl for two more years.  Now, however,  the Fed has used just about every weapon at their disposal to get things cranked up again.  That means that the divergence at this stage will resolve itself in a much quicker time frame since the Fed is effectively out of bullets.  In spite of the warning signs, equities continue to rocket higher without a care. 

Housing fueled the last round of economic expansion as consumers overspent and became overleveraged by using their homes as piggy banks.  What is going to fuel the next round?  When will unemployment ease?  What will happen when the economic gimmicks expire?  What will happen when the government turns off the printing press?   

Unless housing related stocks find favor in the near future or another bubble forms elsewhere, the bear could show its teeth again sooner than many complacent investors realize.

Disclosure: No Positions