Released on September 28th 2009. Sign up at caesarsreport.com to receive all reports and alerts live, free of charge.

Dear Investor,


With this report, we bring you one of the most promising and undervalued companies out there. We planned to finish the report before our holiday, but had to postpone it. Unfortunately in this short time, the company came with news pushing the stock price higher. Although take-over news is good, this also brings higher risks. The possibility of a low buyout price cannot be excluded. We sincerely apologize, but still believe in the incredible potential of this stock. Read on, and find out more about Churchill.

To read more about the latest press release, follow this link;
http://www.reuters.com/article/rbssEnergyNews/idUSB18929920090928


Churchill Mining Plc

Price 82.5 pence
Ticker LON:CHL (NYSEMKT:AIM)
O/S 77,338M
Countries Active Indonesia
Avg. Volume 195,000
Main Sector Coal Exploration & Mining 


Churchill Mining Plc is a United Kingdom-based company. During the fiscal year ended June 30, 2008 (fiscal 2008), the Company was focused on the development of the Indonesian coal assets, the East Kutai Coal Project and the Sendawar CBM project. The Company's East Kutai Coal Project covers an area of approximately 775 square kilometers. The Sendawar Coal Bed Methane project is located in the East Kalimantan. The Company's subsidiaries include Planet Mining Proprietary Ltd and PT Indonesia Coal Development. Churchill Mining Plc owns 95% of the shares in PT Indonesia Coal Development with the remaining 5% held by Planet Mining Pty Ltd. During fiscal 2008, the Company divested 80% interest in the South Woodie Woodie Manganese Project.

East Kutai Project 
Let's just face it, this project is astonishing. The current resource estimate is 3.18 BILLION tonnes of coal, of which 1,333 million tonnes are Measured and Indicated(August 26th press release). In the same press release, a RESERVE estimate is anticipated before half October. If they can present the world a decent amount of tonnes in reserves, the only way is up. 75% of the project is attributable to Churchill Mining at this point. And let's not forget the most important thing. To obtain the resource estimate of 3.18 Billion tonnes, they have only drilled 30% of their property yet, so we think it's reasonable to expect there are much more tonnes of coal out there! The feasibility study of the East Kutai Project will be out at the end of this year.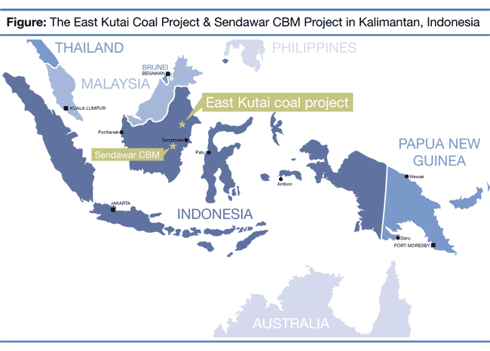 Operating Details on the East Kutai Project

Churchill currently holds 7M GBP in cash, and at current cash burn rates, they should be fine until the summer of next year. The total construction cost is estimated around 300million GBP, 225M attributable to Churchill. The first years of production will proceed 3-5Million tonnes a year, at a cash cost of around 30$/tonne. In a second phase, production will be ramped up towards 20 Million tonnes a year, with a much lower cash cost per tonne, around 14$.

Churchill is currently in talks to gain access to a multi-user coal barge port. Once gained that access, operating costs could fall even more. Churchill is also currently reviewing its coal treatment process, trying to move the energy content in a tonne higher, so they can obtain higher prices for their coal. More practical seen: for a 10% higher cash cost, the prices for the 6000kcal coal, are about 60% higher, so that's definitely worth looking at.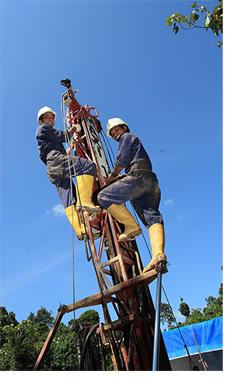 Production Start-Up
Currently, not less than four (4!) potential partners are doing their due diligence on the project (July 23rd press release). The most credible scenario would be that a Joint Venture partner buys the 25%stake of the minority partner, and 24% from Churchill. In that case, Churchill will be operator of the project, while only having to contribute 51% of the construction costs.  And we also think they may receive a nice amount op money for selling their 24% stake.
We think dilution of the outstanding amount of shares will happen, but at an acceptable rate. Ocean Equities mentioned the next sentences in their Weekly Note of September 22nd:
"To the north, in Indonesia, Churchill Mining has little doubt it will be able to line up funding for its huge coal discoveries on the island of Kalimantan. Off-take has always been part of the game plan for Churchill chief Paul Mazak, and Indian power companies haven't been shy in the past to venture into Indonesia."

 
Pruction Cost
The current price for Churchill's coal is US$36/t. Production costs would be around $15/t. The project would then generate free cashflow of US$420M per annum for at least 30 years, of which 75% belongs to Churchill. With 275M GBP cashflow, net profits should be around 130-150M GBP (conservative estimates). Even if we dilute the outstanding shares by 100%, in order to raise another 65M GBP, earnings/share would be around 80-95 pence.
Churchill is trying to get a higher amount of calories in their coal to get around 6000KCAL/t. The price for this higher calorie coal would then be US$60/t with a cash cost of US$20/t. In this scenario, the cashflow per annum would be US$800M or 520 GBP.
We will have to wait for further results until we can be certain that the high calorie coal can be produced.
Regarding the cheap tonnes in the ground (0.14 USD/tonne, compared to 5.40 USD/tonne in the sector), the huge production capacity, the gigantic resources (and hopefully in a few weeks reserves), and the low market cap, we wouldn't be surprised if some major miner took this one out of public hands. BHP Billiton sits on 18 billion USD cash, and said it is exploring the market to acquire targets within the company's interests. BHP already has coal assets, is present in Indonesia, and certainly has the money. Nevertheless, on September 28th Churchill firmly denied negotiating with BHP Billiton.



Additional Research
At the Churchill website, you can find some Analyst Research Reports, that are worth reading.

www.churchillmining.com/library/file/17%...
www.churchillmining.com/library/file/res...
www.churchillmining.com/library/file/res...

We want to urge you to do your own research, before investing. As we said before, we wanted to discuss this matter before our holiday but decided to postpone it, and unfortunately, the stock has risen steadily over the past weeks, up almost 75% since September 1st. Please be aware of the higher risk because of this. See you in our next report or alert and have a great day!

Kindly yours,

The Caesars Report Team
www.CaesarsReport.com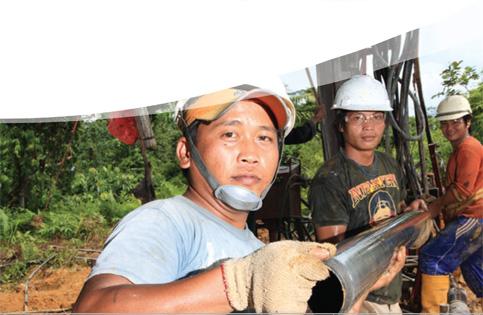 Disclaimer

For the full disclaimer, visit http://www.caesarsreport.com/discl
The CaesarsReport.com employees, Caesars Report ("We" "They" "Caesars Report") are not Registered as an Investment Advisor in any jurisdiction whatsoever. CaesarsReport.com employees are not analysts and in no way making any projections or target prices. Neither the information presented nor any statement or expression of opinion, or any other matter herein, directly or indirectly constitutes a representation by the publisher nor a solicitation of the purchase or sale of any securities. The information contained herein is based on sources which we believe to be reliable but is not guaranteed by us as being accurate and does not purport to be a complete statement or summary of the available data. The owner, publisher, editor and their associates are not responsible for errors and omissions. They may from time to time have a position in the securities mentioned herein and may increase or decrease. Please always do your own research. All information was provided by the company, their presentations and website. We are not responsible for errors made herein. Please consult a broker before purchasing or selling any securities mentioned herein.


Disclosure:
We hold a Long position in Churchill Mining Plc, this means we are biased, so please do your own research. Educational use only, not intended as advice.