Released during 
January 2010
, meaning that much has changed since then. 
Track our "Mining Top 25 portfolio" at caesarsreport.com/portfolio Sign up at 

caesarsreport.com

 to receive all reports and alerts live, free of charge.
Price
C$ 0.66

Ticker FRS
O/S 178,580,000
Avg. Volume 20,200
Market Cap C$ 115.9M
Sector Mining (Fe)
Countries Active Australia
Cash A$ 12.4M



52 Week Low:

C$ 0.140 (12/26/2008)
52 Week High: C$ 0.840 (10/26/2009)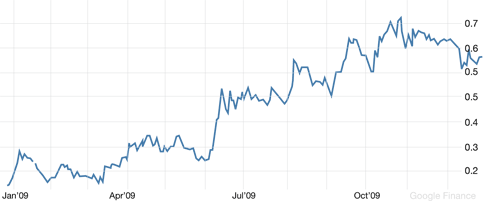 Company Statement

FerrAus Limited is an emerging developer of iron ore in the East Pilbara region of Western Australia. As an emerging developer, it has a wholly owned, strategic foothold in the under-explored, highly prospective new iron ore sub-province East Pilbara region of Western

Australia, encompassing more than 540 square kilometres with a potential strike length of 20-30 kilometres. Within this strategic holding, FerrAus is fast tracking development of its Robertson Range iron ore project, which has a current resource of 52.3 million tonnes at 59.0 per cent Fe, to produce low-cost, direct-shipping hematite. FerrAus is simultaneously exploring for similar style Marra Mamba as well as Brockman-type iron ore deposits on its adjacent Davidson Creek Project, which has identified current resources of 114.2 million tonnes at 58.4 per cent Fe.

The company currently owns two other exploration projects in Western Australia: - the Enachedong Project (manganese) located in the East Pilbara near the operating Woodie Woodie Mine; and - the Silver Swan North Project (nickel and gold) located approximately 45 kilometres northwest of Kalgoorlie.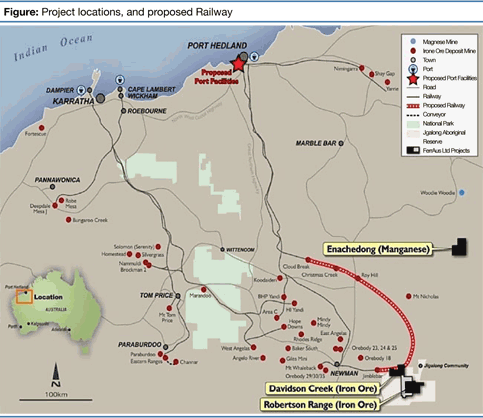 Positive / Negative


Positive: Big (Chinese) Shareholders, keen on Iron Ore, nice project.
Negative: Still needs access to a railroad to be able to ship ore to a port.
Main catalyst for 2010


- Access to railway

Disclaimer

For the full disclaimer, visit http://www.caesarsreport.com/discl
The CaesarsReport.com employees, Caesars Report ("We" "They" "Caesars Report") are not Registered as an Investment Advisor in any jurisdiction whatsoever. CaesarsReport.com employees are not analysts and in no way making any projections or target prices. Neither the information presented nor any statement or expression of opinion, or any other matter herein, directly or indirectly constitutes a representation by the publisher nor a solicitation of the purchase or sale of any securities. The information contained herein is based on sources which we believe to be reliable but is not guaranteed by us as being accurate and does not purport to be a complete statement or summary of the available data. The owner, publisher, editor and their associates are not responsible for errors and omissions. They may from time to time have a position in the securities mentioned herein and may increase or decrease. Please always do your own research. All information was provided by the company, their presentations and website. We are not responsible for errors made herein. Please consult a broker before purchasing or selling any securities mentioned herein.
Disclosure:
We hold a Long position in FerrAus Limited, this means we are biased, so please do your own research. Educational use only, not intended as advice.