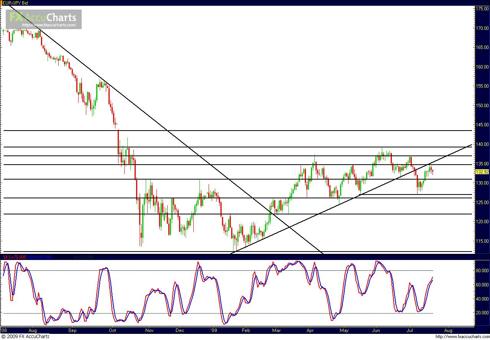 EUR/JPY, a daily chart of which is shown, was recently rejected at the strong resistance imposed by both the key 135.00 support/resistance price region as well as the underside of a major uptrend line that was broken down earlier this month. This turn at resistance represents a pullback after the trendline was broken. The next major downside target in the event of continued bearishness off this pullback resides around the key 131.00 level. And any subsequent breakdown below 131.00 could eventually target further major support around 127.00. Current upside resistance in the context of the current pullback continues to reside in the 135.00 price region.
- James Chen, CTA, CMT
* I will be giving a workshop at the Forex & Options Expo in Las Vegas, August 3rd. For more information: http://www.moneyshow.com/lvfx/WorkShopDetails.asp?wkspid=1C565A972C0E408C906EB11624490B12
* I will be key speaker at FXstreet.com's International Traders Conference in Barcelona, Spain in October 2009 - for more information, please go to: www.traders-conference.com .
* For information on my book, Essentials of Foreign Exchange Trading (Wiley), please click here.
* Follow my intraday forex updates on Twitter: http://twitter.com/JamesChenFX