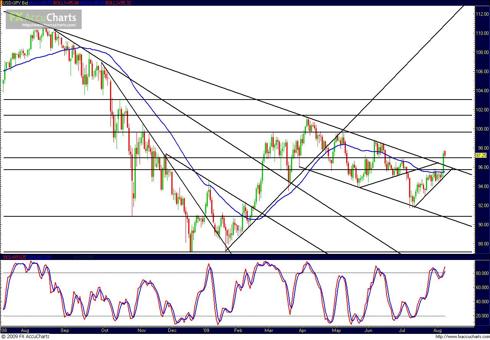 As shown on the accompanying daily chart, USD/JPY broke out dramatically above a key parallel downtrend channel on Friday (8/7/2009), and has settled down as of Monday (8/10/2009) morning just above the 97.00 support/resistance region. This parallel channel breakout is especially significant because it also represents a breakout above an important downtrend resistance line extending from the high in August 2008. Any substantial bullish continuation off this channel break (which would be confirmed on a breakout above 97.75) should target further upside resistance in the key 99.70 price region. In the event that the channel break ultimately loses its bullish momentum, near-term downside support resides around the top of the broken channel, as well as the 95.80 price region.
- James Chen, CTA, CMT
* I will be key speaker at FXstreet.com's International Traders Conference in Barcelona, Spain in October 2009 - for more information, please go to: www.traders-conference.com .
* For information on my book, Essentials of Foreign Exchange Trading (Wiley), please click here.
* Follow my intraday forex updates on Twitter: http://twitter.com/JamesChenFX