Foreclosures
There were nearly 3 million foreclosure filings in 2009 according to Realtytrac see here
http://www.realtytrac.com/contentmanagement/pressrelease.aspx?channelid=9&itemid=8333
. This represented an increase of 21% from 2008 and 120% from 2007. The report also shows that 2.21 percent of all U.S. housing units (one in 45) received at least one foreclosure filing during the year, up from 1.84 percent in 2008, 1.03 percent in 2007 and 0.58 percent in 2006.
Upside Down on Mortgages
One in 4 borrowers is Underwater on their mortgages. The proportion of U.S. homeowners who owe more on their mortgages than the properties are worth has swelled to about 23%. Look here for more details on this.
http://online.wsj.com/article/SB125903489722661849.html 

Strategic Defaults
Who is more likely to walk away from a house and a mortgage -- a person with super-prime credit scores or someone with lower scores?
See below. The number of strategic defaults is eye popping - 588,000 nationwide during 2008, more than double the total in 2007. They represented 18% of all serious delinquencies that extended for more than 60 days in last year's fourth quarter.
http://www.latimes.com/classified/realestate/news/la-fi-harney20-2009sep20,0,2560658.story

Home Ownership
Home Ownership rates for the United States stood at 67.1% at the end of the first quarter of 2010. This is down from a peak of 69.2% reached in Q4 2004. Now just consider for a moment what the number of rising foreclosures and Upside Down borrowers is going to do to this number. I will not even hazard a guess.
See here for homeownership more on this.
http://www.census.gov/hhes/www/housing/hvs/qtr110/q110tab5.html

Employment
In March 2010, the number of unemployed persons was at 15.0 million, and the unemployment rate remained at 9.7 percent see here. So unemployment has been stable for a few months.
http://www.bls.gov/news.release/empsit.nr0.htm


Markets
What happened to the Markets in the meanwhile?
The S&P 500 has risen from its lows of 666 on March 6th 2009. Following this low, the S&P 500 is today at 1190 - a meteoric rise of almost 70%.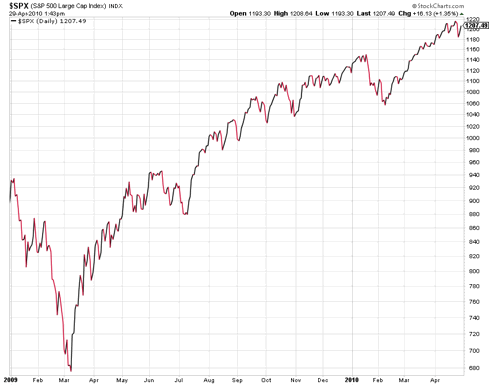 How was this possible? While Americans were losing their shirts off their backs and roofs over their heads, Wall street was gyrating skyward. What was causing this?
I hope that I can shed some light on this below.
We are turning into a Nation of renters.
What does this mean for the economy ?
Think REITS/Consumer Electronics/Restaurants/Travel.
Ever wondered why Apple is able to increase their revenues by 50% in Q1 2010 and why are sales of the iphone going through the roof?
Why a stock like Open Table a provider of online reservation service for the restaurant industry has since its debut in May 2010 almost doubled today?
Why a stock like Equity Residential that acquires and manages apartments sprinted 150% from the march 2009 lows a move two times that of the S&P 500?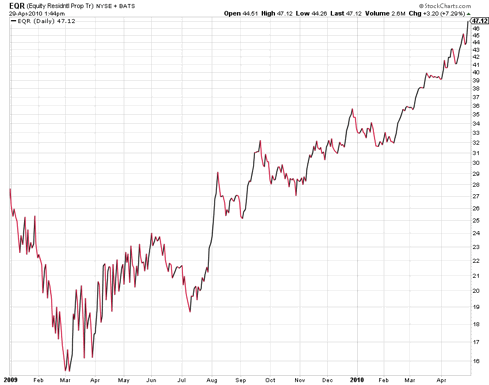 Why are the above companies outperforming the Market not only in real growth, but also in share price?


As consumers who have foreclosed or those that are strategically defaulting do not have to make their mortgage payments anymore, this cash is now freed up for other purposes including rent. It is all about the ability to show that you can stand out from the crowd. In the past you could do this by living in a grand Mac mansion or driving an expensive car. Today as the above crowd cannot qualify for mortgages and car loans, what do they do? They trade down they eat out, take vacations and spend on personal consumer electronics.
How do we confirm that this is happening?
The market tells us this in the prices of these sectors as compared to the S&P 500. There is an outperformance of these sectors as compared to the S&P 500 since the March 2009 lows.
From the Market bottom in March 2009 till today the S&P 500 has gained by about 70%. On the other hand consider the following
A Travel & Leisure ETF PEJ has gained by a whopping 125%.
http://stockcharts.com/charts/performance/perf.html?$spx,%20pej
The Dow Jones Consumer Electronics Index DJUSCE has gained by an even bigger number 185%.
http://stockcharts.com/charts/performance/perf.html?$SPX,$DJUSCE
The Vanguard Real Estate Investment fund VNQ has gained by an eye popping 158%.
http://stockcharts.com/charts/performance/perf.html?$SPX,VNQ
So are we late to the Wall street party as usual? Yes and No.
I believe that we are about 9 months late to this party. However from a longer term perspective this party is just beginning and I expect this outperformance of these sectors to continue at least for another 5 years as the number of renters continues to increase more cash will be freed up to be spent on the above sectors of the economy. So the economy will continue to hum again with Iphones/Restaurants/travel/Rental apartments as the new engines of growth.
Disclosure:
No Positions
Disclosure:
No Positions