The current market pricing is grossly undervalued
Valuation should be understood in terms of an objective quantitative model and a comprehensive qualitative explanation that enlightens investors to expectation and potential.
The blended valuation model implies a pricing of $4.90 given the average weighted shares outstanding of 43M. The Sum of the Parts estimation of $7.14 is discounted 10% and is significantly above ASTM current <Friday, 8/31/12 closing > price of $1.67. Shares of ASTM offers upside but these last 30 days shares have been driven down by the "Common Stock Exchange" and "dog-days-of-summer" market conditions.
We derived our current valuation by using a Blended Price Valuation Table which includes a Sum of the Parts (SOTP) analysis and a direct comparable analysis layered with a sector comparable analysis. Our SOTP scenario is extremely conservative (with a 10% discount) and details a Sum of The Parts value of $7.14 and when merged with a direct comparable analysis of $3.70 reinforced by a stem cell sector perspective of $3.86 which implies a blended valuation of $4.90 given the current shares outstanding of 43 M with a fully diluted number of 73 M.
The Avg. Blended Price Valuation of $4.90 is significantly above this stock's current price of $1.67 and the 52 week trading range of $1.52 - $2.91. We note the average market capitalization of designated comparable is $157.43M or about 2.2X the implied multiple of ASTM's market cap of $71.12M. In a review of their overall sector stem cell companies, ASTM has a 2.3X multiple and a fair value of $3.86.
Valuation Analysis
Direct Comparable(s):

Sector Comparable(s):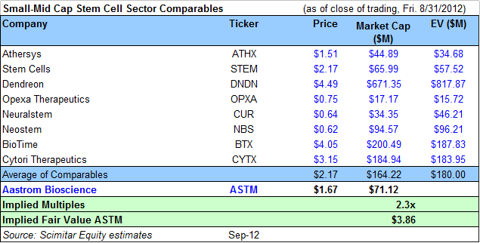 Let's bring up a little history:
On 7/27/12, ASTM completed an exchange of common stock up for 9.7M of its outstanding warrants issued in December 2010. The warrants exchanged had an exercise price of $3.22 and an expiration date of 12/15/15. ASTM exchanged one (1) share of common stock for every two (2) 12/10 warrants surrendered by the warrant holders. Accordingly, ASTM issued 4,845,949 shares of common stock.
The share pricing was "skewed" by the "Common Stock Exchange" thereby reducing the total number of fully diluted shares outstanding and the potential for further dilution. The facts are that ASTM's warrants were, unfortunately, cashless warrants. One more reason these warrants needed to go. There was just no potential benefit to the company … or shareholders. ASTM needed to get them out of the capital structure.
I think the important thing… for investors to note … is that these warrants were cashless exercise warrants, so they would net settle in shares upon exercise. There was no scenario where ASTM … would have ever received … cash for these. This plus the full ratchet feature, plus the Black-Scholes put feature made these very toxic warrants that ASTM … which needed - out - of their cap structure.
Shareholders saw more dilution and no additional cash in for that - so the cost of the previous deal is actually 8.36M if they do the 7.66M shares and $10.9M … if they do all 10M shares … That would be good for them and likely for the peers and field. In the case of these warrants - they were … a net negative for them … as the exchange caused the stock to run down.
Risks
ASTM's operations and financial results are subject to various risks and uncertainties, financial condition, results of operations, cash flows, and trading price of its common stock. There may be additional risks and uncertainties that are not known or material. ASTM has incurred a cumulative net loss totaling approximately $260M, and continues to incur losses. These losses have resulted principally from costs incurred in R&D (including clinical trials) of cell culture technologies and cell manufacturing system, G&A expenses and the prosecution of patent applications. ASTM expect to continue to incur significant operating losses over the next several years and at least until and probably after product sales increase, primarily owing to R&D programs, clinical trials and the establishment of marketing and distribution capabilities necessary to support commercialization efforts for products. ASTM cannot predict with any certainty the amount of future losses. ASTM's ability to achieve profitability will depend, among other things, on successfully completing the development of product candidates, timely initiation and completion of clinical trials, obtaining regulatory approvals, establishing manufacturing, sales and marketing arrangements with 3rd parties, maintaining supplies of key manufacturing components, acquisition and development of complementary activities and raising sufficient cash to fund our operating activities. With $29M in cash with a projected burn rate of $7-8 M per quarter, ASTM will need to raise additional funds, or through a collaborative partner (or both), to finance the advanced P3 Critical Limb Ischemia (NYSE:CLI) clinical trial of Ixmyelocel-T therapy and their next cell product candidate for dilated cardiomyopathy (DCM) which has completed a P2a, open-label, prospective, randomized and multicenter trial.
The Bottom Line: Valuation should be understood in terms of an objective quantitative model and a comprehensive qualitative explanation that enlightens investors to expectation and potential. Given the lack of a specific valuation or an estimate formula for stem cell companies, we are blending different models for a valuation, or as some refer to a price target to come up with a true measurement tool. We refrained from the discounted cash flow analysis, as most of these companies generate losses per share layered by multiple dilutive financings hoping for the holy grail of an approved therapy and there are just ... too many assumptions pre ... any approval process. These valuations are just market derived and driven!
It is the secret yearning of CEO/CFO's to rid their capital structures of over-hangs and warrant burdens but, taking the hit … is hard to do. Of course there were a lot of … "ifs" in transaction but, the purpose of the exchange was to improve the ASTM's capital structure by … reducing the number of outstanding warrants which had complex and dilutive features which also … reduces the number of fully diluted shares by over … 6%. Bold moves … the "Common Stock Exchange" increased the outstanding shares to 43M shares <from 38.76> but, reduced the fully diluted number to 73M from 77.9M shares.
The cumulative effect … simply stated … is a reduction of a "scare factor and risk" to fundamental investors. Too many RegMed company's valuations are "muddied" by these overhangs! Warrants have been frequently attached to stock and "unit" offerings as a "sweetener" in <past> equity financings which have been the vehicle forced upon issuers by investment banks. Many times unit offering investors executed the purchase of the share and warrant but, then sold the share keeping the warrant(s) which were detachable … I believe … diminished the trading opportunity of the share and reduced the viability of the trading volume.
ASTM's stock closed at …$1.67….on Friday, 8/31/12.
Disclosure: I have no positions in any stocks mentioned, and no plans to initiate any positions within the next 72 hours.