I wanted to post these 1 minute charts from today, 1/21, to illustrate how profitable short selling can be. These were from my watch list for today. Here is my tweet from 1/17 "$ALIM $LIVE $INFI main watches for Tuesday. Enjoy the three day weekend y'all"
LiveDeal Inc. (NASDAQ: LIVE) had a gap up out of the open and pushed toward 16. It topped out around 15.75 (round number) then pulled back and made a lower high. This is EXACTLY what I look for. Textbook setup. The stock went on to washout through 11.50. Huge opportunity for big profits. The play was to open the position (1/3 size) around 15.50-15.75 with risk on 16 break then size in on the lower high and ride the trend.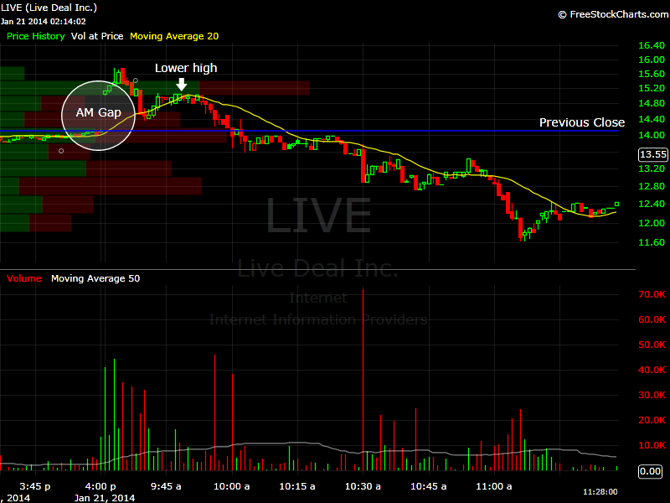 Alimera Sciences Inc. (NASDAQ: ALIM) gapped up as well and topped out around 8.25 (round number again). The stock put in a lower high around 8 then went on to flush down through 7. This is not the setup I planned for but I was prepared by coming to the market early and noticed that ALIM was up pre market. Another big opportunity.