Until the SPX proves otherwise, we are assuming it has topped, and are looking for a move down to the 2200 region.  As I previously mentioned, we are positioned from near the high in shares of ProShares UltraShort S&P500 (SDS) from near the high with stop out levels at break even, so it is now a no risk intermediate short position.
Yesterday SPX came down and broke all support levels except taking out 2789. While it can continue lower from here, we are watching for a potential move up to the .618 retrace fib that it failed to hit at 2837, or potentially up to the 2847 region.  
We did take a 2nd tranche position in shares of SDS near yesterday's high that we posted for our subscribes to The Active Investor, but when it failed to take out the low we exited with a small profit versus holding for the potential of taking small loss. We are still long a half position in shares of SDS, and looking to add to this position.
This scenario illustrates that acting investing is as much about managing risk as it is about interpreting and trading analysis.  If one effectively and at all times manages risks, then over time returns and the power of compounding will take over.  
Below is a chart we posted yesterday in our live chat showing the alternative expectation in the event SPX failed to take out the 2789 level, which of course is exactly what transpired.  However there is nothing that says the SPX can't proceed to take out the 2789 level directly from here, in which case we will view that as the 5th of a diagonal wave 1 in a i ii 1 2, and will then look for a short entry on the retrace against the move down from Tuesday's high.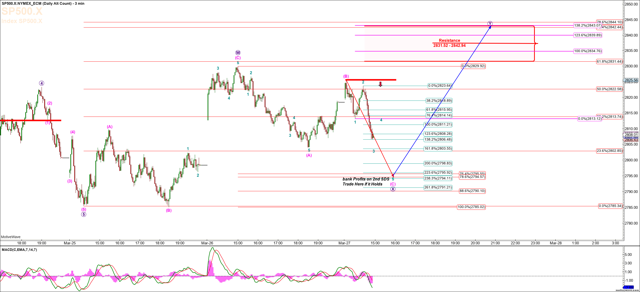 Disclosure: I am/we are long SDS.