There is only one cure for grey hair. It was invented by a Frenchman. It is called the guillotine. - P G Wodehouse

I suspect that there are many like us at the moment; carrying a few more grey hairs than with what we entered into the new year.

Over the last few weeks the major market indexes have descended to mid-November 2009 levels. Not exactly super news, but we retain some comfort to see that major technical levels of support have yet to be breached.

The level of bearish commentary on equities commodities has grown accordingly. If the "crowd" is crying bearish, as contrarians we will take the other side of the trade. At first glance, this appear to be a sure-fire way to add to our ever greying countenance. But let us stop and think for a moment.

As mentioned above, the VTI is still well above the previous major level of support and resistance.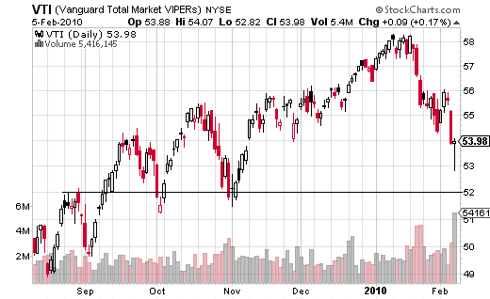 Is this a repeat of the devastation of late 2008/early2009? Looking at US Treasuries, we can see that they have traded in a comparatively stable manner, returning only to mid December levels.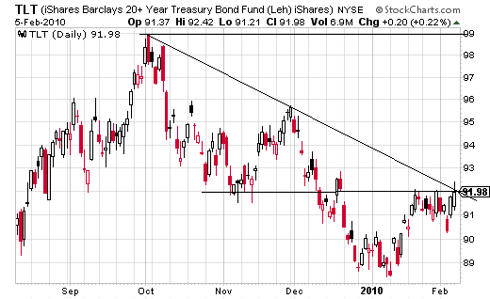 We still maintain our faith in the future of commodities, despite the recent dismal performance. We think the long term fundamentals make such dips buying opportunities; however you must now be thinking in a longer term time frame. Keep in mind that in Euro, GBP, and AUD terms the CRB is only trading at November/Early December levels. Some may feel that this is "blind" faith; these are the choices a trader must make (nothing to stop anyone placing short term bearish positions as we have done from time to time).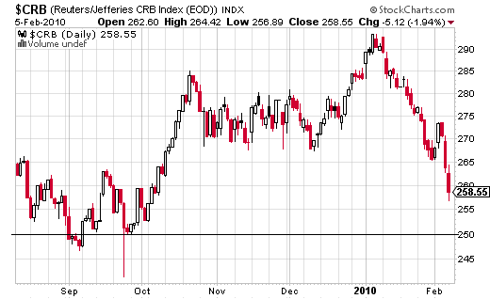 The performance of IYR has been surprising. Despite appearing much maligned in the press, this sector seems to maintain support with investors (unlike our beloved commodities).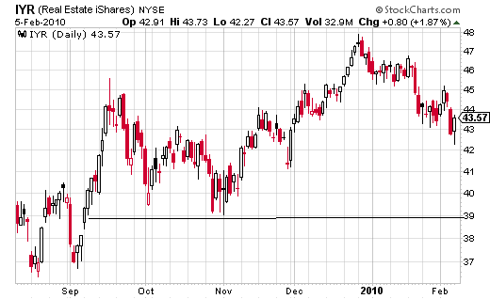 There can be no question that the USD Index is looking bullish and any technical analyst would tell you that this chart is going higher.

Higher it may go, but for the week ended Tuesday, the CFTC said the net spec short position in the Euro (this translates to bullish positions on the USD) reached a record high dating back to its introduction in 1999.

Given that the Euro has sold off dramatically since Tuesday it would be safe to presume that a new record has been set for bearish positions on the Euro.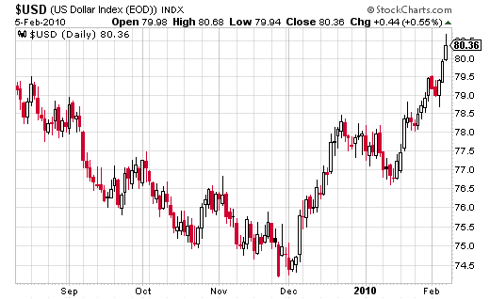 If you want to get bearish on the Euro now, you may be to late to catch this wave. You may like to try a long term put option, rather than a leverage FX trade. Whilst we are in this mind set we would also suggest the same for shorting equities and commodities; done with money you can afford to lose.

So, despise the dismal performance of the last few weeks, has a tradable change of trend taken place? should we reverse the majority of our long positions? At the moment we say no, dips are for accumulation.
  
Disclosure:
Long VTI DBC Short TLT
Disclosure:
Long VTY Short TLT