Just how oversold is the equity market? One of the most reliable indicators we have found is the NYSE 50 day moving average ratio. In essence it is the ratio of stocks trading above their 50 day moving average to below. A ratio below 25% we consider oversold and above 75% overbought. Currently the ratio is 24%.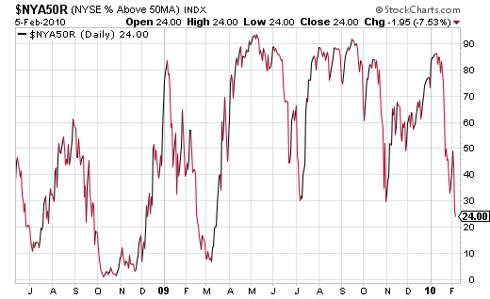 Of course just because the market is in an oversold condition does not mean that it is going to get even more oversold over the coming days/weeks. But we would just like to point out that if the S&P 500 were to fall to support at 1030 the 50 day moving average ratio would quite likely fall to 10, that is, the market would become as oversold as it was in early March last year.
OK now to take a stand! We consider the current weakness in US equity markets as a buying opportunity. Odds suggest that if you want to get bearish you are a few weeks too late!
Disclosure:
Long VTI