We are in the game to profit and make no bones about it. As well as managing a private fund, we are on a mission to educate investors in how to manage their own funds. 

The name of this site, Seeking Alpha, uses an investment industry term to describe those looking to outperform the markets. Here you can read many and varied views here on Seeking Alpha. Most are much more sophisticated that what we present, with a wide variety indicators, statistics, views on the markets. However we have our doubts about the validity of their trading strategies.

We too could provide similar articles, but in over 20 years of trading, we have yet to find the majority of the trading strategies we read here profitable over the long term. This of course is just as a much a comment upon our own abilities (or lack thereof), as casting judgement upon the words of others.

We have four rules that govern our approach:

Trade only asset classes (equities, bonds, commodities, & FX), & not individual assets (ie: QQQQ rather than CSCO)
Trade only macro market themes as these tend to be in place for years
Economists make awful traders, listen but don't nessecearily act upon their advice
Dispertion bleeds your account over the long term (successful short-term trading is the exception, rather than the rule)
We also have a range of trade management rules once we are in a trade.
As a result of the above rules, we identify a marco market theme, then scale into the trade over time, increasing leverage, and thus risk, the longer the trend is in place. 
Macro Market themes are very easy to spot. 
In forming our trading outlook we will always look at the larger indexes in the major asset classes.
Let's look at the equity markets, as measured by VTI. Quite clearly the price momentum is from the lower left to the upper right. Many on SA would argue that this is about to reverse. As well it might. Our rules say stay long, and so we shall.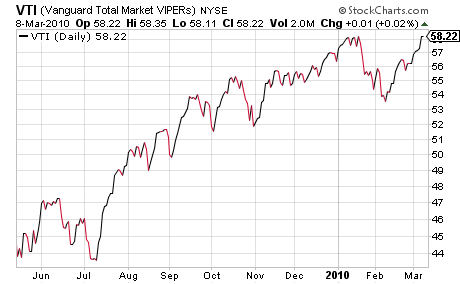 Commodity prices are also moving from the bottom left to the upper right of the graph. Somewhat slower than we were expecting, but the price momentum is still in an upwards direction.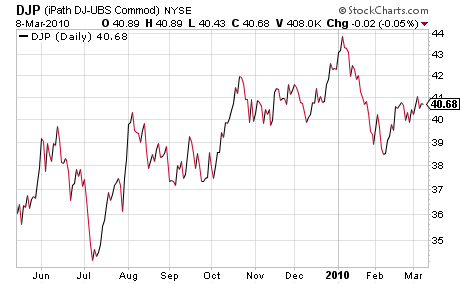 We think that US Treasuries will continue to move downwards.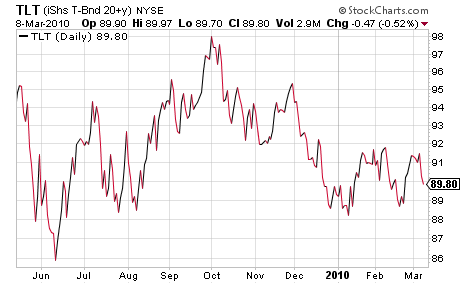 Who would have thought that Real Estate would experience such a bounce? Over a 50% increase since mid-July 2009.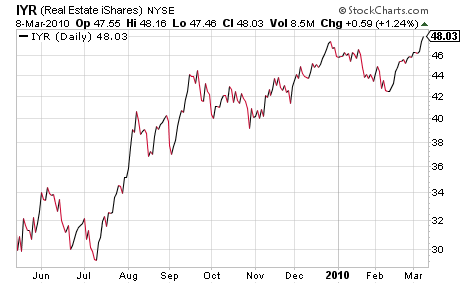 The USD has suprised us with the strength of its upwards movement. We don't believe that this is a long term trend change (or course we could be wrong) and will hold our shorts here accordingly. The fundamental conditions that lead to the decline are still in place, and attention will soon turn to the perilous state of various US states. The Californian economy alone by far dwarfs Greece, Portugal, Iceland, and Ireland combined. An California is not the only one.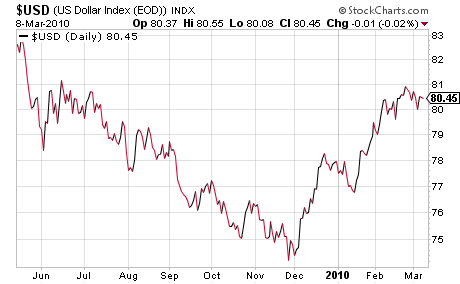 There will always be uncertainty in the market, things will change, black swans will come. We hold our positions based upon the way the market is now, and use our trading rules (stop losses, protective puts) to preserve our capital in case of either being wrong, or some
At the moment out positions are all unlevereged, the time is right now.
Take a look at your trading accounts. Are you still Seeking Alpha? 
This months issue of FX Traders carries an interview with Brett Steenbarger, he calls himself a "Traders Performance Coach". He does not teach trading strategies, but helps traders deal with the  pychological side of trading. An interesting read for anyone who wants to trade profitably.
Disclosure:
long VTI IYR DBC TBT UDN