After last year's drought in the U.S. Midwest, the anticipation is high this year for a more normal crop production season from the world's largest producer and exporter of food. The prices for corn and soybeans especially have slid lower based on these expectations; lower prices for grains should act to temper the bidding for farmland in the Heartland for a while. But this should only be interpreted as a much needed breather for an overheated farmland market in the U.S., not a reason to expect a change in overall trend. The key to understanding why can be found by focusing on the multi-year amount of grain stockpiles (meaning extra food able to be saved after what is consumed right away). The following chart shows clearly the downward trend in the amount of world supplies of grain in storage, measured using a scale of daily usage. Not too long ago, there used to be about 100 days of grain supplies on-hand at all times for consumption and now that average is around 70 days.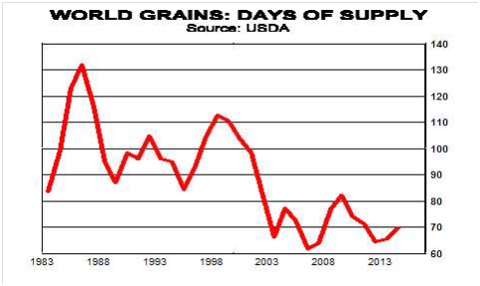 Source: AgriMoney(2013)/The Agri-Food Value View*
Rather than looking at annual production numbers or changes in outright crop sizes, the focus should be on demand versus production. Even if more food is produced than before (which it is), if demand is increasing faster there will still be a shortage. This chart clearly shows demand is overwhelming supplies. To get an idea how big a change this is, consider that if the U.S. produces the bumper crop that is now expected for this season (even though this is surely not assured at this early stage), it will increase the food in storage worldwide by only 2 days. If the overall world production this year is not disrupted by weather changes and the predictions for large size crops bear out, the food in world storage will increase by only 4 days. Investors in farmland (and agriculture related assets) should focus on this key point:
World demand for food is much greater than supply, therefore farmland prices are likely to remain supported for an extended period of time.
By looking at the current Chinese demand for food, the thinness of world supplies becomes even clearer. Last week China placed their eighth largest order ever for U.S. corn. Their own supplies are substantial, but the demand for animal feed to meet the increasing consumption of meat is greatly adding to their overall requirement for corn. China is also importing U.S. wheat this year, even though their crop was plentiful. This highlights another underlying fact that Chinese quality levels are not as good as what are available on the world markets; therefore they continue to buy from abroad.
Eventually, Chinese production will improve, break-throughs in technology are likely and under-producing regions like the Black Sea area of Eastern Europe will produce more. Supply will rise to meet demand; but this is still many years away. Investors should use this year's weakness in the market prices for grains as a time to look for buying opportunities in farmland.
*Note that many of the statistics and views for this article were based on those of Ned W. Schmidt and his newsletter titled, The Agri-Food Value View. I highly recommend this report for well-thought out insight into the agriculture markets and how they affect farmland and agri-stock prices.