With the close of markets on Thursday, May 29th, all my timers have transitioned to the "Long" side. This means that short-, medium-, and long-term timers are all indicating resumption of the uptrend that ended in March.
Whether the trend will continue into June is unknown. Your crystal ball is as good as mine.
From a long-term stance, the brutally-simple 13d / 65d timer has transitioned to "long". This means that the difference between the 13d EMA and the 65d EMA of my internal index (the "GGT Index") is now positive. As I've stated in previous emails, this is my last safety net. It kept me out of the 2008-2009 mess, and any time it is negative is a time to significantly raise cash.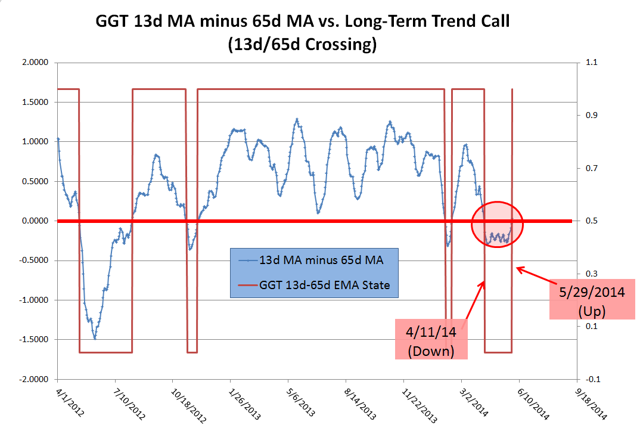 As I've stated in previous blog entries, the timer has signaled a move to cash or fully invested only 7 times since November 2008, so the number of signals to evaluate is low. You can also see from above that we can whipsaw, as we did in 2012 and earlier this year. Despite this, it's a good safety net and worthy of consideration in your arsenal.
From a timer status point of view, we're green: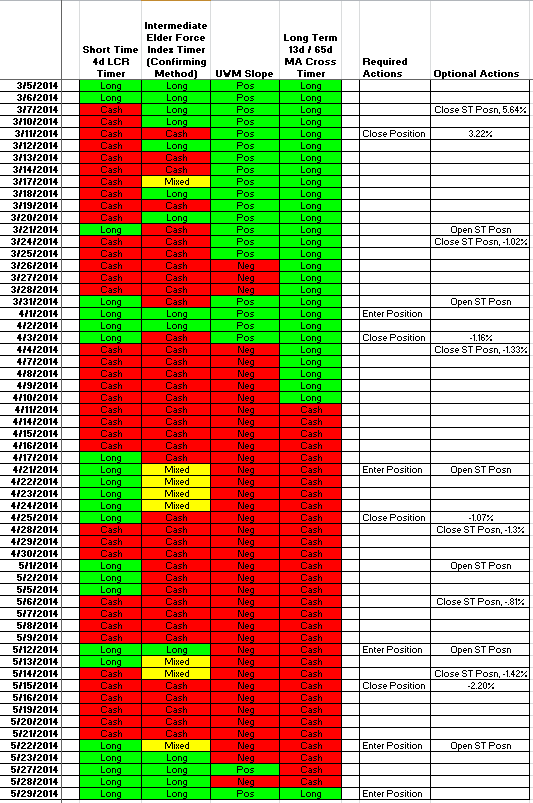 From a short- and intermediate-term point of view, we've been "green" for about a week. We're approaching what I call a "local overbought" condition which is where stocks have run up off lows and are now ready to ease back a bit, generating the "higher low" conditions. This will be absolutely key in the next week -- we do not want to see huge pullbacks in the market that take out previous lows.
A number of stocks are looking quite attractive here. The following list is my "greenscreen" list, and it is presently sorted in terms of the highest volume stocks to lowest volume, relative to the past 10 days of activity: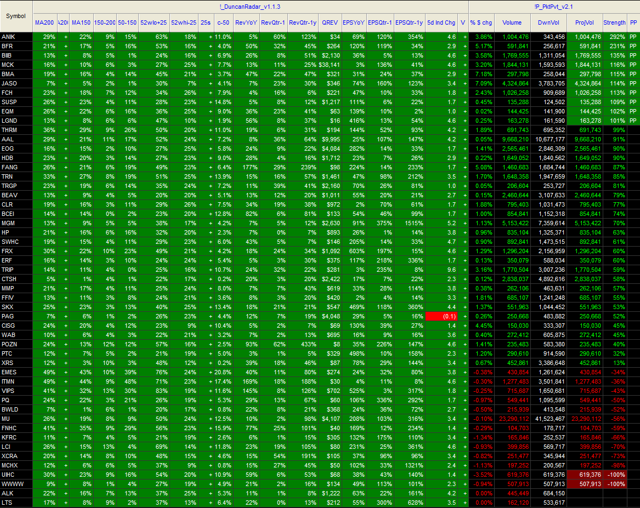 Right-click on the image to open in a new tab or window.
A description of the fields is here.
To save you the trouble of typing the symbols they are listed here.
The stocks listed at the very top of the greenfield figure are performing quite well on a number of fronts, both in the present market as well as with their fundamentals.
My strategy is simple -- buy breakouts and stocks which are signaling "New Long" conditions. As many of you know, I buy strength, not weakness. I have placed a BUY STOP on the following positions:
ADS above 257.13
BIIB above 320.16
BMA above 31.38
FFIN above 60.31
HURN above 67.91
MANH above 33.10
MCHX above 10.78
PAG above 46.69
SPWR above 34.15
WWWW above 35.05
I'm paying a great deal of attention to
ANIK
FANG
JASO
POZN
because these stocks are in some form of a squeeze and have great fundamentals.
As many of you know, I watch Effective Volume when I'm considering a stock. I've developed my own ranking system, and when match with the greenfield indicator, the following stocks are attracting money in this most recent up leg:
BIIB
EOG
ANIK
SWHC
FANG
FCH
JASO
BMA
ITMN
MMP
EQM
FFIV
TRIP
BCEI
MU
XRS
This isn't to say that others are not attaching money -- it is simply another method of slicing/dicing the stocks in terms of hidden inflow of capital. These are at the top of the list.
==================
There are plenty of ideas out there. Of course, this present cycle could reverse, and all of the noise of "sell in May and go away" could be 100% true. Again, your crystal ball is as good as mine.
==================
As with all my postings, it should be evident that you need to do your own diligence and that you are responsible for your own decisions. I am not. Please take ownership for your actions.
Regards,
pgd