For those of you not familiar with Chesapeake Granite Wash Trust (CHKR:NYSE), the trust's abstract outlines it as the following.
"Chesapeake Granite Wash Trust (NYSE:CHKR) owns royalty interests in oil, natural gas liquids and natural gas properties located in Washita County, Oklahoma, which were conveyed to the Trust by Chesapeake Energy Corporation (NYSE:CHK). These royalty interests entitle the Trust to receive, after the deduction of post-production expenses and taxes:
-90% of the proceeds attributable to Chesapeake Energy Corporation's net revenue interest in the sale of production from 69 horizontal producing wells; and
-50% of the proceeds attributable to Chesapeake's net revenue interest in the sale of production from 118 horizontal development wells to be drilled by Chesapeake Energy Corporation within a defined Area of Mutual Interest (AMI)."
The AMI is limited to the highlighted areas, and consists of around 45,000 acres.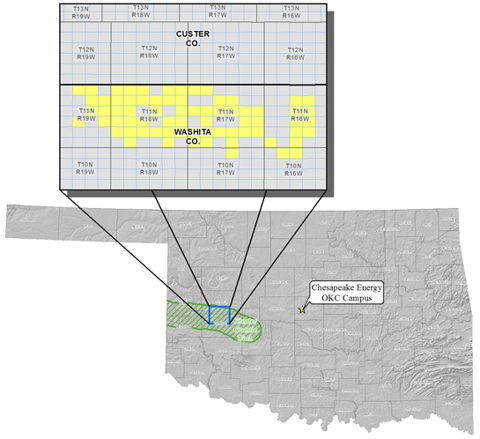 CHKR collects royalties on both oil and natural gas. On the following chart, you can see how the price of the stock has been falling, as natural gas and oil have risen. Provided that the existing and developing wells yield at least as much as last quarter, earnings should increase. Forward earnings are higher than previous quarters, which the trust should meet, as more wells are being developed and commodities rise.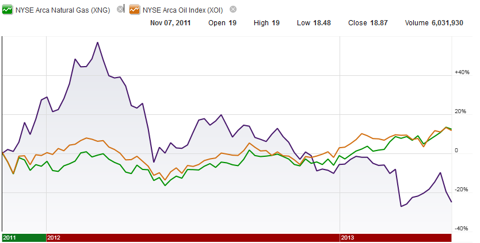 In addition to these figures, there hasn't been any recent insider activity, with large block owners changing 0% in the last three months. It is clear that these people are happily collecting the ~18% dividend. It is, however, worth noting that the dividend will fluctuate with the earnings, as they are completely distributed to shareholders, less expenses.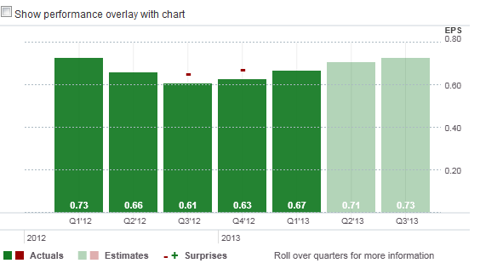 The trust has had more than four consecutive quarters of increased revenue, and currently has a profit margin of 91.5%.
Overall, with a current P/E ratio of 5.7 and a short interest of <2%, at the current price point, CHKR is oversold and looks to be an attractive buy. One thing to be mindful of is the clearly falling price, which should be taken into account when choosing an appropriate hedging method.
Disclosure: I have no positions in any stocks mentioned, and no plans to initiate any positions within the next 72 hours.