Biotech Sector Performance
When looking at charts, clarity often comes from taking a look at distinct time frames (for both stocks and indices).
Past Week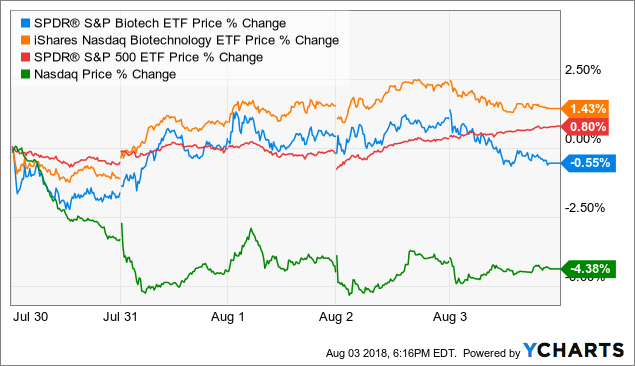 1 Month Performance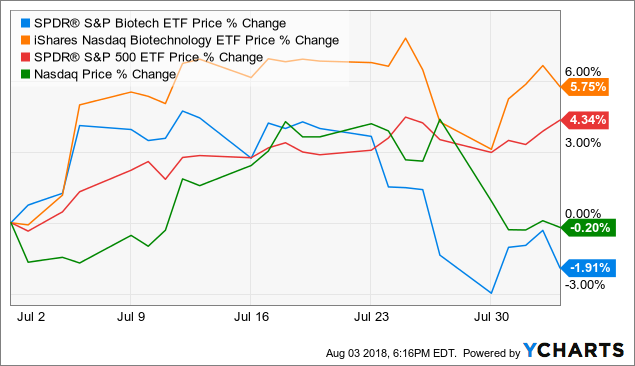 Year to Date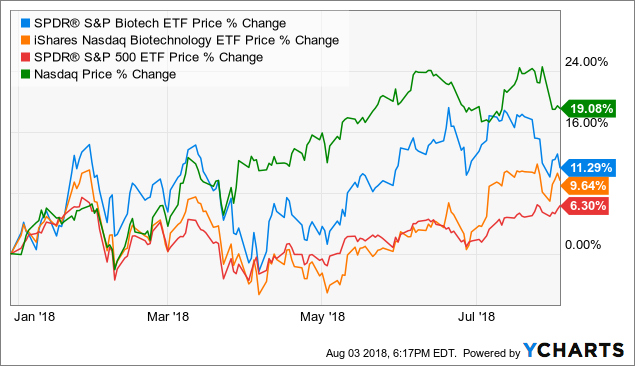 XBI Daily Advanced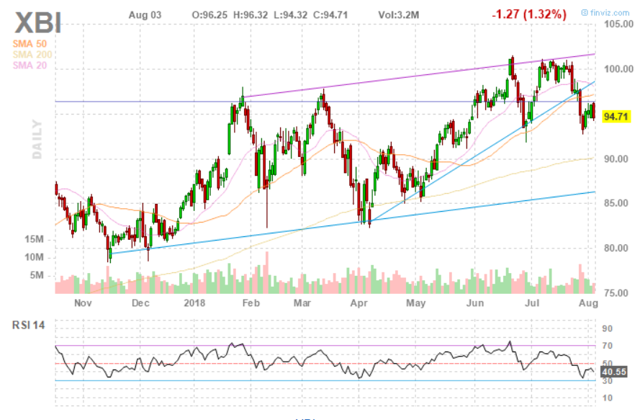 Funding Events/Financings of Note
$KALV green flag, sold ~$14.6M of common stock to Venrock Healthcare Capital Partners and BVF in private placement
Tandem Diabetes (TNDM)- Secondary offering 3.5 million shares priced at $28.50, positive reaction after bodes well
Newly Disclosed Institutional Positions of Interest
$CRNX institutional clustering a green flag, Perceptive Advisors 9.9% stake, Orbimed 8.01%, 5am Ventures 15.2%
Analyst Ratings of Note
$GLMD behind in the NASH race but Stifel thinks they are well-positioned to conduct a pivotal phase 3 trial of aramchol, likely to recruit 750 to 1000 NASH patients, in prior trial already nearly achieved approval endpoint of NASH resolution without worsening of fibrosis, $35 PT
$ZFGN Wedbush Outperform $14 PT, opportunity to invest in 2nd gen MetAP2 platform for T2diabetes, PWS, and liver diseases, lower execution risk due to management experience and blockbuster revenues for ZGN-1061 in T2D (2024 launch) & $1B for ZGN-1258 in PWS (2022 launch)
$SSTI Roth Capital says record gross coverage additions in Q2 came with zero offsetting attrition, continued accelerated growth. Premium valuation is warranted due to rapid growth. $60 PT (in ROTY we identified this one in the teens but didn´t show enough patience to hold on, it´s a reminder to keep searching for tech theme picks)
$SRPT Morgan Stanley upgrades to Overweight, stock is down 34% since June 19th and sees pullback as opportunity to own the stock near pre-DMD gene therapy levels without the binary risk. Doesn´t see a major bear case and sees major catalysts in 2H 2018 that market is missing
Noteworthy Charts
-Idea Lab submission ACRX is showing strength during a rough day for biotech (thesis can be found on spreadsheet only for ROTY members and prior commentary/due diligence via Chat search feature)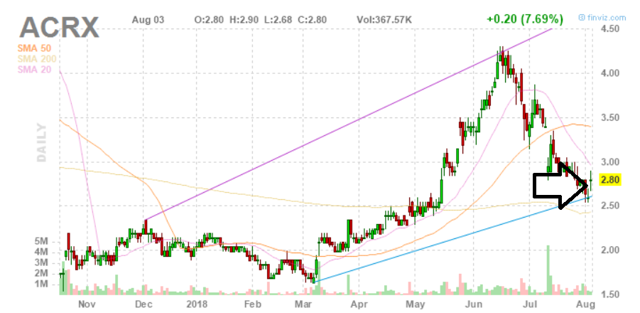 $ARQL a solid ¨buy the dip¨ idea IMO- more data for its reversible BTK inhibitor ARQ 531 at major congress later this year, foundational data set for miransertib in rare diseases to be presented at the American Society of Human Genetics (OTCPK:ASHG) Annual Meeting in October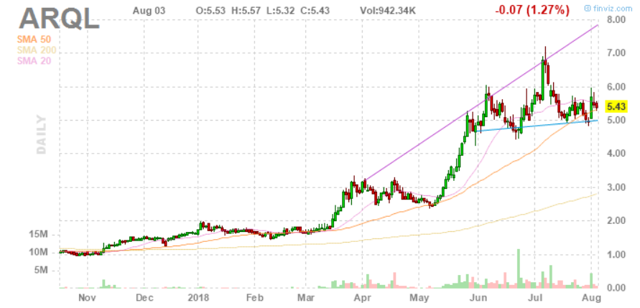 $SGMO potentially trying to form a base and run up ahead of upcoming MPS 2 results September 5th in oral presentation at SSIEM, data to be released ahead of the meeting. Other programs to follow later this year (MPS I, Hemophilia A)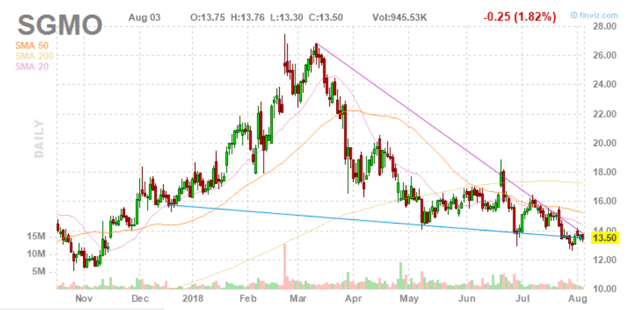 Executive Appointments of Interest
$OMER green flag, appointment ofEckhard Leifke, M.D. as Chief Medical Officer and Vice President of Clinical Development (prior served as Global Project Head/Vice President of Early Project & External Opportunities - Cardiovascular and Metabolism at Sanofi $SNY)
-We had a good debate about the current Contenders List, namely about how much technical performance should figure into our keeping certain stocks. Also, it was a good reminder to use the Contenders List for its purpose (highlight stocks that are setting up or could set up in the near term) versus as a watch list.
-It was made evident that as ROTY membership grows, we can have significant short term impact on certain stock selections (mainly low float). That also plays into certain publicly posted articles on Seeking Alpha- for that reason we decided going forward that specific ideas that make it into articles will be discussed in ROTY Live Chat first.
-One of our sells in the model account (due in part to a red flag pointed out by ROTY member BayAreaBiotechInvestor) was a great reminder of the need for continous due diligence on current holdings. It´s also an example of my desire to only hold top conviction ideas, be nimble with certain positions and show patience with our winners (like Mirati Therapeutics MRTX which was recently sold).
Articles of Interest For All of My Readers
Soleno Therapeutics: Rare Disease Pick With Significant Potential and Low Valuation 
KalVista Pharma: Large Market Opportunities, Low Valuation
Abeona Therapeutics: The Approval Pathway (This one is NOT mine, but it is from well-respected ROTY member Osmium and merits highlighting) 
Blog Posts of Note
5 Guidelines For Market Selloffs
I Believe in Analysis, Not Forecasting
Key Takeaways From Our Win in Mirati Therapeutics MRTX
----
1 New ROTY edition (2 sells, 2 pilot purchases, quite a few material updates, more green flags pointed out)
2 new promising Idea Lab selections
----------
Thought For the Week
On significantly red days like Friday for the XBI, it´s a good opportunity for readers to scan for stocks of promising companies that are bucking the trend (either showing stability or more importantly strength, preferably on decent volume). From there, do further due diligence. This step alone can help you find some great winners, stocks in which we can see that institutions/larger players are taking advantage of weakness to accumulate.
On my Twitter I highlighted a lady making $5/month but needing to purchase/import 17 Herceptin vials due to having HER2+ breast cancer. Read the full story in the link- I´m not sure how I stumbled on it, but I was captivated by her story and felt it was worth sharing. After all, part of ¨trade to live¨ is giving a helping hand to others when able (just my two cents). 
-----
The wife and I are going to a friend´s wedding tomorrow. The cultural difference is that in Peruvian weddings, the ¨after party/reception¨ typically lasts until the wee hours of the morning or even to when the sun comes up (it´s quite fun but exhausting).
Hope everyone has a great weekend.
JF