**What follows below was published for ROTY members first, but I felt it appropriate to make it available here as well.
----------
Hey everyone,
It´s hard for me to believe that ROTY is about to complete one year as a MarketPlace Service on Seeking Alpha.
Many of you have been with us since the beginning, when I began this endeavor with little idea of what to expect or whether it would be successful.
All I knew is that I´d been writing on SA since 2016 and very much enjoyed conversations with readers and their feedback. With the advent of paywalls, a number of readers asked me to start a premium service so they could receive continued access to my archived articles at a lower price point.
At first I was very hesitant (I´m not much of a risk taker), but after discussing with my wife I decided to go all in with the goal of creating the service I wish I´d had when I started investing 10 years ago.
Flash forward, a year has passed that´s brought with it a number of highs and lows, feelings of immense accomplishment as well as moments where I´ve been humbled by the market or my own decisions.
First, I want to thank everyone for the vote of confidence you´ve placed in me. It´s not something I take lightly, and with every article and ROTY edition I´m reminded of my responsibility to put out the best material that I possibly can, to help members make the best decisions possible and to be transparent with successes and failures alike. My goal for each and every one of you is to improve as a trader or investor as a result of your time with us (forming good habits, having more confidence in your decision-making process, having knowledgeable individuals to bounce your ideas off of and ultimately more profits in the brokerage account).
Secondly, I want to express my sincere appreciation to those who regularly participate in Live Chat (your generosity in regards to answering questions and sharing your insights make the community what it is). Traders, physicians, biotech industry professionals, seasoned investors and other members continue to share their opinions on market dynamics, opportunities, specific setups or ideas of interest and much more. Many of you take the time to point out aspects of certain stories that I missed or ask questions in Chat that force me to rethink the bullish thesis. Ultimately, you all inspire me to continue to improve as a trader and a writer and I´m in your debt.
This first year was quite a learning experience for me- it´s one thing to have a trading system or framework for decision-making that´s worked on a personal level. It´s a completely different challenge to be able to convey it to a group of 500+ people and help them adapt it to their needs.
Along the way I certainly made my share of mistakes or at least decisions that led to suboptimal outcomes. I experienced periods where I felt pressured to release new ROTY editions instead of diligently taking my time. I selected stocks for the model account that in hindsight did not offer the amount of derisking or downside protection that we require (losses in TRIL and ZFGN come to mind). I selected stocks of companies whose valuations were too small (ie.ONTX, GNCA) and thus our large membership had an outsized effect on price action (crowding the exits when selling led to magnified losses). I was too late to cut losses on stocks (ie. conference run up plays such as KURA, NCNA, IOVA) where poor technicals were indicative of a ¨sell the news¨ reaction to come. I got aggressive on certain positions precisely at the time when I should have been raising cash.
To be fair, we did have our moments where thesis played out beautifully. Binary winners such as ZGNX where open label data translated into a phase 3 win, pipeline in a product stories such as ARGX, picks and shovels ideas such as RGNX, well timed run up trades in GBT, GLYC, ANAB, etc.
Your continued feedback and constructive criticism have been vital to improving this service for everyone. While very valuable for finding new stock picks and analyzing charts, daytrader/swing trader conversations were taking over our Main Chat and thus we created a separate channel for them (The Trading Room). As a result of our community´s effect on price action for microcap stocks, we instituted the $100 million market capitalization rule for selection of stocks for the model account. To improve my decision making process and transparency (as well as help members form good habits), Cheat Sheet was created. To facilitate exchange of high conviction ideas among members in a more timely manner, Idea Lab Channel in Chat was created. Lastly, in order to present more actionable research for members (and add to our archives for the purposes of due diligence) I began publishing articles with greater frequency as able.
Going forward this year, there are a number of goals I´ve set for the service. From my end, I aim to publish the best research that I can, make the best decisions possible using ROTY framework, help members form good habits and transparently learn from my winners and losers alike. I firmly believe that it´s best to keep things simple, to focus on making each trade your best (whether cutting a loser, taking some profits and risk off the table, initiating a new pilot position in a potential runner, etc).
In Chat and public articles, I hope to foster and promote worthwhile conversations of stocks of interest, the bullish or bearish thesis and potential red flags/green flags for each. Part of this is publishing high quality public articles from time to time as well, as these are what attract new members to our community. Specifically, just as we did in 2018 I hope to add more experienced investors/traders, biotech industry insiders and physicians to our community to improve our collective due diligence. Via the Idea Lab Chat Channel I hope to facilitate increased exchange of high conviction ideas among members.
Lastly, at heart I´ve always been a teacher (and a lifelong student of the market) and the best way for all of us to learn is by asking the hard questions. Thus, in Chat I will continue to encourage members to challenge me on specific trades they don´t agree with, write-ups where they find holes in my bullish thesis or other related questions that need to be asked (ie. market potential for drug XYZ, possible competitor that wasn´t considered, etc).
To conclude, I´d like to remind members that becoming consistently profitable in the biotech sector is a difficult (yet feasible) endeavor. What the most successful traders and investors I know have in common is they´ve found the particular strategy that works best for them. It may have been a difficult road for them to get there, but once they are ¨dialed in¨ and able to tune out the noise, focusing on the setups that work best for them the appreciation in their brokerage accounts was well worth the painful lessons learned along the way.
I sincerely hope that ROTY decision making framework, trades, information & opinions shared in articles and Chat help you meet your goals.
As always, if I can be of assistance feel free to reach out in Chat (or private message if you feel more appropriate).
Hope everyone is having a great start to the year and thanks for what you bring to our community.
Un abrazo,
JF
--
About 'ROTY or Runners of the Year'
ROTY is a 500+ member community which provides a welcoming atmosphere where due diligence and knowledge are generously shared and consists of experienced investors/traders, biotech industry veterans, physicians of various specialties and novices looking to learn.
Subscription includes access to our 10 stock model account, exclusive writeups on compelling setups as I find them (time frame= a couple quarters up to a year or more), Idea Lab, Catalyst Tracker, full archive access, a very active & focused Live Chat and much more for $25 monthly or $200 for annual discount (equates to $16.66/month).

Above: Cheat Sheet Example Below: Sample Idea Lab Submission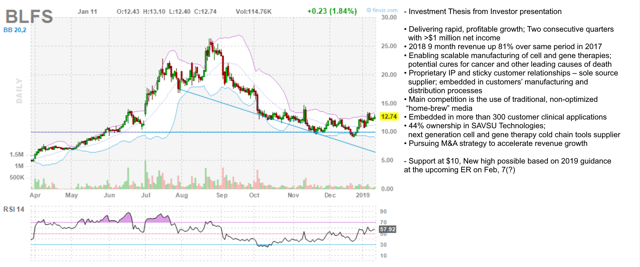 While performance of the model account has been decent since initiation in May of 2017, what´s even more important is that members are profiting, learning and enjoying their time with us (see reviews).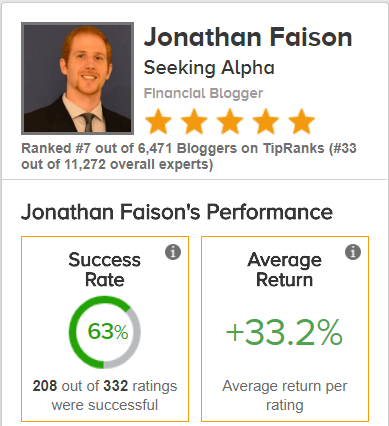 ** TipRanks ranking from when ROTY ideas were shared in articles publicly
The biotech sector is known to be quite volatile, but with the support of a community of like-minded traders and investors it´s been an enjoyable ride so far. I hope you´ll consider joining us.