Analyst Notes
MRK After taking a deeper look at the Chinese PD-1 market, Cantor Fitzgerald analyst Louise Chen believes it could equate to billions of sales that are not yet in the forecasts for Merck's Keytruda. She thinks the peak sales potential of PD-1s in China remains underappreciated. China's pharma market can grow to $225B by 2025, which would support a growing PD-1/PD-L1 market, Chen tells investors in a research note titled "Deep Dive into China: A Complicated but Underappreciated Opportunity." The analyst keeps an Overweight rating on Merck with a $95 price target.
MLND  Jefferies analyst David Hoang started Millendo Therapeutics with a Buy rating and $22 price target. The company is developing livoletide for Prader Willi syndrome and nevanimibe for congenital adrenal hyperplasia, Hoang tells investors in a research note. He believes the Street is giving little credit to these orphan diseases despite positive Phase IIa data and "sizable" revenue opportunities. The analyst says Millendo's risk/reward looks skewed to the upside 
RYTM Ladenburg Thalmann analyst Michael Higgins initiated coverage of Rhythm Pharmaceuticals with a Buy rating and $43 price target. Rhythm is developing setmelanotide, a novel weight-loss drug for ultra-orphan genetic obesity disorders caused by mutations in the melanocortin-4 receptor signaling pathway, Higgins tells investors in a research note. The analyst urges investors to accumulate a position ahead of upcoming 2019 milestones, particularly pro-opiomelanocortin and leptin receptor deficiency pivotal data in Q3. Target $43 
HROW Lake Street analyst Brooks O'Neil views the post-earnings selloff yesterday in shares of Harrow Health (HROW) as an overreaction. He views the company's Q4 results as "solid" and affirms a Buy rating on the shares with a $10 price target. The core ophthalmology business is growing nicely while the Project 15 businesses "will drive significant shareholder value," O'Neil tells investors in a research note. Management highlighted an effort to resolve outstanding litigation this year, and one key case with Allergan (AGN) is due for trial before mid-year, the analyst adds. He believes risks related to this case are fully reflected in the company's valuation. In addition, the judge has ruled against Allergan in a similar case, says O'Neil
ALLO William Blair analyst Raju Prasad last night initiated coverage of Allogene Therapeutics with an Outperform rating and $37 fair value estimate. The next phase of growth in the widespread utilization of cell therapies will be catalyzed by the successful development of "off the shelf" modalities, Prasad tells investors in a research note. He views Allogene as a core holding for investors looking for exposure to innovation in this subsector with "derisked initial targets and indications." The company's ALLO-715 has the potential to be first-in-class off-the-shelf B-cell maturation antigen product, says Prasad.
Stocks With Intriguing Thesis That Are Potentially Breaking Out
FATE (pioneer in off-the-shelf NK- and T-cell space)(wrote 3 articles on this one starting in 2017 at $3 per share)
NCNA finally showing some strength after conference presentation, look forward to revisiting
PRQR bouncing from bottom, DEB data soon then Usher mid year
SNSS speculative BTK ticker starting to show signs of life
Value Ideas (Will Require Patience)
AQST perhaps wait for financing (wrote public article, now behind paywall but ROTY subs have archive access)
News of Interest
VKTX quarterly update and AASLD data, continues to have strong safety profile and potential best in class asset for NASH
Insider/Institutional Buying
ATEC nice turnaround med device story, directors and officers buying
Secondaries/IPOs of Interest
AXGT offering gets key overhang out of the way (my ROTY writeup)
new ROTY edition, 4 trades
Over past week 4 articles (2 gene therapy, 1 RNAi, 1 stem cell transplant pioneer)
Random Thoughts: This week in the model account we sold HROW for an over 20% gain to take some risk off the table- specifically they have a trial date coming up with Allergan and as a rule of thumb when there's significant legislative risk I prefer to be on sidelines until it's passed (better safe than sorry). It's a shame, as progress with their subsidiaries is going well with another IPO or 2 in the next year.
On the other hand, a number of ROTY holdings (10 stock model account) are breaking out along with the rest of the biotech sector. I continue to find myself leaning to the conservative side, avoiding speculative stories and opting for companies with significant derisking and downside protection as well as multiple irons in the fire. Those with proven late stage or commercial assets are also interesting as M&A potential adds another way to win.
 ==========================================
                                        Closing Thoughts
Stay skeptical (plenty of companies out there with mediocre science or management teams who consider shareholders as an afterthought- steer clear and go with your best ideas).
Stay humble (market makes fools of us all from time to time, learn from your losers, celebrate your winners & use the opportunity to pay it forward).
Stick to your rules (have maximum portfolio weighting, take partial profits on the way up, sell positions that go against you, beware emotions such as greed and FOMO Fear Of Missing Out).
Stick to your process (strive to find the niche or strategy you are most comfortable with, as you build confidence with winners scan regularly to find similar setups, carefully consider the bear thesis, wait patiently in cash for the right pitches to swing at)
To your success,
JF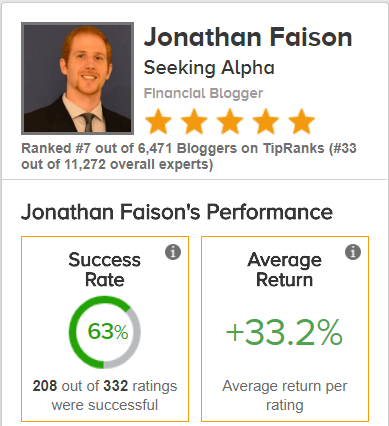 **TipRanks ranking from when ROTY ideas were shared in articles publicly
Disclaimer: Commentary presented is NOT individualized investment advice. Opinions offered here are NOT personalized recommendations. Readers are expected to do their own due diligence or consult an investment professional if needed prior to making trades. Strategies discussed should not be mistaken for recommendations, and past performance may not be indicative of future results. Although I do my best to present factual research, I do not in any way guarantee the accuracy of the information I post. I reserve the right to make investment decisions on behalf of myself and affiliates regarding any security without notification except where it is required by law. Keep in mind that any opinion or position disclosed on this platform is subject to change at any moment as the thesis evolves. Investing in common stock can result in partial or total loss of capital. In other words, readers are expected to form their own trading plan, do their own research and take responsibility for their own actions. If they are not able or willing to do so, better to buy index funds or find a thoroughly vetted fee-only financial advisor to handle your account.
'ROTY or Runners of the Year'
ROTY is a 500+ member community which provides a welcoming atmosphere where due diligence and knowledge are generously shared. Subscription includes access to our 10 stock model account, exclusive write-ups on my favorite setups, Idea Lab, Catalyst Tracker, full archive access, a very active & focused Live Chat and much more at an affordable price point ($25/month or $200 annually).