Analyst Notes
XNCR Raymond James analyst Dane Leone initiated Xencor with an Outperform rating and a price target of $40, citing the company's "multiple programs and development partnerships across a range of therapeutic indications." The analyst contends that the next 12 months will be a "clinical inflection point for the wholly owned bi-specific antibody programs targeting oncology", adding that he is "optimistic that the current partial hold on the Xmab14045 program could be lifted near-term". Leone further notes that his sales model does not account for obexelimab until a partnership has been established, but he is "optimistic for a partnership to occur within the next 12 months"
MGTA Raymond James analyst Dane Leone initiated Magenta Therapeutics with an Outperform rating and a price target of $22. The analyst has three key reasons for recommending the stock: First, MGTA-456 has produced encouraging clinical results and "has an opportunity to significantly increase the utilization of cord blood units within transplant procedures." Second, MGTA-145 has the potential to improve patient outcomes and reduce costs associated with stem cell mobilization. Third, C200 can help alleviate a key headwind for the adoption of cell-based gene therapy. 
ALLO Raymond James analyst Dane Leone initiated Allogene Therapeutics with an Outperform rating and a price target of $40. The analyst says the analysis of the company's CAR T cell therapies in UCART19 CALM and PALL study suggests a "competitive profile vs. autologous CD19+ CAR T cell products and supports a positive outlook for ALLO-501". Leone adds that while there are "questions surrounding the correlation of persistence and durable outcomes from the studies", he believes that the "potential to re-dose ALLO-501 balances this risk"
AQST BMO Capital analyst Gary Nachman lowered his price target on Aquestive Therapeutics to $21 after its "in-line" Q4 results relative to its prior revenue pre-announcement. The analyst says investors may be concerned by the company's cash position in spite of the management's positive sentiment about the management's potential non-dilutive financing options. Nachman is keeping his Outperform rating on Aquestive Therapeutics however, stating that its guidance was "appropriately conservative" and should be "very achievable"
QURE Wells Fargo analyst Jim Birchenough raised his price target for uniQure to $90 from $65 following a corporate update at an investor meeting earlier this week. The increased target reflects greater assumed penetration of AMT-061 to roughly 40% share following recent positive updates, no change to estimates for Huntington's gene therapy and option value to other emerging gene therapy programs including Fabry disease and a novel approach to hemophilia A, Birchenough tells investors in a research note. He keeps an Outperform rating on uniQure  
Stocks With Intriguing Thesis That Are Potentially Breaking Out
NEOS nice breakout on Q4 earnings, COTEMPLA revenue up 454%
SLNO microcap doubled on news of DSMB recommending continuation of phase 3 DESTINY trial evaluating DCCR in PWS patients
MGTA at all time highs now (did a writeup on this one in ROTY a couple weeks ago given future data catalysts, revaluation opportunity and management's goal of unlocking the full potential of bone marrow transplant).
News of Interest
KPTI Karyopharm announces FDA extension of PDUFA date for selinexor NDA, extended to July 6th after submission of additional clinical information as amendment to NDA (more data from BOSTON?)
Insider/Institutional Buying
SCYX Puissance Life Sciences Opportunities reports 9.99% passive stake in Scynexis
LGND Director and CEO buying shares
APTO CFO bought $26k or so
VYGR Neurocrine now owns 12.8% stake
Secondaries/IPOs of Interest
MTNB Matinas Biopharma $30M of common stock sold in spot secondary at $1.10 per share
new ROTY edition, 4 trades
Over past week 4 articles (2 gene therapy, 1 RNAi, 1 stem cell transplant pioneer)
Random Thoughts: In the ROTY 10 stock model account we had just 1 laggard in the red, but fortunately it looks like it's being discovered this week (have to wait and see how earnings report goes).
Our newest pilot position is already showing strength and we have a number of holdings that look like they want new 52 week highs (biotech sector is doing quite well lately so take it with a grain of skepticism).
While we lagged early in the year, March is looking to be a great month for us so far (versus XBI and IBB).

As always, very much appreciate those in Chat who are sharing their favorite setups and taking the time to update us. That's what makes our community great.  Hope everyone has a great weekend!
As an aside, thanks for the kind words regarding my wife's operation and recovery. All tumor biopsies came back negative and she's finally getting back to her active self- to celebrate at the end of March/beginning of April we will be taking a short flight to Colombia to explore Cartagena, San Andres, Santa Marta, Tayrona National Park, Rosario Island and perhaps Baranquilla.  I will still hop on Chat during that time, but expect a little less activity from me as we disconnect and recharge.
==========================================
Stay skeptical (plenty of companies out there with mediocre science or management teams who consider shareholders as an afterthought- steer clear and go with your best ideas).
Stay humble (market makes fools of us all from time to time, learn from your losers, celebrate your winners & use the opportunity to pay it forward).
Stick to your rules (have maximum portfolio weighting, take partial profits on the way up, sell positions that go against you, beware emotions such as greed and FOMO Fear Of Missing Out).
Stick to your process (strive to find the niche or strategy you are most comfortable with, as you build confidence with winners scan regularly to find similar setups, carefully consider the bear thesis, wait patiently in cash for the right pitches to swing at)
To your success,
JF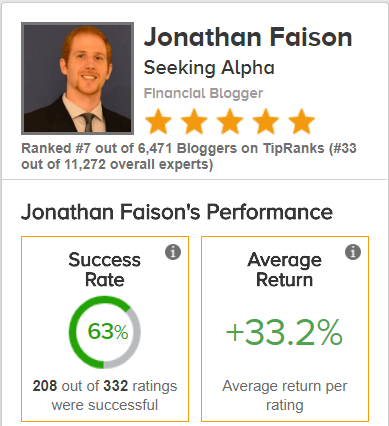 **TipRanks ranking from when ROTY ideas were shared in articles publicly
Disclaimer: Commentary presented is NOT individualized investment advice. Opinions offered here are NOT personalized recommendations. Readers are expected to do their own due diligence or consult an investment professional if needed prior to making trades. Strategies discussed should not be mistaken for recommendations, and past performance may not be indicative of future results. Although I do my best to present factual research, I do not in any way guarantee the accuracy of the information I post. I reserve the right to make investment decisions on behalf of myself and affiliates regarding any security without notification except where it is required by law. Keep in mind that any opinion or position disclosed on this platform is subject to change at any moment as the thesis evolves. Investing in common stock can result in partial or total loss of capital. In other words, readers are expected to form their own trading plan, do their own research and take responsibility for their own actions. If they are not able or willing to do so, better to buy index funds or find a thoroughly vetted fee-only financial advisor to handle your account.
'ROTY or Runners of the Year'
ROTY is a 500+ member community which provides a welcoming atmosphere where due diligence and knowledge are generously shared. Subscription includes access to our 10 stock model account, exclusive write-ups on my favorite setups, Idea Lab, Catalyst Tracker, full archive access, a very active & focused Live Chat and much more at an affordable price point ($25/month or $200 annually).