Recent Reviews for ROTY

New Public Article
XENE Xenon Pharmaceuticals: Updates To Thesis, Pipeline Progressing
Analyst Notes
AMRN Jefferies keeps Buy rating $30 price target, ADA addition should help drive Vascepa sales in 2019, views updated guidelines as an incremental positive and notes that Q1 scripts suggests sales of $80M to $85M, above consensus estimate of $67M
AXSM BTIG analyst Robert Hazlett raised his price target on Axsome Therapeutics to $25 and kept his Buy rating after its AXS-05 was granted breakthrough therapy designation in the treatment of major depressive disorder by the FDA. The designation could lead to expedited development and review of AXS-05, the analyst tells investors, while the recent data supporting its dextromethorphan component in treating agitation in Alzheimer's could also lead to a positive read-through. Hazlett estimates peak revenue of over $1.5B for AXS-05 in Treatment Resistant Depression and over $1B in Alzheimer's related agitation if its continued trials are successful 
KRYS William Blair says shares could rally 30% to 50% on positive data (COL7A1 expression 30% to 40% range, durable closure of treated wounds) from KB103 phase 1/2 study for treatment of DEB in 1H 2019, downside to $15 range if miss on all clinical and functional endpoints (have been suggesting this one since after IPO, did update piece in early March)
Stocks With Intriguing Thesis That Are Potentially Breaking Out
.-----------
News of Interest
ACAD Acadia Pharmaceuticals, Neuren Pharmaceuticals, and Rettsyndrome.org announced that the "positive" results from a Phase 2 study conducted by Neuren, which evaluated the safety and efficacy of trofinetide in females with Rett syndrome, have been published in Neurology, the medical journal of the American Academy of Neurology. The study, "Double-Blind, Randomized, Placebo-Controlled Study of Trofinetide in Pediatric Rett Syndrome" has been published online and will appear in the April 16, 2019 issue of Neurology. The study evaluated 82 females with Rett syndrome aged 5 to 15 years and found at the highest dose trofinetide achieved statistically significant improvement compared with placebo on three of five syndrome-specific efficacy measures: the Rett Syndrome Behaviour Questionnaire, a caregiver assessment, the Clinical Global Impression Scale-Improvement, a clinician assessment of the improvement of Rett syndrome, and the RTT-Clinician Domain Specific Concerns-Visual Analog Scale, a clinician assessment. Results of the study also showed trofinetide was well-tolerated at all dose levels.
BPMC Blueprint Medicines announced plans to expedite development of avapritinib, BLU-667 and BLU-782 based on recent clinical progress and interactions with regulatory authorities. "The updates we are announcing today for avapritinib, BLU-667 and BLU-782 represent the acceleration of multiple clinical-stage programs, including planned marketing applications for avapritinib and BLU-667, and highlight our commitment to executing a portfolio-based strategy," said Jeff Albers, CEO of Blueprint Medicines. "In addition, as we prepare to submit marketing applications for avapritinib for the treatment of PDGFRA-driven and fourth-line GIST in the United States in the second quarter and Europe in the third quarter, we are rapidly building global commercial capabilities to enable us to deliver this important new medicine, if approved, to patients in need. 
SRPT Sarepta announced results from its interim analysis of muscle biopsy endpoints comparing casimersen treatment to placebo in the ESSENCE study, also known as study 4045-301. ESSENCE is a global, randomized double-blind, placebo-controlled Phase 3 study evaluating the efficacy and safety of casimersen and golodirsen in patients amenable to skipping exons 45 or 53, respectively. After soliciting feedback from the FDA, Sarepta conducted an interim analysis for levels of dystrophin protein expression in those patients who are amenable to exon 45 skipping to determine the potential for a new drug application, or NDA, filing based on dystrophin as a surrogate endpoint. With these results, the company intends to work toward submission of an NDA for casimersen in the middle of the year. Patients amenable to exon 45 skipping were randomized to receive a once-weekly intravenous infusion of casimersen dosed at 30mg/kg or placebo for 96 weeks. The interim analysis was performed on data from biopsies of the bicep muscle at baseline and on-treatment at Week 48. In the casimersen arm, mean dystrophin protein increased to 1.736% of normal compared to a mean baseline of 0.925% of normal. A statistically significant difference in the mean change from baseline to week 48 in dystrophin protein was observed between the casimersen-treated arm compared to the placebo arm. Of the 22 patients receiving casimersen who have been tested for increased exon-skipping mRNA using reverse transcription polymerase chain reaction, all have displayed an increase in skipping exon 45 over their baseline levels, representing a 100% response rate. A statistically significant positive correlation between exon 45 skipping and dystrophin production was observed. The study is ongoing and remains blinded to collect additional efficacy and safety data 
MTEM Molecular Templates announced the initiation of a single-agent Phase 2 study of MT-3724, a CD20-targeted ETB, in relapsed/refractory diffuse large B-cell lymphoma, or DLBCL, patients. This multicenter study will enroll up to 100 patients, in a staged manner, who have received at least two standard of care treatment regimens for DLBCL. As a monotherapy study in heavily pretreated patients, this study has the potential to be pivotal 
PRTO flunks PATENCY-2 trial (a reminder to take profits on runups and especially be aware which ones you wish to avoid binary risk on)
RYTM so far seems like market is not enthused on the data,  Rhythm announced preliminary data from 13 HET patients who were treated with setmelanotide, including four patients with high-impact LOF variants and nine patients with other LOF variants. All four patients with high-impact LOF variants remain on therapy, including two patients who have been on treatment for more than 29 weeks. The first patient, who entered the study weighing 451 pounds, lost 40.5 pounds and experienced a hunger score decrease of 90% after 37 weeks of treatment with setmelanotide. The second patient, who entered the study weighing 284 pounds, lost 49 pounds and experienced a hunger score decrease of 71.4% after 29 weeks of treatment. The two additional patients have been on treatment for a short duration and are showing promising weight loss and hunger score decreases during dose titration. Five of nine patients with other LOF variants remain on therapy, with treatment durations ranging from seven to 74 weeks. 
SGEN Seattle Genetics Astellas Pharma (OTCPK:ALPMY) announced positive topline results from the first cohort of patients in a pivotal phase 2 single-arm clinical trial known as EV-201. The cohort is evaluating enfortumab vedotin for the treatment of patients with locally advanced or metastatic urothelial cancer who have received previous treatment with both platinum-containing chemotherapy and a PD-1 or PD-L1 inhibitor. Results showed a 44 percent objective response rate, or ORR, per blinded independent central review. The duration of response was consistent with that recently reported in the previous phase 1 study, or EV-101. The most common treatment-related adverse events included fatigue, alopecia, decreased appetite, rash and peripheral neuropathy. The data will be presented at an upcoming medical meeting. Enfortumab vedotin is an investigational antibody-drug conjugate, or ADC, that targets Nectin-4, a therapeutic target that is highly expressed in multiple solid tumors including urothelial cancers. Based on preliminary results from a phase 1 trial, or EV-101, enfortumab vedotin was granted Breakthrough Therapy designation by the FDA for patients with locally advanced or metastatic urothelial cancer whose disease has progressed during or following treatment with a PD-1 or PD-L1 inhibitor. The companies plan to submit a Biologics License Application, or BLA, to the FDA later this year based on the results from the EV-201 trial. A global, randomized phase 3 clinical trial is ongoing and intended to support global registration as well as to serve as the confirmatory randomized trial for enfortumab vedotin for patients with locally advanced or metastatic urothelial cancer who have been previously treated with a platinum-containing chemotherapy and a PD-1 or PD-L1 inhibitor
EIGR's lonafarnib might have potential in Alzheimer's as well  http://stm.sciencemag.org/content/11/485/eaat3005 
BMY CELG Starboard Value, a shareholder of Bristol-Myers Squibb (BMY), announced that it has mailed a letter to Bristol-Myers shareholders regarding the company's proposed merger with Celgene (CELG), which it contends "is ill-advised and not in the best interests of Bristol-Myers shareholders." The firm urges all shareholders to vote against the proposed transaction 
AZN Daiichi Sankyo (OTCPK:DSNKY) announced that it has entered into a global development and commercialization agreement with AstraZeneca (AZN) for Daiichi Sankyo's lead antibody drug conjugate trastuzumab deruxtecan, or DS-8201, currently in pivotal development for multiple HER2 expressing cancers including breast and gastric cancer, and additional development in non-small cell lung and colorectal cancer. Daiichi Sankyo and AstraZeneca will jointly develop and commercialize trastuzumab deruxtecan as a monotherapy or a combination therapy worldwide, except in Japan where Daiichi Sankyo will maintain exclusive rights. Daiichi Sankyo will be solely responsible for manufacturing and the supply of trastuzumab deruxtecan. Under the terms of the agreement, AstraZeneca will pay Daiichi Sankyo an upfront payment of $1.35B. Contingent payments of up to $5.55B include $3.8B for achievement of future regulatory milestones and other contingencies, as well as sales-related milestones of up to $1.75B. Total payments under the agreement have the potential to reach up to $6.90B. 
GILD GLPG  Gilead (GILD) and Galapagos NV (GLPG) announced Week 24 results of FINCH 1, an ongoing, randomized, double-blind, placebo- and active-controlled Phase 3 study of filgotinib, an investigational, oral, selective JAK1 inhibitor, in adults with moderately-to-severely active rheumatoid arthritis. FINCH 1 evaluated filgotinib versus adalimumab or placebo, on a stable background dose of methotrexate in patients with prior inadequate response to methotrexate. The study achieved its primary endpoint for both doses of filgotinib in the proportion of patients achieving an American College of Rheumatology 20% response compared to placebo at Week 12. The proportion of patients achieving ACR50 and ACR70 response was also significantly greater for filgotinib compared with placebo at Week 12, for both doses. Patients receiving filgotinib 100 mg or 200 mg had a statistically significant reduction in the Health Assessment Questionnaire Disability Index at Week 12 compared with those receiving placebo. The proportions of patients achieving clinical remission and low disease activity less than or equal to 3.2) at Week 12 were significantly higher for patients in both filgotinib arms compared with placebo. When comparing low disease activity rates at Week 12, filgotinib 200 mg was non-inferior to adalimumab. Filgotinib 100 mg and 200 mg also significantly inhibited the progression of structural damage at Week 24 as assessed by change from baseline in modified total Sharp score compared with placebo 
AMRN  Amarin announced that, as planned, it submitted a supplemental new drug application, sNDA, to the U.S. Food and Drug Administration seeking an expanded indication for its lead product, Vascepa capsules, based on the landmark REDUCE-IT cardiovascular outcomes study1, 2. As is typical, while the FDA acknowledged receipt of the sNDA submission, at this stage FDA has not yet communicated to Amarin the intended timing of its review. Unless and until the company learns otherwise in communications from the FDA, the review timing is typically communicated within 60 to 74 days of the FDA's receipt of an sNDA. Amarin is operating under the assumption that the sNDA will be reviewed on a standard review clock of ten months resulting in a PDUFA date near the end of January 2020. 
TCDA positive data from an extension study, TRCA-301E, evaluating lead drug TRC101 (veverimer) for the treatment of metabolic acidosis in chronic kidney disease (CKD) patients. Metabolic acidosis, excess amounts of acid in the body, is believed to accelerate the progression of CKD while increasing the risk of muscle wasting and bone density loss. The extension study met the primary endpoint of safety and all secondary endpoints, demonstrating a durable treatment benefit over the 52-week study period, affirming the successful outcome of the 12-week TRCA-301trial. The company expects to file a U.S. marketing application in H2
Insider/Institutional Buying
----------
Secondaries/IPOs of Interest
BPMC Blueprint Medicines 4.05M share Secondary priced at $74.00, seems like decent pricing and still an attractive targeted oncology idea, had been recommending this one since IPO a few years back
New ROTY edition likely coming out tomorrow, quite a few material updates
Random Thoughts:
While we didn't add PRTO to ROTY due to high binary risk, I did suggest it as a run up idea and it provided a nice opportunity to capture profits in early 2019. The 80% plus loss on PATENCY-2 fail is a reminder to take profits (and risk off the table) on the way up. When the market presents you with a 50% plus gain while not being exposed to risk of clinical readout, often times it makes sense to take the profit and move on.  Sometimes you may kick yourself after (early on in ROTY I took a 60% or so gain in ANAB on the run up only to see it double shortly after), but forming good habits will serve you well in the long run. 
On the other hand, if the data readout for a given stock holding is very high conviction for you based on prior results, it can make sense to maintain significant exposure into the event (but being aware of the risk involved, what could go wrong and how much loss that could cause percentage wise). 
A final note, it looks like our due diligence has led to a potential ASCO runner (with all the usual caveats including financing risk). As usual, we did not go for a speculative play, but instead chose a company with significant derisking and downside cushion (company worth significantly more based on lead indication alone, other programs provide optionality). If you focus on doing the DD, managing risk first by focusing on companies with significant downside cushion via multiple irons in the fire, strength of data, etc, the rest will take care of itself. 
==========================================
Stay skeptical (plenty of companies out there with mediocre science or management teams who consider shareholders as an afterthought- steer clear and go with your best ideas).
Stay humble (market makes fools of us all from time to time, learn from your losers, celebrate your winners & use the opportunity to pay it forward).
Stick to your rules (have maximum portfolio weighting, take partial profits on the way up, sell positions that go against you, beware emotions such as greed and FOMO Fear Of Missing Out).
Stick to your process (strive to find the niche or strategy you are most comfortable with, as you build confidence with winners scan regularly to find similar setups, carefully consider the bear thesis, wait patiently in cash for the right pitches to swing at)
To your success,
JF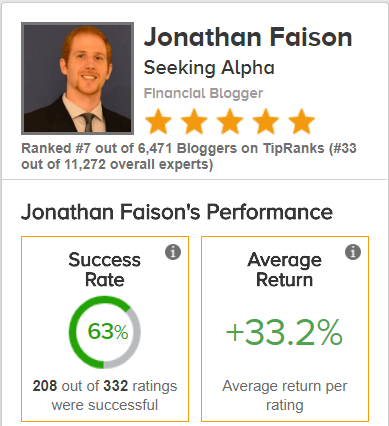 **TipRanks ranking from when ROTY ideas were shared in articles publicly
Disclaimer: Commentary presented is NOT individualized investment advice. Opinions offered here are NOT personalized recommendations. Readers are expected to do their own due diligence or consult an investment professional if needed prior to making trades. Strategies discussed should not be mistaken for recommendations, and past performance may not be indicative of future results. Although I do my best to present factual research, I do not in any way guarantee the accuracy of the information I post. I reserve the right to make investment decisions on behalf of myself and affiliates regarding any security without notification except where it is required by law. Keep in mind that any opinion or position disclosed on this platform is subject to change at any moment as the thesis evolves. Investing in common stock can result in partial or total loss of capital. In other words, readers are expected to form their own trading plan, do their own research and take responsibility for their own actions. If they are not able or willing to do so, better to buy index funds or find a thoroughly vetted fee-only financial advisor to handle your account.
If you're interested in finding high % gainers in the biotech (and occasionally tech) sectors, I hope you´ll check out our 500+ member community at ROTY (Runners of the Year).
Receive exclusive articles that focus on stocks with near to medium term upside, with emphasis on catalyst and revaluation opportunities.
Discuss and receive feedback on your top ideas in our dynamic Live Chat, full of experienced traders, investors, physicians & biotech industry veterans.
Our 10 stock model account has significantly outpaced both the IBB and XBI. More importantly, we emphasize forming good habits to achieve long term profitability. Check out our reviews.