Chart/Overview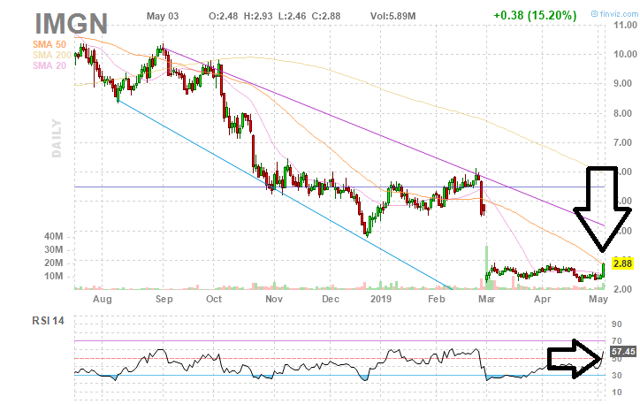 This oncology-focused small cap concern has underperformed time and again, with shares having lost over 75% of their value over the past 5 years and shedding 40% of their value in 2019 alone. 
The stock took a major beating at the beginning of March after announcing that lead ADC mirvetuximab soravtansine flunked its phase 3 study (was being compared to chemotherapy in folate receptor alpha-positive, platinum-resistant ovarian cancer). Specifically, it failed to achieve PFS primary endpoint in entire study population or patients with high folate receptor alpha expression. However, it was noted that overall response rate was statistically significantly better in treatment group, 22% vs 12% with p=0.015).
ROTY Chat Nuggets
Biotech Phoenix on April 1st wrote in ROTY's Live Chat 
IMGN - Am I missing something here? $400 M market cap almost $300 M in cash. Phase 3 narrowly misses significance on PFS, but appears to hit on much more credible survival endpoint. Targeting platinum resistant ovarian cancer with high unmet need/no approved treatment options. Basically $100 M for an oncology company with a clearly active drug in a space with limited treatment options doesn't make sense
Key Catalysts
Meeting with the FDA to discuss potential path to registration for mirvetuximab as a monotherapy.
Presenting mature data from FORWARD II expansion cohort at ACO in June
Presenting full FORWAR I data and initial FORWARD II triplet data at medical meeting later in the year
CEO Mark Enyedy noted that in pre-specified subset of ovarian cancer patients with high folate receptor alpha (FRα) expression there are higher response rates, more durable responses and longer progression-free and overall survival as compared to chemotherapy. 
This would substantiate Biotech Phoenix' thesis regarding a swing trade here, namely that the company has an approval drug and is trading at an exceedingly cheap valuation.
Key Presentation Slides
--------Other Nuggets From Conference Call and Presentations
On the Q1 conference call, management noted that pursuing accelerated approval and conditional marketing authorization in the US and EU appear to be a reasonable pathway forward pending discussion with regulators.
Potential Plan of Action
As a speculative swing trade, this one makes sense (establishing pilot position near term and accumulating dips). The stock could potentially fill the gap from March back up to $5 or so.
Join over 500 members in our unique biotech community, ROTY (Runners of the Year), and find high % gainers in the biotech sector.
ROTY is Seeking Alpha's Top Ranked Low Priced Service ($25/month or $200 annually equates to $16.6 per month) and #2 ranked biotech community
10 stock model account has outperformed IBB by 277% and XBI by 63% as of May 2nd

Monthly content focuses on quality over quantity (2-3 updates on model account, 2+ exclusive articles, weekly Chat highlights and 2 Scorecards)
Experienced investors and biotech industry veterans share conviction ideas and trades in our Live Chat. See reviews . 

Disclosure: I/we have no positions in any stocks mentioned, and no plans to initiate any positions within the next 72 hours.
Additional disclosure: Disclaimer: Commentary presented is NOT individualized investment advice. Opinions offered here are NOT personalized recommendations. Readers are expected to do their own due diligence or consult an investment professional if needed prior to making trades. Strategies discussed should not be mistaken for recommendations, and past performance may not be indicative of future results. Although I do my best to present factual research, I do not in any way guarantee the accuracy of the information I post. I reserve the right to make investment decisions on behalf of myself and affiliates regarding any security without notification except where it is required by law. Keep in mind that any opinion or position disclosed on this platform is subject to change at any moment as the thesis evolves. Investing in common stock can result in partial or total loss of capital. In other words, readers are expected to form their own trading plan, do their own research and take responsibility for their own actions. If they are not able or willing to do so, better to buy index funds or find a thoroughly vetted fee-only financial advisor to handle your account.