Performance for the Past Week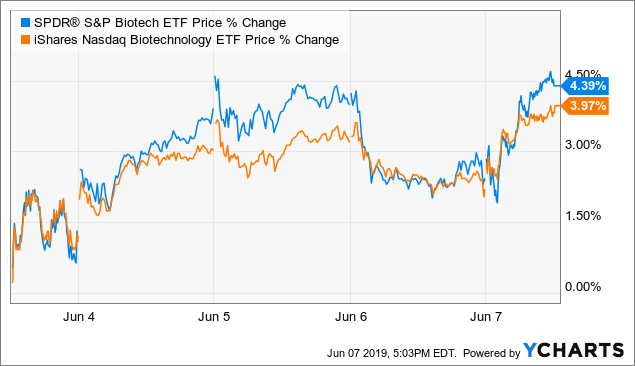 1 Month Performance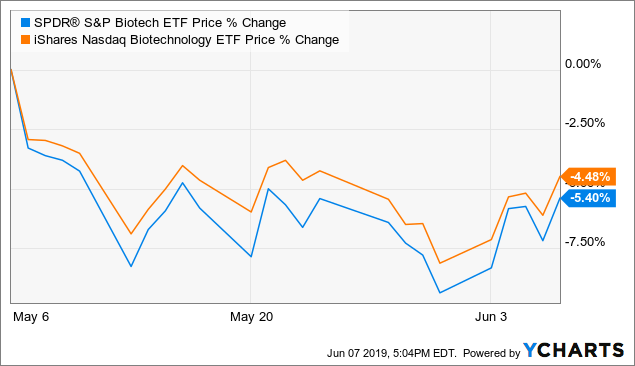 1 Year Performance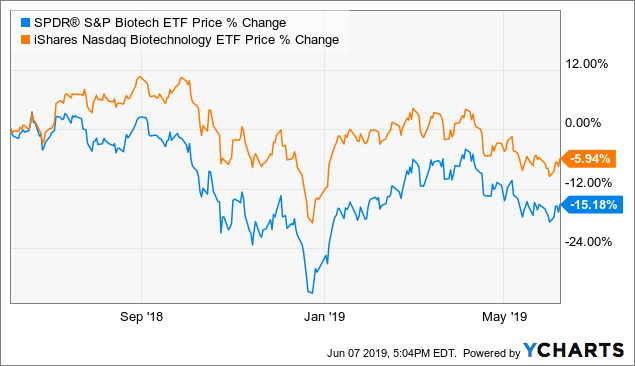 Daily Advanced Chart

ROTY 10 Stock Model Account Performance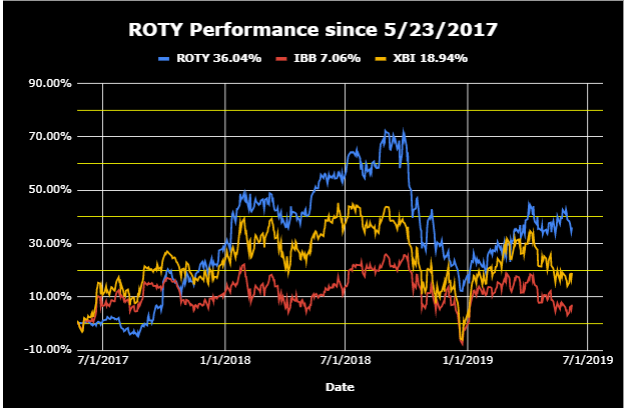 Recently we initiated two new pilot positions in stocks of companies with important Q3 catalysts coming up.
Public Articles From This Week
Genocea Biosciences: Updates To Thesis  GNCA
Mirati Therapeutics: Updates To Thesis, ASCO Winner Sans Data MRTX
Molecular Templates: Updates To Thesis
Interesting Runners of the Week
A Few Useful Nuggets From Chat and Elsewhere
EHA looks to be a significant catalyst for biotech next week. In ROTY we own a couple EHA names with presentations coming up. 
As pointed out in Chat by multiple knowledgeable members, a number of solid bio names have been punished in the past couple weeks. Whether your focus is on commercial concerns or early stage with positive initial data, it's a good time to scan for new conviction ideas and patiently scale in. Especially for long term ideas, ¨patiently¨ can mean spacing out your purchases every couple months (in case further volatility provides even cheaper valuations for you to get in at).
In today's ROTY edition, I noted that for every loser in my portfolio, I try to analyze them to see where I went wrong and what (if anything) I could have done better. Some bio blowups are inevitable, especially with unexpected news. Others are entirely avoidable and in my case can be chalked up to not doing a good job of manging risk, sizing my positions or missing key red flags. The goal is always is to continually improve- remember it's a marathon not a sprint! 
Hope everyone has a great weekend.
JF
Join us and become part of a 500+ member community that wants to see you succeed.
My primary focus is on biotech stocks with high % upside potential within the next twelve months (Runners of the Year or ROTY).
These picks typically have multiple green flags, elements of derisking or downside cushion, and other criteria I look for.
Catalyst Ideas focus on material events (ie. data readouts), while Revaluation Ideas involve companies that are significantly undervalued relative to opportunities they are targeting.
Membership includes access to our market beating 10 stock model account, Active Live Chat, Cheat Sheet, Idea Lab and much more!
Additional disclosure: Disclaimer: Commentary presented is NOT individualized investment advice. Opinions offered here are NOT personalized recommendations. Readers are expected to do their own due diligence or consult an investment professional if needed prior to making trades. Strategies discussed should not be mistaken for recommendations, and past performance may not be indicative of future results. Although I do my best to present factual research, I do not in any way guarantee the accuracy of the information I post. I reserve the right to make investment decisions on behalf of myself and affiliates regarding any security without notification except where it is required by law. Keep in mind that any opinion or position disclosed on this platform is subject to change at any moment as the thesis evolves. Investing in common stock can result in partial or total loss of capital. In other words, readers are expected to form their own trading plan, do their own research and take responsibility for their own actions. If they are not able or willing to do so, better to buy index funds or find a thoroughly vetted fee-only financial advisor to handle your account.