Has The Biotech Sector Become Too Complex?
Please Note: Blog posts are not selected, edited or screened by Seeking Alpha editors.
Summary
One recent comment in our Live Chat likely is relatable for many people currently invested in biotech.
This sector can often feel daunting to invest in, especially for newbies or those without a medical background of some kind.
Increasingly crowded landscape can make certain spaces seem uninvestable and investors don't enjoy weathering downturns like we are currently seeing.
One solution is to stick to stocks, setups and stories with an easy to understand thesis and clear value proposition.
Patience will be tried in the coming year as looming elections create more volatility. Investors & traders are encouraged to participate in a community, wherever they can find it (receive support, encouragement, new ideas, etc).
One ROTY member in Chat recently commented the following regarding the current state of biotech:
The sector has just become too complex for the average investor. If you look at tech, the story is simple. Microsoft is about the office and the cloud. Amazon is retail. Facebook is social media, etc. Biotech is far more complex and nuanced. Without a resource such as this community, how can the average investor navigate the sector? I think the current risk-off sentiment is also a huge headwind for a sector that is already so speculative by its very nature. Biotech isn't exactly a place to easily park money.
1. I do agree biotech sector has become increasingly complex.
The same argument could be made for tech and many other areas of the market as well. However, I will concede that for biotech it is especially true. Think of the immense competition in CAR-T, with so many companies going after the same targets such as CD19 and BCMA.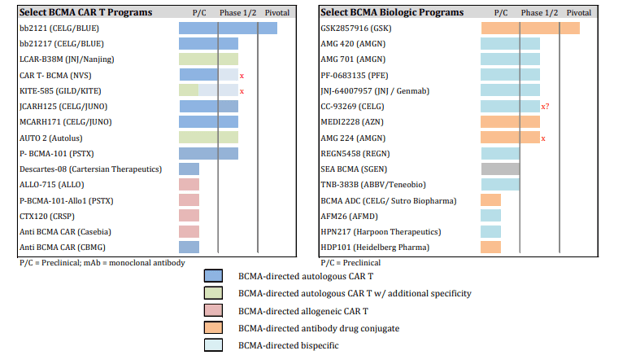 BCMA Landscape an example of how complicated and crowded things can get
Gene therapy, where many firms are going after the same indications such as DMD and MPSIIIA.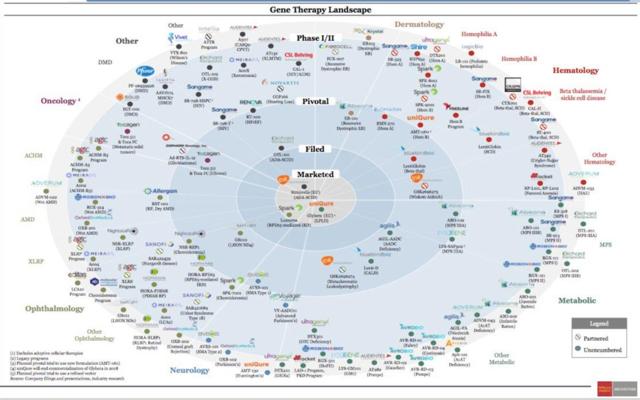 Gene Therapy Landscape  Credits: Wells Fargo Research
The amount of VC money pouring into life sciences firm in the previous year hit a new record, with many of those companies looking to come to market (including a rush of IPOs trying to get funding before elections). Most of these companies are mediocre with only a few gems in the mix- additionally, even the good ones can come to market at a valuation too high to make them investable.
On the converse side, in ROTY we try to keep our thesis as simple as possible, encouraging investors to only hold positions in stocks whose stories they understand. A leader in the RNAi space, a gene therapy company whose technology leads to improved durability, small firms going after rare disease indications with no approved treatment and promising early data, targeted oncology firms giving a new option to patients who had none, such stories are attractive to us as investors as we get to hold positions in companies who are moving the field forward.
Market volatility is likely to get worse ahead of 2020 elections, with biotech sector potentially bearing the brunt of it. However, as we've seen time and again, the baby often gets thrown out with the bathwater and that provides opportunities to investors with patience who are willing to wait for the right setups that meet their criteria.
2. I also agree with the importance of having a community to support your investing efforts, wherever you find it.
When I started investing in 2008, I had no one to teach me (or at least provide some guidance along the way). The learning curve was definitely steep.
When playing tennis growing up, it was often apparent that when I played with better players I improved much faster. The same holds true with investing and trading (in biotech as well as with any sector).
Whether in ROTY, whether via Twitter or other means, it's vital to have a few veterans you can bounce ideas off of, who are willing to play devil's advocate and point out red flags you missed. Who bring new ideas to your radar that you otherwise wouldn't have found. Who keep you grounded during your win streaks and provide encouragement during the rough patches. This holds especially true for newbies, but also includes investors of all levels who simply desire to keep learning, advancing and improving.
Look forward to others' thoughts on this topic and hope you're finishing out the weekend well!
==
For readers who wish to take their biotech investing/trading efforts to the next level, I invite you to try out the 2 Week Free Trial in ROTY (Runners of the Year).
ROTY is a tight knit 500+ member community of experienced biotech investors, profitable traders, industry veterans and novices. Our active Live Chat is characterized by generous sharing of due diligence, knowledge and continuous improvement.
Subscription includes access to our market-beating model account, Idea Lab, Cheat Sheet, Catalyst Tracker and much more! You can check out our reviews here.

Disclaimer: Commentary presented is NOT individualized investment advice. Opinions offered here are NOT personalized recommendations. Readers are expected to do their own due diligence or consult an investment professional if needed prior to making trades. Strategies discussed should not be mistaken for recommendations, and past performance may not be indicative of future results. Although I do my best to present factual research, I do not in any way guarantee the accuracy of the information I post. I reserve the right to make investment decisions on behalf of myself and affiliates regarding any security without notification except where it is required by law. Keep in mind that any opinion or position disclosed on this platform is subject to change at any moment as the thesis evolves. Investing in common stock can result in partial or total loss of capital. In other words, readers are expected to form their own trading plan, do their own research and take responsibility for their own actions. If they are not able or willing to do so, better to buy index funds or find a thoroughly vetted fee-only financial advisor to handle your account
Seeking Alpha's Disclosure: Past performance is no guarantee of future results. No recommendation or advice is being given as to whether any investment is suitable for a particular investor. Any views or opinions expressed above may not reflect those of Seeking Alpha as a whole. Seeking Alpha is not a licensed securities dealer, broker or US investment adviser or investment bank. Our analysts are third party authors that include both professional investors and individual investors who may not be licensed or certified by any institute or regulatory body.