In the past few years, I've written several series of articles that focused on different areas of biotech investing, such as Institutional Top Ideas, Core Biotech Buys and more. Each series was written with a clear objective for my readers, such as helping them learn from ¨the smart money¨, avoiding painful mistakes or identifying best-of-breed companies within various niches of the sector.
For well over a year ROTY members have requested a reboot of prior series, sharing with me lessons they learned or investing ¨wins¨ that resulted from ideas generated from these series.
Today, I'm happy to report another ¨value add¨ for ROTY members that I hope will serve you in reaching your investing and trading goals. My plan is at any one point in time, to have one specific series that I'm working on and sharing with members.
Topics will be brainstormed in Chat, feedback from members will be incorporated and ultimate decision for each series will be based on where I am best able to provide value for you. Each series can run for different periods, whether a couple weeks or a few months depending on how much useful information I uncover to share with you.
=====
Our first series is a reboot of the very popular Institutional Top Ideas series, where I delve into the portfolios of successful hedge funds. We place ourselves in the mindset of the managers and analysts, doing so humbly and knowing that we don't have access to their research or thought processes (and keeping in mind that positions are constantly changing). In the past, this has proven a useful exercise as it introduces new ideas to readers for further research and at times provides confirmation of stocks that already occupy a significant space in your portfolios.
Today's Fund: Perceptive Advisors (Whale Wisdom Link)
Founded: 1999
Manager: Joseph Edelman
Strategy: Long/short
Relevant Reading Material: Forbes Article (highly recommended and several takeaways that readers are encouraged to apply to their own trading)
Market Value: $4.3 billion
Top 10 Holdings %: 53.12%
Turnover %: 45.19%
Time Held Top 20 holdings: 7.25 quarters
Performance Last 4 Quarters: -19.9%
Q2 Performance: 0.13%

Figure 1: Performance compared to S&P Total Return Index (source: Whale Wisdom)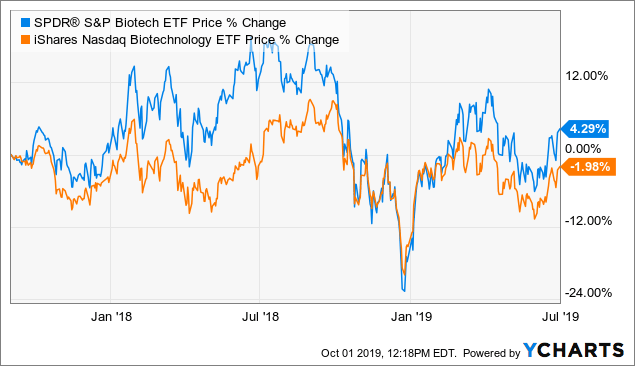 Biotech Sector Performance Over the Same Time Frame
Top 5 Weighted Biotech Positions:
#:1 Neurocrine Biosciences (NBIX) 7.79% Weighting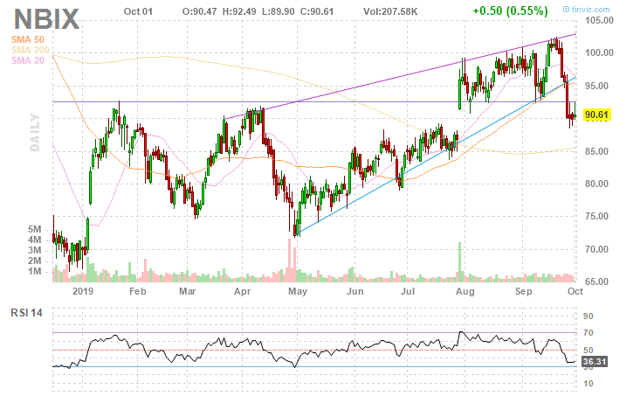 Brief Thesis: Neuroscience specialist continues to explore the potential of Ingrezza in Tardive Dyskinesia (500k patient opportunity, many undiagnosed, $1 billion run rate next year), Orilissa (elagolix) is off to a slow start but has substantial potential and other programs provide optionality (including NBI-74788 in CAH, 20k+ patients in US). The company also made a $165 million investment in Voyager Therapeutics (VYGR), a gene therapy pioneer going after Parkinson's disease and other indications.
Opinion: For readers with a medium to long term time frame who are risk averse, this one seems like a good one to accumulate dips on over the next couple quarters. On the Q2 conference call, management notes that for the first half 2019 INGREZZA net product sales rose over 80% year over year (seems like plenty of growth left in the tank). For CAH, management seems quite encouraged with POC data (meaningful reduction in ACTH 17-hydroxyprogesterone and androgen levels).
#2: Global Blood Therapeutics (GBT) 6.97% Weighting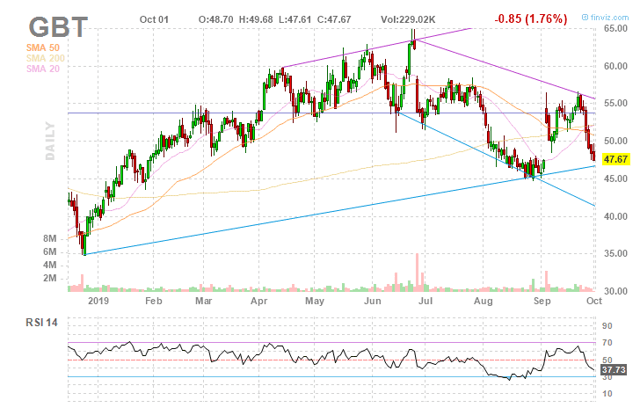 Brief Thesis: Voxelotor is targeting a very large opportunity in SCD (100k patients in US, 60k in Europe) and could be on the market next year. Management believes clinical data showing impressive increase in hemoglobin and anemia improvement should be enough to get the FDA thumbs up. TCD post-approval study should get underway soon and will prove that voxelotor reduces stroke risk to a substantial degree.
Opinion: This one has been a winner for us in the ROTY model account twice in the past. ROTY member PersimmonTreeInvestments recently commented this one looks like a good one to scoop up at current levels. Others have pointed out that the convenience of a once daily pill contrasts sharply to other approaches such as gene therapy.
#3: Mirati Therapeutics (MRTX) 6.85% Weighting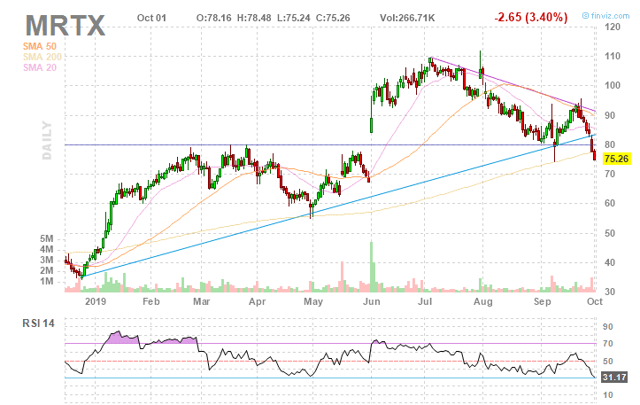 Brief Thesis: Sitravatinib continued to show promise in treating patients that progressed after being treated with checkpoint inhibitors and the company's KRAS program looks intriguing (inhibitor of G12C KRAS mutations specifically), target expressed in 14% of lung cancer patients and 5% of colorectal cancer patients. This program could be potentially "transformational" for the company, with preclinical data showing complete tumor regression (market potential for KRAS is 3 to 4 times the size of the ALK mutation population).
Opinion: The stock has been pulling back after disappointing data for Amgen's AMG 510 in patients with previously treated KRAS G12C-mutant solid tumors was presented at ESMO. Wall Street appears to believe their failure reflects on prospects of the entire class of drugs. The company appears to be touting potential of combinations with the most interesting targets, including PD-1 inhibitor, SHP2 inhibitor, Pan-EGFR TKI and CDK 4/6 inhibitor. I acknowledge there's much upside potential here, but it remains too speculative for me now (I need a derisking data set first).
Rest of article available within ROTY...
I look forward on your thoughts for what other funds merit inclusion in this series, which should probably run a couple months at least before we move on to the next topic.
....................
==
For readers who wish to take their biotech investing/trading efforts to the next level, I invite you to try out the 2 Week Free Trial in ROTY (Runners of the Year).
ROTY is a tight knit 500+ member community of experienced biotech investors, profitable traders, industry veterans and novices. Our active Live Chat is characterized by generous sharing of due diligence, knowledge and continuous improvement.
Subscription includes access to our market-beating model account, Idea Lab, Cheat Sheet, Catalyst Tracker and much more! You can check out our reviews here.

Disclaimer: Commentary presented is NOT individualized investment advice. Opinions offered here are NOT personalized recommendations. Readers are expected to do their own due diligence or consult an investment professional if needed prior to making trades. Strategies discussed should not be mistaken for recommendations, and past performance may not be indicative of future results. Although I do my best to present factual research, I do not in any way guarantee the accuracy of the information I post. I reserve the right to make investment decisions on behalf of myself and affiliates regarding any security without notification except where it is required by law. Keep in mind that any opinion or position disclosed on this platform is subject to change at any moment as the thesis evolves. Investing in common stock can result in partial or total loss of capital. In other words, readers are expected to form their own trading plan, do their own research and take responsibility for their own actions. If they are not able or willing to do so, better to buy index funds or find a thoroughly vetted fee-only financial advisor to handle your account