In ROTY's Live Chat one member asked about the market potential for ARQ531, a unique BTK asset which inhibits both wild type and C481S-mutant BTK.
My response, in brief, is the following:
1) Fastest path to market is C481S-mutant patients (poor prognosis, limited treatment options). This is a blockbuster opportunity in and of itself considering that 85% of CLL patients refractory to ibrutinib developed this mutation. For frame of reference, 20,000 CLL patients were diagnosed in the US in 2017. Also, consider that Imbruvica/ibrutinib did $4.1 billion in 2018 US sales. Peak sales estimates imply over $9 billion in sales for Imbruvica by 2024.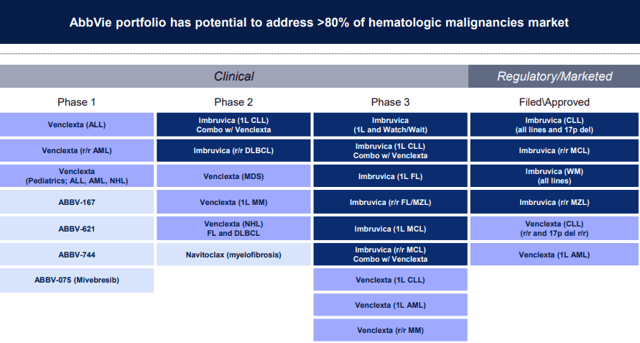 AbbVie has ambitious plans for ibrutinib label expansion
2) ARQ531 should also find its niche in patients who are intolerant to ibrutinib (somewhere between 19% to 41% of patients discontinue treatment due to adverse events).
3) Richter's Transformation (hard to gauge so far as only one patient, who was a partial responder), which has a dire prognosis (median survival is between five and eight months). 500 patients are diagnosed annually in the US with RT.
4) NHL (DLBCL, MCL, FL, WM, MZL)- Very crowded sandbox but data in expansion cohorts here should be interesting. Ibrutinib is already approved for MCL, WM and MZL.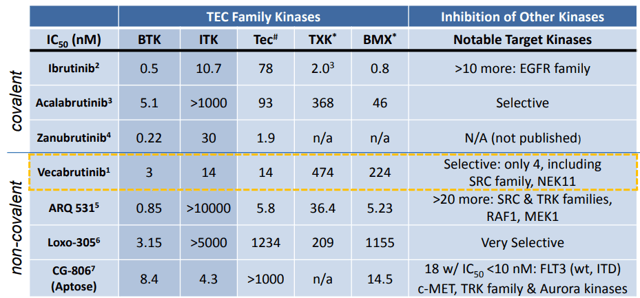 BTK Landscape, courtesty of Sunesis Pharmaceuticals presentation
Just my two cents here, but hope it helps provide perspective going into ASH data update (where durability will be key focus). Look forward to hearing if any other small oncology names on your radar.
==
For readers who wish to take their biotech investing/trading efforts to the next level, I invite you to try out the 2 Week Free Trial in ROTY (Runners of the Year).
ROTY is a tight knit 500+ member community of experienced biotech investors, profitable traders, industry veterans and novices. Our active Live Chat is characterized by generous sharing of due diligence, knowledge and continuous improvement.
Subscription includes access to our market-beating model account, Idea Lab, Cheat Sheet, Catalyst Tracker and much more! You can check out our reviews here.

Disclaimer: Commentary presented is NOT individualized investment advice. Opinions offered here are NOT personalized recommendations. Readers are expected to do their own due diligence or consult an investment professional if needed prior to making trades. Strategies discussed should not be mistaken for recommendations, and past performance may not be indicative of future results. Although I do my best to present factual research, I do not in any way guarantee the accuracy of the information I post. I reserve the right to make investment decisions on behalf of myself and affiliates regarding any security without notification except where it is required by law. Keep in mind that any opinion or position disclosed on this platform is subject to change at any moment as the thesis evolves. Investing in common stock can result in partial or total loss of capital. In other words, readers are expected to form their own trading plan, do their own research and take responsibility for their own actions. If they are not able or willing to do so, better to buy index funds or find a thoroughly vetted fee-only financial advisor to handle your account
Disclosure: I am/we are long ARQL.