Recently, I committed to regularly writing articles (as able) in carefully thought out series of posts meant to help ROTY members in various aspects of their investing, whether exploring specific areas of the biotech universe or delving into related topics of interest.
Our current series is a reboot of the very popular Institutional Top Ideas posts, where I delve into the portfolios of successful hedge funds. We place ourselves in the mindset of the managers and analysts, doing so humbly and knowing that we don't have access to their research or thought processes (and keeping in mind that positions are constantly changing). In the past, this has proven a useful exercise as it introduces new ideas to readers for further research and at times provides confirmation of stocks that already occupy a significant space in your portfolios.
Today's Fund: Orbimed Advisors (Whale Wisdom Link)
Founded: 1998
Manager: Sven Borho (after Sam Isaly stepped down)
Strategy: Long biotech/diversified
Relevant Reading Material: Partner Bios, OrbiMed Logs Two Decades of Novel Attacks on Cancer (WSJ subscription required)
Market Value: $6.4 billion
Top 10 Holdings %: 39.36%
Turnover %: 31.25%
Time Held Top 20 holdings: 4.55 quarters
Performance Last 4 Quarters: -3.5%
Q2 Performance: -1.1%

Figure 1: Performance compared to S&P Total Return Index (source: Whale Wisdom)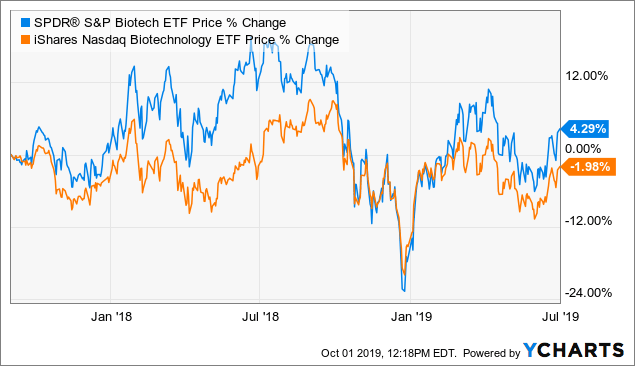 Biotech Sector Performance Over the Same Time Frame
Top 5 Weighted Biotech Positions:
#:1 Ascendis Pharma (ASND) 6.85% Weighting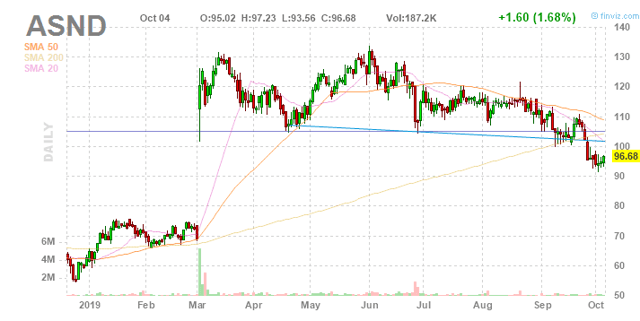 Brief Thesis: Appealing long term platform idea, as Ascendis applies their TransCon technologies to parent drugs with clinical proof of concept. Wholly owned candidates are balanced with high value collaborations with Roche and Sanofi. Lead program TransCon hGH is a once-weekly replacement therapy with excellent data and regulatory submissions in 2020, with PTH and CNP programs to follow (look significantly derisked as well).
Opinion: This one looks like an excellent long term idea to me, one for patient investors to simply buy and hold with a 3-5 year+ time frame as the story plays out. Phase 2 data for TransCon PTH is expected in Q4, but aside from that there's not as much in the way of near term catalysts to compel me to enter for our purposes in ROTY. I hope we get more discussion on ASND in Chat- back in September member DSJ.2018 added shares, noting that ¨we are getting a rare opportunity to buy a very high quality company on sale here¨, as their platform could lead to many new drugs in the future.
#2: Tricida Inc (TCDA) 6.79% Weighting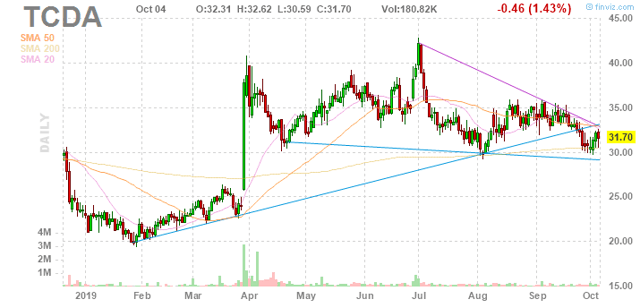 Brief Thesis: The company recently submitted its marketing application to the FDA under accelerated review status, seeking approval for veverimer for the treatment of metabolic acidosis in chronic kidney disease (CKD) patients. Rationale here makes sense, with metabolic acidosis associated with higher risk of progression to end-stage kidney disease and mortality. Long term data (for the drug candidate (durability of blood bicarbonate effect, improvement in pre-specified endpoints such as Time to DD50 & Quality of Life survey) appears definitive and there are 3 million patients to treat in the US market alone.
Opinion: If the company gets approval (seems likely), this will be an interesting drug launch story. However, I would be worried about competition from over the counter options (oral alkali supplements). On the other hand, keep in mind that many patients suffer from sodium-sensitive comorbid conditions and thus have to stick to sodium-restricted diet. I certainly need to investigate this one further, as I like to revisit these stories after they get approval and have a quarter or two of sales under their belt in the initial launch.
#3: Boston Scientific Corp (BSX) 4.49% Weighting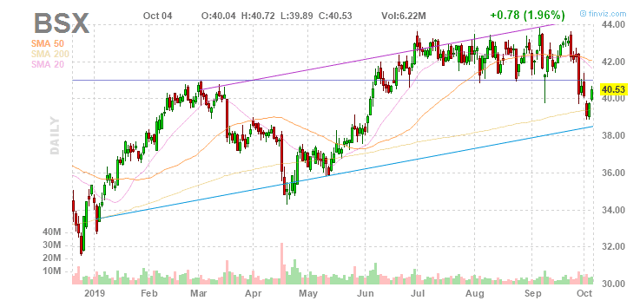 Brief Thesis: Medical device giant looking for 7% to 8% organic growth for the full year and announced £3.3B cash deal to buy Britain's BTG a few months ago. Acquisition plus new product launches could provide further growth over the near, medium and long term. Management states they aspire to be an innovative category leader, and interventional oncology space represents a very high growth opportunity (complements vascular business, can focus resources on opportunities in Europe and Asia that BTG couldn't reach).
Opinion: I was surprised to see this one in Orbimed's top holdings, but they do have quite a few product launches over the next few years (see Q2 slides, #13 and #14). In 2019 the company also acquired Millipede and Vertiflex, so it's a good bet given management's prior track record that M&A (with resulting product launches) continues to drive growth going forward. A position here seems ideal for conservative investor looking for steady, multi-year growth over the next 3-5 years+.
Rest of article available within ROTY...
I look forward on your thoughts for what other funds merit inclusion in this series, which should probably run a couple months at least before we move on to the next topic.
....................
For readers who wish to take their biotech investing/trading efforts to the next level, I invite you to try out the 2 Week Free Trial in ROTY (Runners of the Year).
ROTY is a tight knit 500+ member community of experienced biotech investors, profitable traders, industry veterans and novices. Our active Live Chat is characterized by generous sharing of due diligence, knowledge and continuous improvement.
Subscription includes access to our market-beating model account, Idea Lab, Cheat Sheet, Catalyst Tracker and much more! You can check out our reviews here.

Disclaimer: Commentary presented is NOT individualized investment advice. Opinions offered here are NOT personalized recommendations. Readers are expected to do their own due diligence or consult an investment professional if needed prior to making trades. Strategies discussed should not be mistaken for recommendations, and past performance may not be indicative of future results. Although I do my best to present factual research, I do not in any way guarantee the accuracy of the information I post. I reserve the right to make investment decisions on behalf of myself and affiliates regarding any security without notification except where it is required by law. Keep in mind that any opinion or position disclosed on this platform is subject to change at any moment as the thesis evolves. Investing in common stock can result in partial or total loss of capital. In other words, readers are expected to form their own trading plan, do their own research and take responsibility for their own actions. If they are not able or willing to do so, better to buy index funds or find a thoroughly vetted fee-only financial advisor to handle your account