Reata Pharmaceuticals (RETA) announced that the registrational part 2 portion of the MOXIe Phase 2 trial of omaveloxolone in patients with Friedreich's ataxia met its primary endpoint (demonstrated statistically significant, placebo-corrected 2.40 point improvement in mFARS after 48 weeks of treatment). This is a big deal, considering several of the following points:
This was supposedly a higher risk readout where most analysts didn't include the drug in their valuation and price targets.
A 6,000+ patient opportunity in the United States awaits and this would be the FIRST approved treatment for them
Omaveloxolone is a ¨pipeline in a product¨, meaning it has the potential to treat several other neuromuscular disease indications with no approved (or limited) therapies.
Slides for the data presentation can be accessed here.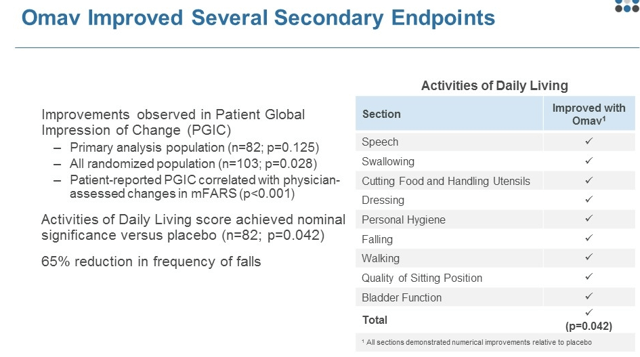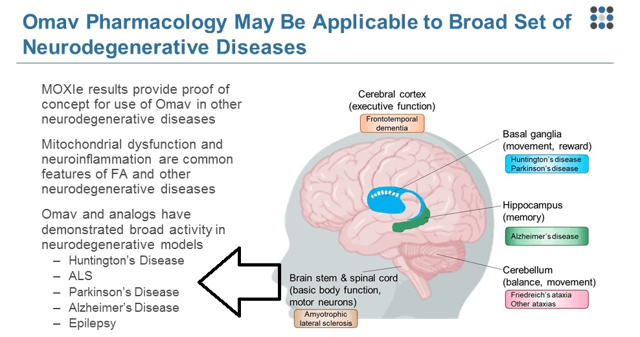 As for safety, four omaveloxolone patients and two placebo patients discontinued study drug due to an adverse event (most AEs were mild to moderate in intensity). Importantly, increases in aminotransferases are a pharmacological effect of omaveloxolone (increases production of aminotransferases in vitro) and believed to be related to restoration of mitochondrial function. In MOXIe, management states that the aminotransferase increases were associated with improvements in total bilirubin and NOT with liver injury. This issue will require continued examination and closer monitoring, likely being a point that skeptics and bears continue to focus on.
Two additional omaveloxolone-treated patients reported SAEs approximately two weeks after receiving their final dose (need more clarity on this point).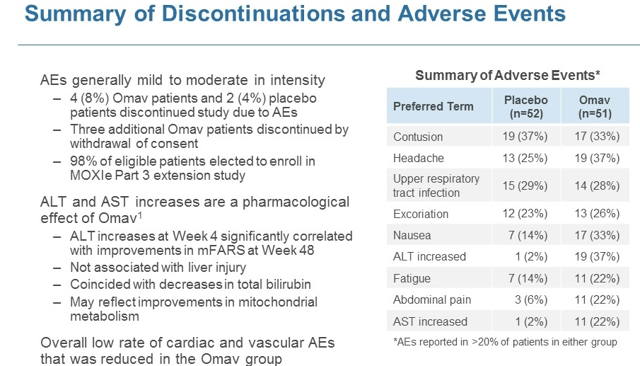 The significance of this data is that omaveloxlone can now be thought of as a ¨pipeline in a product¨, a phrase we love in ROTY as it means success in one indication can open up opportunities in many others.
For those who weren't in the stock, don't kick yourself. If this were down 25% on missing the trial endpoint, you wouldn't feel that way.
In my case, I did my best to convey how in the ROTY model account we accumulated a position, took partial profits when the stock bounced, and kept position size at a level (between half and 3/4 size) that allowed us to profit while being able prepared for the risks of a negative readout.
What other names do you think could have big readouts later this year? Look forward to your thoughts in the Comments Section.
....................
For readers who wish to take their biotech investing/trading efforts to the next level, I invite you to try out the 2 Week Free Trial in ROTY (Runners of the Year).
ROTY is a tight knit 500+ member community of experienced biotech investors, profitable traders, industry veterans and novices. Our active Live Chat is characterized by generous sharing of due diligence, knowledge and continuous improvement.
Subscription includes access to our market-beating model account, Idea Lab, Cheat Sheet, Catalyst Tracker and much more! You can check out our reviews here.

Disclaimer: Commentary presented is NOT individualized investment advice. Opinions offered here are NOT personalized recommendations. Readers are expected to do their own due diligence or consult an investment professional if needed prior to making trades. Strategies discussed should not be mistaken for recommendations, and past performance may not be indicative of future results. Although I do my best to present factual research, I do not in any way guarantee the accuracy of the information I post. I reserve the right to make investment decisions on behalf of myself and affiliates regarding any security without notification except where it is required by law. Keep in mind that any opinion or position disclosed on this platform is subject to change at any moment as the thesis evolves. Investing in common stock can result in partial or total loss of capital. In other words, readers are expected to form their own trading plan, do their own research and take responsibility for their own actions. If they are not able or willing to do so, better to buy index funds or find a thoroughly vetted fee-only financial advisor to handle your account
Disclosure: I am/we are long RETA.