Below is a snapshot of returns for ROTY's model account so far this year.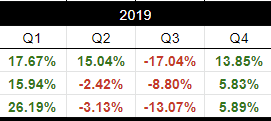 We've experienced a range of emotions that investors in the biotech sector can typically expect:
-The exhilarating feeling of data wins, in such ROTY positions as ArQule (ARQL) and Reata Pharmaceuticals (RETA) 
-The frustrating feeling of forcing mediocre or losing trades that we shouldn't have been in in the first place (CTMX, RTRX, ATRA and several others)
-The even more frustrating feeling of selling a stock, only to watch it rack up multibagger gains soon after (EIDX comes to mind)
-Pilot purchases made too quickly due to FOMO (fear of missing out)
The list goes on. It's easy to swing between having very high confidence in your approach when things go well and questioning yourself when experiencing a rough patch. The important thing is to find a niche that fits your style, risk profile and amount of time available to do the basics (scan for ideas, DD, etc). 
For many investors in the biotech sector, I hope ROTY could be a good fit:
- We focus on ideas with elements of derisking and downside cushion
- We prefer clear catalyst opportunities (data readout, regulatory event, launch, etc) or revaluation plays (company undervalued relative to commercial prospects)
- We emphasize forming good habits (taking partial profits on the way up, cutting losers quickly when thesis changes, showing patience when a thesis really strengthens, playing devil's advocate)
- We are transparent with winners and losers (both offer opportunities to learn and improve)
Our model account has a number of stocks with key readouts in the next couple months, so it'll be interesting to see how we finish out the year!
Hope everyone is having a great week so far and seeing green in your portfolios. Be sure to take risk off the table where merited, as the sector still faces significant headwinds.
==
For readers who wish to take their biotech investing/trading efforts to the next level, I invite you to try out the 2 Week Free Trial in ROTY (Runners of the Year).
ROTY is a tight knit 500+ member community of experienced biotech investors, profitable traders, industry veterans and novices. Our active Live Chat is characterized by generous sharing of due diligence, knowledge and continuous improvement.
Subscription includes access to our market-beating model account, Idea Lab, Cheat Sheet, Catalyst Tracker and much more! You can check out our reviews here.

Disclosure: I am/we are long RETA, ARQL.