Biotech Sector Snapshot: Thoughts On Crowd Psychology & Taking Advantage Of Stocks On Sale
Please Note: Blog posts are not selected, edited or screened by Seeking Alpha editors.
Summary
My experience in ROTY has been that when the XBI is at highs, investors flock to the service. Likewise, the opposite is true when the XBI is at lows.
Unfortunately, when valuations are cheap and stocks on sale, many investors run for the exits instead of taking advantage of them.
This week I made trades for both ROTY and Core Biotech portfolios, taking advantage of current environment to gain exposure to names I find attractive.
While the level of pain and panic in Chat is palpable, encouragingly there are a number of rational voices from veterans, sharing gameplans and names they are adding with patient outlook to 2022 and beyond.
Drawdowns are very frustrating, especially this one given how long the pessimism has lasted. Focus on the few ideas that are high conviction for you, remembering proper position sizing and risk management to sleep well at night.
Weekly Advanced Chart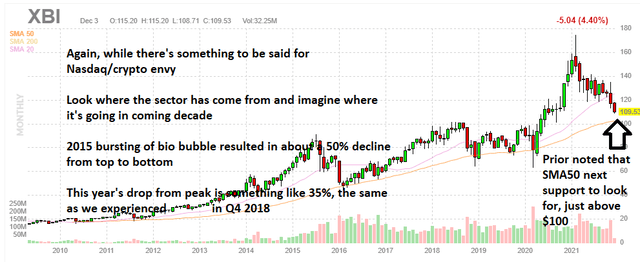 ROTY Portfolio (focused on catalyst pipeline/clinical momentum within the next 12 months)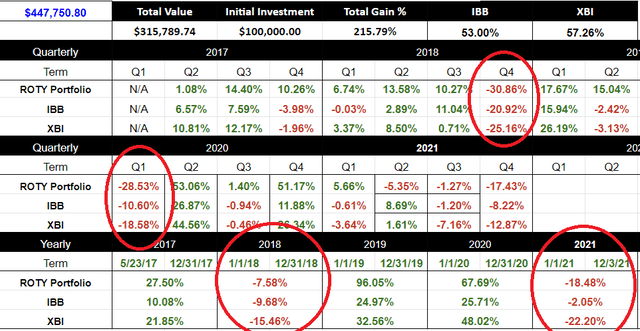 Core Biotech Portfolio (focused on catalyst pipeline/clinical momentum within the next 3 to 5 years)
IMGN- $257M upsized offering at $6.60 price point (stock and warrants), says something that it was able to hold the offering price in midst of XBI weakness. Pivotal data for SORAYA phase 3 in ovarian cancer was positive enough to likely get drug across regulatory finish line (although I think other FRa ADC players will put up better numbers especially in terms of durability, like STRO)
KRYS- $200M financing at $75 price point. Gene therapy theme continues to be in the dog house, so it was refreshing to see a promising pivotal data set and stock rewarded on the results (still up nearly 75% from lows). Had an ROTY member ask what to do with his position at highs and suggested either sell all, or sell half keep half to lock in gains in current environment as the rest of the pipeline will take time to move forward.
Weekly Gainers on Radar
Closing Thoughts
What a frustrating week (and year for that matter)!
I highlighted ROTY returns above, and am reminded that in the depths of Q4 2018 pullback my portfolio was down 25% before rebounding to a -7% loss to finish the year. Current weakness puts us in that territory- in Q4 2018, my losses were compounded by giving into emotions (namely fear) and overtrading (shooting from the hip instead of taking the time to logically think through my decisions, take time off from the markets as needed).
Pundits like to say ¨this time is different¨, but the more experience I rack up and the more I hear that phrase, I learn to ignore it. I agree there are differences in the current weakness in biotech (namely how much longer the downtrend has been relative to previous rough patches) and also contrasted to strength in other indices/areas of the market.
In today's Weekly Recap post, I highlighted the following remarks on the current bio bear:
On current pessimism and weakness in biotech:
Kas23- I remember Bitcoin peaked around $19k in late Dec 2017. By the beginning of 2019, everyone thought the time of valuing something that didn't exist had come to an end. look at it now. If Bitcoin could roar back, so can biotech, which holds an intrinsic value to mankind.

Persimmon Tree Investments XBI* - Take heart, everyone... I'm getting a second wind -- and not because my portfolio is in good shape (it is very much red)... Just clearing the head, reminding myself of the underlying (likely) value, and shifting away from the daily punishment to think about what may be on the horizon, as candidates, and time/sentiment, progress.

RSI.Miner- The amount of time a bear market lasts can make it harder mentally than shorter ones. The current one (couple days short of 10 months) is the longest one since the XBI was created in 2006. The other 3 largest XBI bear markets were 7,7 and 6 months long. Also as I am typing XBI is down 21% YTD, the next closest worst year was around 14.5%.

Ahbetancourtv repost: XBI*From Tweeter: "Now is the time to focus on fundamentals. Now is the time to use the panic of the FOMO traders to pick up those companies that have strong fundamentals (_as per JF criteria_), but were just too bubbly to buy". This is what JF and some our fellows from ROTY have been doing for our community.

Dr.Long (from Twitter, loved the perspective): This is the best time to be a biotech investor in MANY years, with many awesome valuations/situations now presenting! Roll up the sleeves and dig in, some epic runs incoming if you can look past and sit tight through the carnage.

DSJ.2018- MARKET: despite all the fear and loathing, I bought the following today. I dont personally care if it goes little lower and I am happy to wait months or even years for these investments to bear fruit. Several them have legit 5-10x potential: XENE, RCKT, AFMD, LPTX, BTAI, MYOV, FATE
From my end, I again chose to focus on logical decisions, such as taking my 25%+ loss in ADAP to add to 3 ROTY names that were better positioned (to my eyes) to rebound 1H 22.
Likewise in Core Biotech portfolio, I initiated a new position in a rare disease player that's been executing surprisingly well commercially as well as in the clinic, with pandemic not hampering their success as all.
Regarding the tendency of some to time the market, I definitely admire those who can do so correctly (they are few and far between).
From my end, it's no secret I'm driven by valuations (EV relative to prospects, specifically) and given the current environment, for the past few months I've been aggressively adding $$ to my bio brokerage accounts and will continue to do so as long as this weakness lasts. 
While it does not feel like it at the time, experience has shown that the decisions we make today, in the middle of the rough patch, set us up for the success that follows.
Wish everyone a great rest of the weekend and reminder to stay invested with position sizes and level of cash that allows you to sleep well at night.
JF
=========================================
Join 700+ biotech investors and traders in the ROTY Community!
Participate in a Live Chat where members generously share due diligence, conviction picks and genuinely wish to see each other profit.
Get access to JF's high conviction ideas and monthly updates on our market-beating model account (+284% versus +77% for IBB and +89% for XBI since inception)
Try out other features intended to help you succeed, such as Cheat Sheet, Weekly Recap, 5 Minute Portfolio Rundown and much more.
Trade to Live, NOT Live to Trade philosophy (low maintenance, follow our thesis and make changes to positions only as merited)
¨Teach a man to fish¨ approach (follow my thought process, learn from both winners and losers together)

Check out recent reviews of the service here.
---
Additional disclosure: Disclaimer: Commentary presented is NOT individualized investment advice. Opinions offered here are NOT personalized recommendations. Readers are expected to do their own due diligence or consult an investment professional if needed prior to making trades. Strategies discussed should not be mistaken for recommendations, and past performance may not be indicative of future results. Although I do my best to present factual research, I do not in any way guarantee the accuracy of the information I post. I reserve the right to make investment decisions on behalf of myself and affiliates regarding any security without notification except where it is required by law. Keep in mind that any opinion or position disclosed on this platform is subject to change at any moment as the thesis evolves. Investing in common stock can result in partial or total loss of capital. In other words, readers are expected to form their own trading plan, do their own research and take responsibility for their own actions. If they are not able or willing to do so, better to buy index funds or find a thoroughly vetted fee-only financial advisor to handle your account.
Seeking Alpha's Disclosure: Past performance is no guarantee of future results. No recommendation or advice is being given as to whether any investment is suitable for a particular investor. Any views or opinions expressed above may not reflect those of Seeking Alpha as a whole. Seeking Alpha is not a licensed securities dealer, broker or US investment adviser or investment bank. Our analysts are third party authors that include both professional investors and individual investors who may not be licensed or certified by any institute or regulatory body.