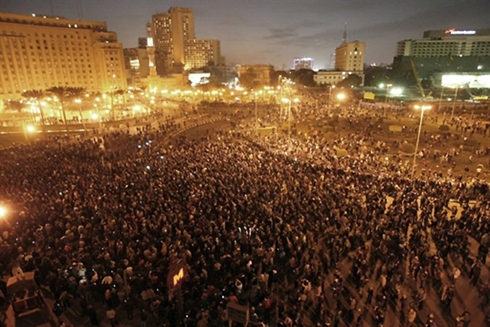 For more than a few weeks prior to the market caring about Egypt, the story of Tunisia and the beginning rumblings of the Egyptian story had been reported by my friends over at Zerohedge.com. The market decided rather suddenly and dramatically, that it cared about Egypt on Friday. That resulted in a very significant sell off with the NASDAQ down 2.55% by day's end. This weekend I tweeted that the reaction was overdone, that Egypt concerns would not spread and that the Suez Canal would most certainly not be closed. In this regard I was most certainly correct as the markets recovered marketedly this week.

However the markets are fickle and they react rather dramatically to news and images on the television. While Mubarak indicated last night that he would not seek re-election, he also indicated that he would "die in Egypt" and made statements about security which suggested to many that he is tired of the protests and he would crack down later this week on the protesters. This morning we have the beginnings of clashes. From Aljazeera:

"On Wednesday, thousands of supporters of embattled President Hosni Mubarak descended on the protestors, throwing huge rocks and beating them with sticks. They also targeted journalists, threatening anyone holding a notebook or recorder and physically attacking photographers.

I was mobbed after I snapped a picture of a Mubarak supporter who'd been injured. He was unable to walk on his own so two of his friends helped hold him up. He approached me and yelled at me to delete the photograph immediately. On other occasions, there were near stampedes as the Mubarak supporters ran in a crowd after throwing rocks at the protestors inside Tahrir. There were bloodied bandages all around." Source: http://blogs.aljazeera.net/middle-east/2011/02/02/view-tahrir-square


Things are only going to get worse as we move towards the end of the week and the protesters and pro-government forces mix it up. There is even the possibility that the Muslim Brotherhood could call in assistance from their friends, Hamas of Gaza. While the government in Egypt has massive superiority in weaponry, that doesn't mean that the anti-government forces can't strike back. And will the unarmed street protesters be injured in the process leading to horrible images of human tragedy on television? It is certainly possible. Tread lightly. This week the markets dramatically surged back from their sell-off last week. Given the event risk that lies ahead in the next few day, I would not get too greedy from here as we finish out the week.

Collaring your winning positions would be advisable at this point. Sell upside calls to collect premium and use those funds to buy downside puts for protection. Give yourself an acceptable buffer on the upside so you can realize profit and not have your stock called away at a low level, but also take into account how much downside you want to tolerate. This can be cashless if you buy similarly priced calls and puts. If you don't want to lose your positions in the event of continued upside, buy SPY puts or VIX calls to protect your overall portfolio. In the event that the market decides to care about Egypt again, the S&P will fall and volitility will move higher.
Disclosure:
I have no positions in any stocks mentioned, and no plans to initiate any positions within the next 72 hours.