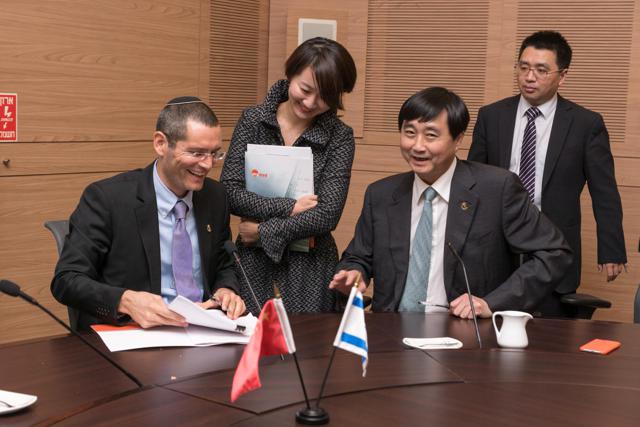 JERUSALEM, November 30, 2015 - Israel's Oramed Pharmaceuticals Inc. (NASDAQ:ORMP), a developer of oral drug delivery systems, Monday reached a US$50 million licensing and investment deal that provides it with a share of a fast-growing market for diabetes-related treatment in China, and positions the company to attract further investments from global pharmaceuticals giants.
At a ceremony at the Israeli Knesset (Parliament), Oramed said it signed a licensing and investment agreement with Hefei Life Science & Technology Park Investments and Development Co., partially owned by China's pharmaceutical giant Sinopharm Group Co. (1099.HK). The deal gives Hefei Life exclusive rights to market Oramed's oral insulin capsule, ORMD-0801, in China, Hong Kong and Macau.
"This is the first step to making the technology commercial," Oramed CEO Nadav Kidron said at the signing ceremony.
China offers a significant market opportunity for Oramed, and a strategic opportunity. As a changing diet leads to a growing number of diabetics in China, Sinopharm has invested in expanding its insulin production capacity. With 100 million diabetics and 20 million diabetics receiving treatment, China spends US$4 billion every year on insulin. "The market for insulin in China is huge," Gao Xiaoming, chairman of Hefei Life said in an interview.
The deal also represents a boost to Israel - China relations, as both countries have been developing closer ties recently. The agreement with Hefei Life is the biggest licensing deal in the pharmaceutical space between Israel and China. "In addition to the $50 million in milestone payments and investments, we believe the 10% royalty on net sales throughout China will have a very significant impact on Oramed's future revenues and earnings, upon market approval of ORMD-0801 in China," Oramed CEO Nadav Kidron said in a statement.
The license agreement payments include US$11 million payable in installments and the remaining US$26.5 million upon completion of milestones. Further, Hefei Life will pay 10% royalties on net sales of the oral insulin in China for 15 years. Oramed will also issue to Hefei Life 1,155,469 restricted shares of Oramed's common stock, at a price per share of $10.39, or 34% premium over last close of US$7.75. Hefei will pay a total of $12 million for about 9% of Oramed. The company currently has 11.5 million shares outstanding.
Oramed Pharmaceuticals develops a proprietary platform technology that allows for the oral delivery of drugs that are presently only available via injection. Oramed's initial product is an oral insulin capsule (ORMD-0801) for treating type 1 and type 2 diabetes. Oramed completed US FDA Phase IIa trials for both types, and expects Phase IIb results by mid-2016.
"In our view, the Oramed solution could permit the introduction of the first truly effective orally-bioavailable insulin preparation," research firm Rodman & Renshaw said in a report. Rodman & Renshaw has a buy recommendation on the stock with a target price of US$24. Hefei Life's Gao said he expects the oral insulin pill to reach the Chinese market between 2021 and 2023.
The oral insulin capsule is based on the work of Oramed's chief scientist Dr. Miriam Kidron. Dr. Kidron has been a senior researcher in the Diabetes Unit at Hadassah-Hebrew University Medical Center in Jerusalem, Israel. Dr. Kidron founded the company with her son and CEO Nadav Kidron in 2006. The company's scientific advisory board includes Nobel Prize in chemistry laureate Prof. Avram Hershko.
Oramed has another Chinese partner - Guangxi Wuzhou Zhongheng Group Co. (600252.SS) invested US$5M for 6% of Oramed in 2014. The deal with Hefei Life strengthens Oramed's position vis-à-vis potential large pharmaceutical companies. Oramed is debt free and has US$17.1 million in cash and equivalents.
"In our view, positive data from the firm's Phase 2b trial of ORMD-0801 could make
ORMD-0801 the subject of a relatively near-term licensing transaction or might possibly serve as the catalyst for an acquisition of Oramed by an established participant in the diabetes market, potentially in 2016," Rodman & Renshaw said.
Sinopharm, the Chinese pharmaceutical giant, is upbeat about the cooperation. "This will create more cooperation opportunities between Israel and China in the future," said Zhou Bin, vice president of China National Pharmaceutical Group Corp., the parent of Sinopharm.
Disclosure: I/we have no positions in any stocks mentioned, but may initiate a long position in ORMP over the next 72 hours.