A nice week.

Is about 2 weeks I post here in SA and about what to speak? 
As many investors I'm looking to long opportunities to something still near the lows as the GAS that is an energy hot commodity even if analysts are still negative.
The problem his that some analysts just do the job of analyst... we are traders and there is a big difference. The UNG and Gas I think are financial instruments we need to buy as "contrarian" because we already suffer the contango and in general rollovers losses. So the best is to act near supports and resistances and to calculate it.

As I said, 11.05 USD level, not touched, was and is what I expect as good support for UNG but because we can imagine a rally of 22/38% at support level we should act in somehow before this level too, and what is the best of sell PUT options that give us just that 80/100 cents we need to have an average price of 11.05? So 1 month before, sell some put if you believe that UNG is not risky because need some week to touch the level and then some week to rebound, usually the rebound of UNG last 2 weeks. So 1 month can be acceptable risk in selling naked puts.
 
And now here the charts of UNG: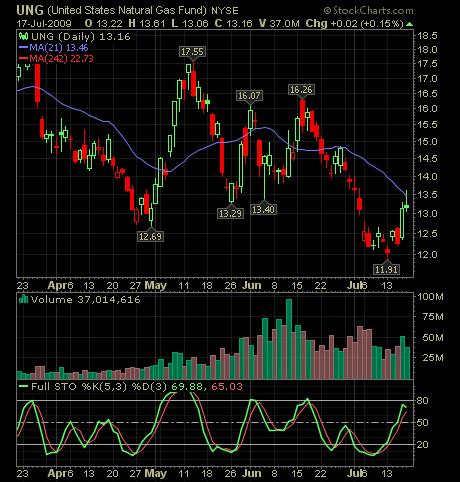 As in the previous analysis we can see that UNG exactly centered the 3 upper resistances and the last was 13.40, were the previous minimums and level HIGHLY MONITORED by big hands. Also touched and influenced by the 1 month average that was passing around 13.50 level.

The close of friday was not so good and candle pattern but we have to see monday if will open in gap down or up. In case of gap up we can go to the targets I mentioned of 22 and 38% above the 11.91 low, while in case of retracement the key support will be 12.69 area, below this area we will see for sure new low below 11.91.

So for the next week we will monitor:
1. support of 12.69 were to try to enter with a stop loss in 11.91 area
2. resistances levels of 14.53 and 16.43 were close all the speculative long positions
3. if fail the support of 11.91 to be read to sell put in area 11.05 so let's say the stikes 11, 10 and 9 for august. I also remember that I've a tragic second and last target at 9.17 of UNG but I do not believe we will touch it in this cycle and I expect a range 11.05/16.43 for the weeks.

However I will update you daily on UNG because is something on the low and is highly monitored around the world, big money is in, big money will put other money in, and big money will enter as they will see UNG to fly (but this money will enter in a bad way and at bad prices).

And now, the chart of the UNG/USO spread I'm talking since weeks in SeekingAlpha: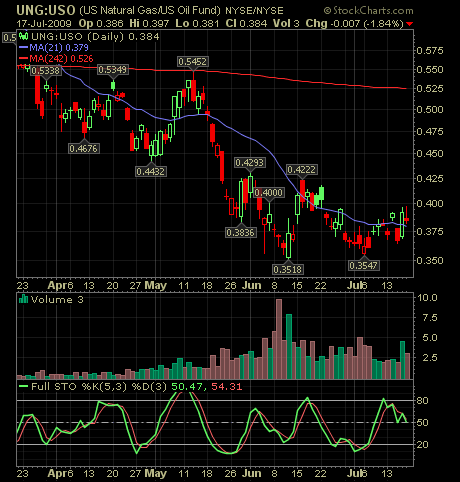 The good is that we are still above the 1 month average! This mean that UNG is still stronger than USO, gas is overperforming the oil.
However, even in the case we will fail crossing again the average shouldn't be panic. This is a strategy to trade as each other instruments so the support area of 0.35 and even a new low in area 0.34 should be buy opportunity, on my view and we can still see an area of 0.42/44 as resistances were sell some position to risk less. Long term target is the 1 year average you see in red color so the area 0.50.

That's all, I hope you enjoyed the week with GAS!

I repeat, if something will go bad as analysts say, in the worse scenario we will have to fill our lighters for the rest of our life, or we will sell it at each corner in the streets (:-)))))))) Joke.

Bye

Danny Devito @ investingformula.blogspot.com