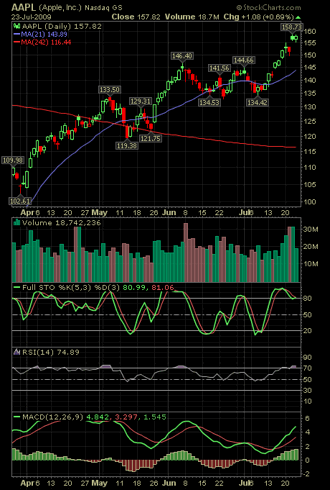 Near 100 rally for APPLE, short reasons like for MSFT.

Divergences on main momentum indicators and a trend that seem sick even just watching with naked eyes and any technical analysis.

How much far we are since the 2007 highs? So few.
Where will go apple with the economic growth in the next years?

Now is trading at 30 of PE with earnings that are still solid and stable.

I think as it was in the past that people is giving to much value to APPLE, and now that the price is double... they can't tell it is because of the cash in the company that of course is not doubled in 3 months (:-).

APPLE is more risky than MSFT or BIDU I think for the shorts because of investors very attached to this stock and the attitude to follow index correction always in late.
But can be a good point were to close long positions instead just to short.