I'm always 100% short on this level of world wide markets, and I do not consider concrete what level of prices we are watching, expecially on some stocks lile Bidu, Apple and some other with PE ration already quite expensive.

But even if the world continue to price wrong stocks, with some markets like America where to an Apple investors are like to apply a PE of 30 and some markets in Europe where an oil/energy stock was trading a PE of 3 without debts and with capitalization = to the cash in the company!, we need to consider the risk to invest in this stock, and so the opportunity to short more easily, even if more risky, with some small bet.
However, today, instead to concentrate my attention to short stocks with high PEs but however not with an high level of debts, I will think to attack some more delicate stock, first of all FORD.

First of all, let's look to yesterday for active stocks in the U.s. market: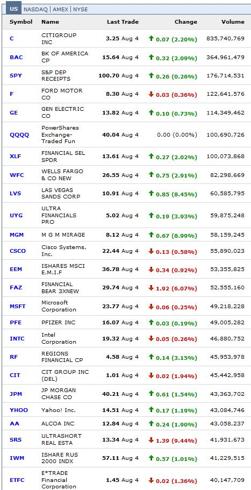 C and BAC at the top... and we know their status, financially speaking, very big performances since the lows, but impossible to give a value to their income statement and balance sheet, you know why, so let's esclude banks.

let's exclude ETs, and in the top position we found some bad debt stocks like F and G.
Let' study a bit:
GE capitalization 146 billions
Net profit 14 billions
DEBT? 515 billions! 40 years to pay the debt.
this is the chart at today close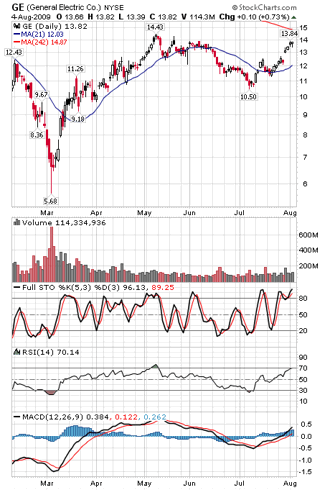 Very near to 14.43 area of resistance of the past spring.
Very near to 1 year average.
You can think whatever you want on this stock, but financials speaks alone, and
there are a lot of volumes on GE, so will be one of my preferite to short, but I think
we can have more chance on FORD.
 
F, FORD,
capitalization 23 billions but after the price went up from 1 usd to 8
Debts? 145 billions or over 6 times actual capitalization and 20, 30, 40 at the low we have seen months ago.
Profit? if you have heard in TV a big problem to make profit, at least for now.
How many years to repay the debts? No comment.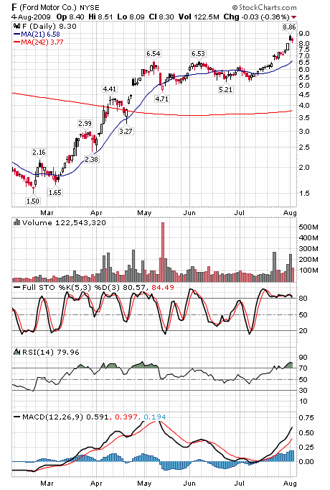 The financial situation speaks alone, and better than GE case where at least we are facing against an utility sectors that is completely different from the auto sector that have seen the bankrupcy of GM General Motors.
I don't know what investors see in Ford and what can bring prices from 1 USD to 9 USD, may be the short covering or something like that, but what I say is that as soon as you have the perception the market is coming down for the right correction, a short on F can be very interesting.
Seen how volatile it is and seen how hard it is however to short stocks with this kind of behaviour, the unique tool we have is the use of options.
I will post some option strategy tomorrow at market opem, I think that October is the terrible month each trader and investor have fear and a small bet on october and november options can be very interesting.
Target for a correction of Ford is te 1 year average so around 4,00 USD level.

At those prices we can even simulate a spread going long GE and short FORD to reduce the risk of a short selling just on Ford.
In the list of stocks of yahoo above, we have even AA Alcoa that financially is not in a so good position, but their situation is completely different from the catastrofic financials of FORD and the bad financials of GE!


Here some options of DECEMBER 2009 with a close of F at 8.30 USD friday.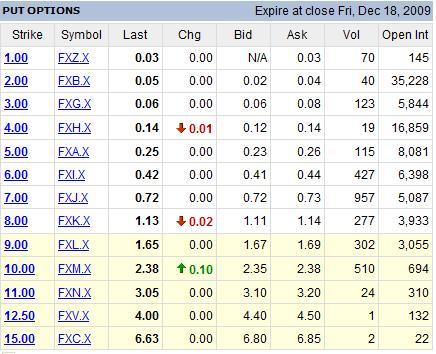 I can imagine some strategy like for now to sell the strike 10 and buy strike 11,
and waiting for the spread reduction when the price of FORD will be around 6 USD that should easily arrive with the first heavy correction of Sp500.
Similar to buy some PUT 8 and sell some put 2/3 usd strike below.
I will figure out some strategy on F options with a small risk, from this idea I'm going to hope to make just a 0,5% profit, not important to risk more to do more.