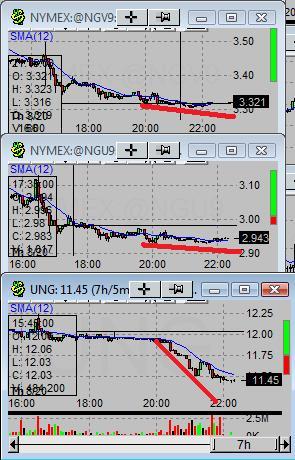 Take a look to what happened today!
Usually can happen to underperform to an ETF when it is exposed on the second near future expiration october instead of september and viceversa! But today, the crash of UNG have no sense, and I don't think the premium was so big to justify what is happened.
I will make some research, however my new targets based on the october futures are of 10.50/10.60 USD area. Below that we won't go in the next month.
As I said, big play in options on UNG and tomorrow there is the expiration... big interests in puts so... hardly tomorrow will go above 12, will be to much pressure. 
So the next strategy for the next month is very simple, to sell put 11 and 10 and call 12.00.
Actually as you know I sold prudentially only put 12.00 at 0.55 so I will be long in area 11.50/45 tomorrow if prices are still so low.
Are months that we trade with options to lower our averages... I started at 15.00 usd and now we are at 11.45... it's very hard to earn on gas and UNG, but it's our job of traders, however I just want to make a nice profit and I won't trade anymore this tremendous ETFs that lose money on rollovers.
Better to bet on the spread USO/UNG that however is on the low..
This is the chart of the spread, I bought for my last buy today in area 0.32/0.3150, and now I will wait resistances in 0.35 area first and 0.40 then.