Double top of Sp500 with divergences, bearish, on technical indicators.

This top is a serious one. Is above the 1 year average and so should be taken very carefully because this time bears could have a victory.
My targets for this correction as you know is a buy opportunity for the long term investiment so I will be very attent to pick the bottom as it will form. I think this bottom will come before november and novembre will be the month where to buy.
Can be quite deep the correction if the correction will not start in september.
 
As I wrote in previous posts the CHINA index for the first month close in negative so the august is a inversion set up on MONTHLY CHARTS.
 
I attach to you a chart of Sp500 of today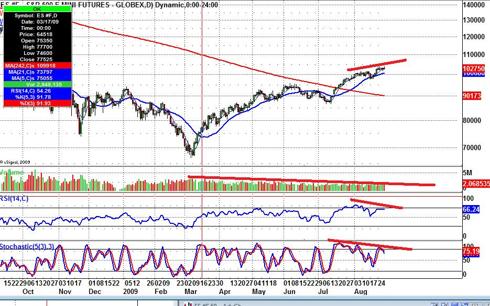 In my view for sure we will toch again the 1 year average so the area 900 but just because a nice study on the rally targets from the bottom at 665 I know that a very important point and support and "target" will be the area 842.

842 represent the same target and extention of the rally of novembre/december, and the market never was able to make a pullback after April. Was my bullish target that sincerly I could expect to stop the last "bear rally" but the weekly divergences showed that the 665 level was a potential ciclical bottom and now we are already so in a bullish market at 3/4 years, so we just need to study which will be the low area of the last/final correction everybody is waiting for.

There is a lot of money waiting for to invest below current prices but there are somwhere risks too will create in somehow fear to investors, if will be the Swine flu or emerging markets to high (just to look where are Brasil or India) i don't know, but something should happen in this autumn to create the final buy opportunity.
And will be not so easy to choose where to invest because a lot of market rally to much. For example at the moment I don't like at all India, Brasil, Korea and similar, while are in a better position US/Eu index, Japan, Hong Kong.

However we will have time to comment I hope in the next days and weeks, for now is to early. So let's concentrate on some alternative trade like UNG arbitrage, spread and/or ETFs (that is not an happy trade however and if I could come back of a month I could spend more time on somethingelse, however the last premium arbitrage is paying us of other sacrifices).