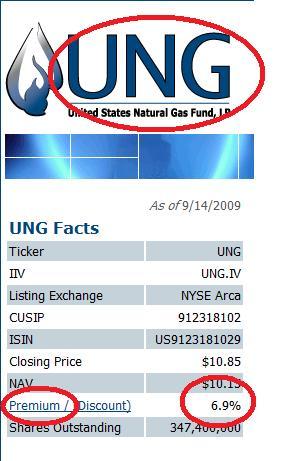 We made a nice trade, down from 16,12% of the previus day.
Disclaimer: I reduced my arbitrage from 80.000 shares to just 6500.
I bet on a premium that can range in the next days betwen 5% and 15% but hardly i can imagine to see something more than 12,5%.
 
As I said, who knows... those buyers of UNG decide and we act based on our instict, but as you know we were very suspicious at 20,5% premium and we couldn't believe could be so easy to make money. It was. As I said in september when all fund managers was back from holidays we could remember that 17,5%/20% as an opportunity unique and cry on it. But me and some of you did this trade, so nice trade guys and let's hope in 1 arbitrage per year like this.. Hard but let's stay in touch.
 
Danny.