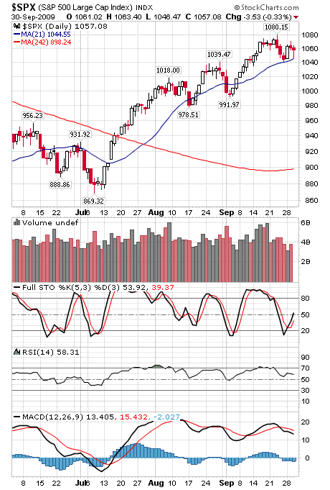 Ok at least my bearish sentiment.
We have a triple top supported by various indicators, today just take a look to MACD that not only is in bearish divergence with descending tops but also was able to cross the average... so we are short.
Technically the triple top still there and any failure for today.
October... is coming. We have few days to be hurted by some bearish movement or bulls will win again. OK we can give another bullish trap at 1080... but will be to bad, we wil start to have a triple top less regular with a double top integrated in the 3rd top.
Without shocking news, only China and asian markets can give some input.
INDIA is an new top and very high too.  What to say... we are near the 5/6 years tops there, good luck.. the crisis never happened and such countries in less of 1 year have all investors again in profit. Hard to happen and a real sign that something will happen later in 2010 if this 2009 is ending with a too fast rally without any wealthy correction. The risk will be that in 2010 we will be hurted much more from the bearish hand and we could even retest the 2009 lows, while a correction now will have the support of almost all investors. But may be that this is the problem at this time.
 
So let's wait next breakout. (up move)