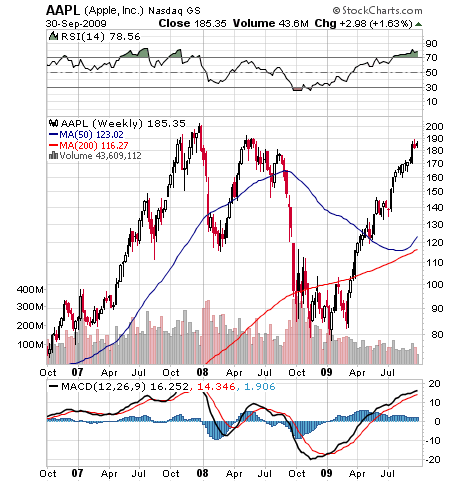 Apple we know, financially is an a good shape.
But there is a limit to this, when a stock start to become overvalued, with high PE and not so convenient after a rally of 140% in few months. And we are just exiting from the crisis. What we should expect with euphoria so? an APPLEat 400 USD and may be there at a PE of 40?
Ok, let's continue to evaluate the stocks and companies in this manner, and will be better to make the IPO of our bakery and go in the exchange.
However, after RIMM crash in the past days, apple still on the top with any small correction. To bullish sentiment.
As you can see with are at 10 usd for historic record, and just on a resistance area of 190/200.
In case of a bearish scenario the area 120 is a great support with 2 area on the left well visible and the 1 year average.
At those level, I can't just stay at the window and wait. No interest to invest to those levels. And APPLE is major stock in the Nasdaq100 so this should be an alert for Nasdaq100 level reached too.