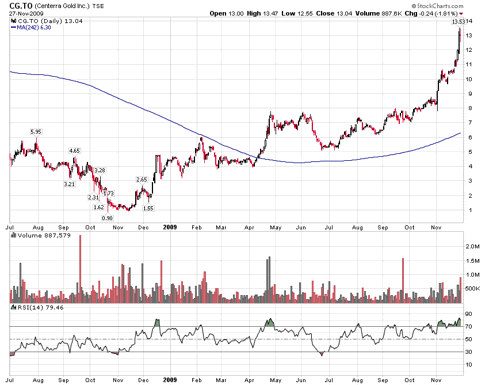 Centerra Gold 1 year later the call.
Over 1400% increase, too optimistic my target just at the 1 year aveage that was at that time 6 CAD. The rule in the U.s. and canadian volatile market is always the same, 33% positions sold where you fee safe to do it (without consider any technical analisys), 33% on a strong long term moving average, and the rest let it run for 6/12 months, in this case with the coming GOLD bubble, 12 months was a minimum, and this is the result. Oh my god, that 1 P/E  ration was meaning something, Mr. Market gave away a gem, and we was lucky to make some sort of profit of it.
Thanks for reading and thanks to hotstockmarket forum for the support and the exchange of ideas with the GCE.to play in exchange of my call.
Bye friends.