A lot of hedge fund managers and investors worldwide is still waiting to invest in the long term, as decleared by media you read/hear and as each investor itself know about it and the reasons are pratically 2:

1. we went up too fast, too much and too early

2. the gains from the lows are so huge that should stimulate speculators to take profit with an high return that can even be the one they was looking for for a 2/3 years rally seen the performances and just the 6/9 months time period to gain it.

3. in a so deep crisis as everybody described worse than 1929, there is no space for a V shape set up, and the one we have seen is in a lot of markets emerging and not a V shape, sho we should expect a correction and a new pattern for the final solid and real long term rally. And, if the things are really changed worldwide we could even see mature economies not rally and emergin markets in rally (and bubble/s).

4. Analysts in TV like Faber, Rubini and several hedge fund managers are confirming still to wait better price where to enter again in the market, most of them is holding cash and really hard to find a bargain stock fundamentally speaking if we consider that even FORD with debts dozens times its capitalization is trading at 800% its march 2009 low.

Now let's see some chart:

Mexico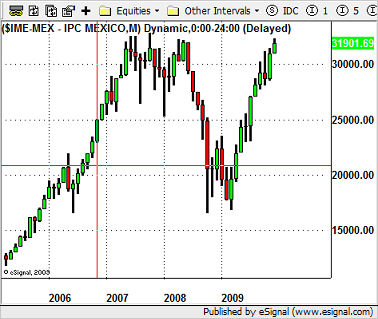 Brasil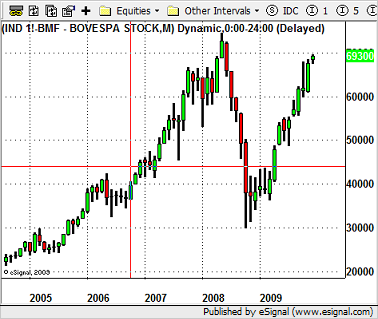 China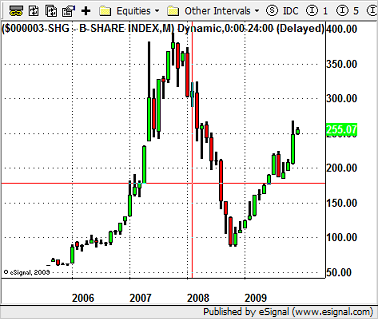 India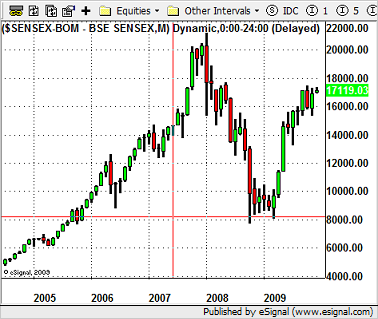 and on the other side, in difficulty countries till few days ago:

Greece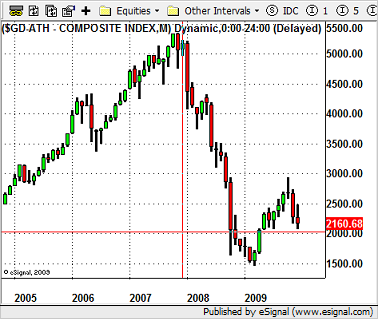 Ireland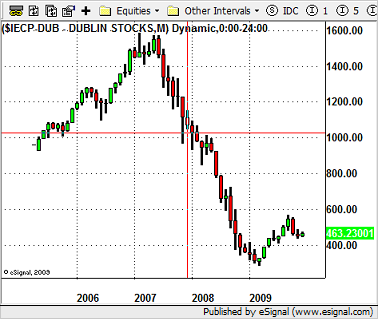 Japan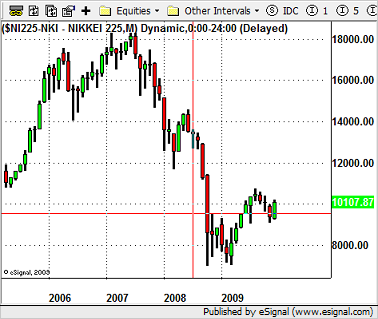 Now as you can see, all the worldwide markets went down in 2008/2009 all together to do the lows, then some markets (emergin or high growth GDP) went up 100% and more and it's very close to its all time high, some like Japan, Ireland and Greece few days ago was even touching and/or below the 1 year and 200 day moving average.

Emerging markets gave us a lesson, that they are able to recover much faster and sooner than mature economies like US, Europe, Japan etc, but however they are now very near to the tops.. and in the case of Mexico we are at the top...

I was reading some article of some days ago in Europe that they created a way to call Portugal, Italy, Greece and Spain: PIGS not so nice to compare to BRICS so (:-)) even hear some theory to let exit from EURO currency those economies suffering a lot the loss of power with the creation of the new currency (price doubled and even more for us).


Now is happening something much more aggressive, rating agencies are starting to downgrade the debt of Greece, I've heard even that 1 day the Sp500 went down on worries about this.
And what will happen if this will be just the beginning and in the next few days or week we will start to hear about downgrade of Ireland debt, that Lavia, Estonia, Lithania, Hungary, UK etc etc? because there are all in the same class and conditions. Ah I forgot Italy too, another country with huge debt and slow growth and the unique with zero growth in the past 10 years betwen the EU countries.

We will see. However see that they are starting to attack EU economies, the US don't make more news, so let's change theme. This could help the trend of U.S. dollar and to make a top here or around here in the EUR/USD rate.

This month candle look bad for now.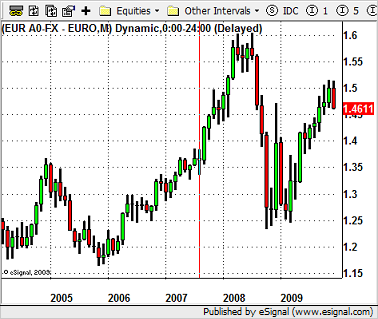 We will see what happen in the next weeks.
I'm still holding cash 98%, long 1% each in GU, RIMM.