The price of gasoline has become intensely volatile, its cost frequently fluctuating by as much as 10-30% overnight. Uber drivers have to live in fear of inflated fuel expenses slaughtering their profit margins. They feel demoralized. They feel defeated.
But what if there were a way for Uber drivers to make more money when gas prices increase?
Say hello to the United States Gasoline Fund (NYSEARCA:UGA), the premiere gasoline ETF. The share value of UGA correlates to the price Americans pay at the pump. If you take a look at the image below, you will see in this side-by-side comparison of UGA's share value versus America's average price of gasoline, UGA's price fluctuates almost exactly the same as the national fuel costs. (Visit this site for more specific information regarding gas price fluctuation history in your own city.)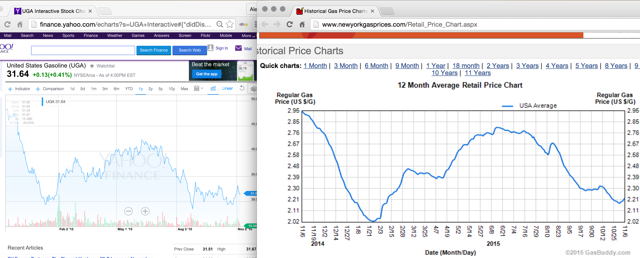 How to Benefit
Uber driver's profit margins expand when fuel prices fall, but when higher fuel costs disrupt their profits, Uber drivers can purchase shares of UGA and "bet" on its share price rising.
An Easy Example
For the sake of simplicity, we'll use round numbers instead of UGA's actual stock price. Let's say you buy 100 shares of UGA at $10 per share. You anticipate that gas prices will increase to an amount which would cause the share price of UGA to rise by 10%. Sure enough, within a few days, the stock price of UGA rises to $11, triggering your sell limit order. With your modest investment of $1,000, $1,100 is returned to you.
Now, does a 10% rise in share price within days sound outlandish? For UGA, that degree of fluctuation is common. Between last Friday (10/30/15) and midday this Monday, the price of UGA rose by a whopping 8.30%.
The Bottom Line
Uber drivers can't control the price of gas, but if you're an Uber driver as well as a savvy investor, your profit margins will expand when gas prices decrease, and you'll profit from your investment in UGA when gas prices increase. With this one deft investment, fuel costs can never hurt you. Rise or fall, you will always win.
If you have any questions or comments, feel free to email me at AlexanderMarshi@gmail.com. Also, check out my Quora blog regarding stocks and marketing. My creative works can be found on my Medium.com profile. I'm also a professional comedian, so if you feel like laughing, follow me on Twitter @AlexanderMarshi.
Disclosure: I/we have no positions in any stocks mentioned, and no plans to initiate any positions within the next 72 hours.