Background: Pokémon, a strong brand
Investors not familiar with Pokémon may struggle to understand the value this brand presents and how much it means to the loyal fans. Pokémon is one of the few shared culture among millennialsall over the world - beloved not only in the U.S., but also in Europe, and of course its motherland Japan, and other APAC countries. From the 90s, Pokémon has gained enormous popularity as an anime cartoon and different versions of video games, and nothing gives its players more pleasure than to capture all the "Pokémons" out there and battle out fellow Pokémon trainers, first via handheld game consoles such as Gameboys and PSPs, to the latest release of Pokémon Go, where users can play in real life with augmented reality by exploring their real-life neighborhoods and tapping their phone's camera to "capture" cute, virtual creatures in the real world surrounding them. And for the past few weeks it seems like everyone is obsessed with the game, and not until I saw people in suits running around the highest end office buildings in Hong Kong last week did I realized that Pokémon Go was launched yet in another place and is quickly sweeping across the city.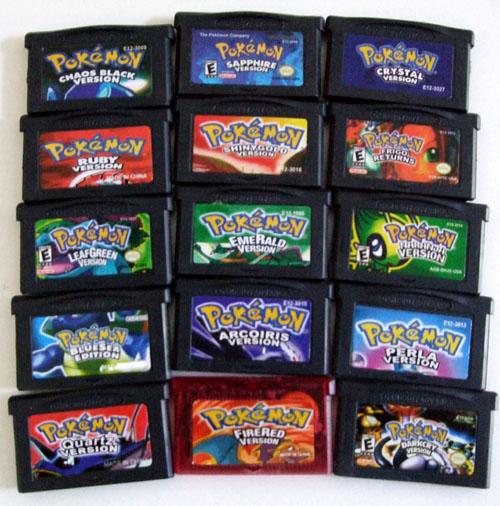 (Pokemon series for Gameboys, from 90s to early 00s)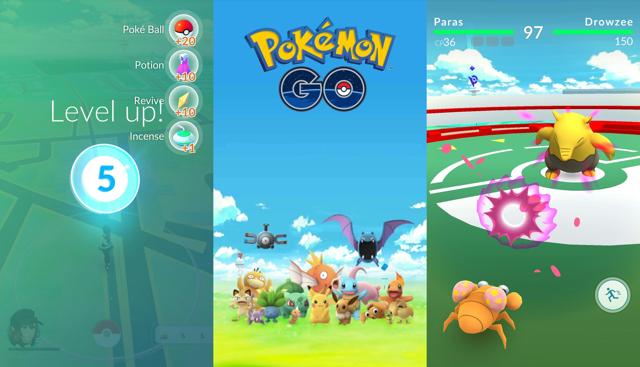 (Pokemon Go's launch has become a world-wide sensation)
And such technological evolution brings joy not only to millions and millions of players and Pokémon fans but also to the shareholders of Nintendo (OTCPK:NTDOY). Nintendo's Stock jumped 10 percent overnight after the virtual reality game's launch - according to Bloomberg, Nintendo traded $ 4.5 billion (c. 476 billion Yen) on Friday, July 8th alone, which broke the record for the biggest daily turnover in the TOPIX Stock Price Index (MUTF:TOPIX) this century. The stock surged nearly 25% in Tokyo on the following Monday. Nintendo also beat out other companies on the list such as Sony (NYSE:SNE), Mitsubishi Corporation (MTU), and SoftBank (OTCPK:SFTBY).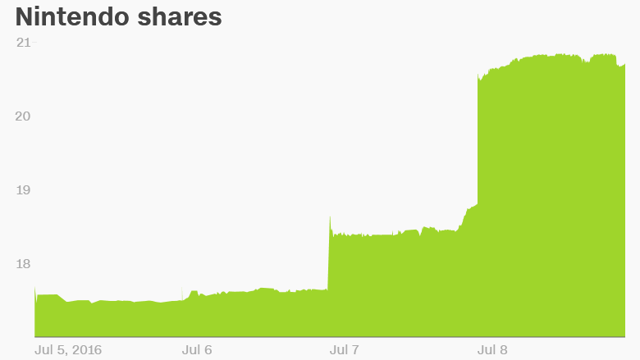 The overnight sensation of Pokémon Go might be a promising start of a turnaround for a company that has been struggling for the past several quarters. Nintendo's earnings slumped and its net income tanked around 60% in FY 2015, largely due to unsuccessful line of releases such as the Wii U, its most recent game console, whose sales was dismal compared to its better rated rivals such as Sony's PlayStation 4 and Microsoft's (MSFT) Xbox One. Before this months' bounce, the company's stock had lost nearly 50% of its value over the last 12 months. But now, all seems to have changed, with Nintendo's share price jumping over 200% to its peak a week after the release of Pokémon Go.
Nintendo's Success?
However, let's be honest - despite all the optimism on the market following Pokémon Go's debut across many countries, Nintendo's latest market surge attributes solely to the strength of the Pokémon brand rather than any other legacy of the company. Though closely associated with the Pokémon, Nintendo only holds non-majority stakes in both the developer Niantic, and the publisher The Pokémon Company, a Japanese firm that controls marketing and licensing the company not being directly involved in the game. And the most valuable asset of all - Pokémon's copyright - is shared among Nintendo, Creatures Inc., and franchise creators Game Freak. Together, the companies profit from the brand via `The Pokémon Company. Yes this structure is complicated - and understandably many investors failed to realize until recently that The Pokémon Company - not Nintendo - was responsible for funding, licensing, and approving the release of Pokémon Go, entitling it to the newly generated profits.
Afraid of investors' sudden realization that they will see very little of the revenue generated by Pokémon Go reflected in its own financial forecast, Nintendo released a statement (click to view) a week ago as a wake-up call informing investors of the series of facts.
Let's analyze parts of this time appropriate "Notice" in closer details:
" The Company (Nintendo) owns 32 percent of the voting power of The Pokémon Company," - As mentioned, the game was distributed by Niantic Labs, a mobile gaming start-up previously spun out of Google (NASDAQ:GOOG). Future updates are likely dependent upon Niantic as well, giving them a big stake at developments of the game.
"The Pokémon Company is [Nintendo's] affiliated company, accounted for by using the equity method. Because of this accounting scheme, the income reflected on [Nintendo's] consolidated business results is limited," - Despite the estimation of hundreds of millions of USD in new income generated by Pokémon Go, Nintendo did not increase income guidance with the increased revenue projection.
"Taking the current situation into consideration, [Nintendo] is not modifying the consolidated financial forecast for now…will make a timely disclosure when the Company needs to modify its financial forecasts." - Not sure what exactly can be interpreted from this message, but it is very likely that the agreement with other companies involved as mentioned above does not favor NTDOY as much as many have projected. But this is only my own assumption.
So the company's distant relationship with the Pokémon brand is clearly stated in the above statement, and Pokémon Go's app loading screen doesn't even mention Nintendo. Consequently, Nintendo's stock immediately plummeted. When the market in Japan closed last Monday, the company's stock was down 17%, nearly $ 7 billion as opportunistic investors quickly turned around and ditched the stock. It was the most dramatic stock price drop Nintendo has experienced since 1990, as Bloomberg reported.
Here's an interesting comparison for investors' consideration - remember GoPro (NASDAQ:GPRO)? For a while the stock was a market favorite after the motion camera's launch and effective sensationalization in social media platforms such as Youtube boosted wild projections among the investors, and led many to ignore the fundamental stats of the company. After consecutive quarters of sales underperformance and GoPro's social media platforms cooling down, its stock price dropped more than 80%, tanking from its peak at $94 to around $10 in a bit over one year, and never really recovered since.
Will Nintendo trace GoPro's performance in the future?
Conclusion
By the time majority of the players catch most of the Pokémon s, no matter how soon or how long it might take, would they still be as fanatic about the game as they are when they newly started? Or would The Pokémon Company be able to continuously release of new versions and features of the mobile app game to keep the users engaged? In addition, within a year or so, it's hard to say that other video game companies would not come up with equally or more attractive augmented reality games which will likely damage Pokémon Go's first-mover advantage.
Despite the fact that Nintendo has been behind the Pokémon brand, I would argue that the recent spike in the share price of NTDOY is an over-exaggeration, and as a result the stock holds negative short to mid-term horizon. Nonetheless, I believe that the price will fall down but sustain above the previous level of c. $18 before Pokémon Go's launch, thanks to the increased brand value and portion of profits generated from the game. As the Nintendo stock already started to show signs of declining momentum, investors should be extremely cautious to purchase Nintendo at this point of time, and future profits specifically attributable to Pokémon Go should be one of the most important guidance for how much Nintendo has really benefited from the game's launch.
Supporting Documents
Disclosure: I/we have no positions in any stocks mentioned, and no plans to initiate any positions within the next 72 hours.
I wrote this article myself, and it expresses my own opinions. I am not receiving compensation for it (other than from Seeking Alpha). I have no business relationship with any company whose stock is mentioned in this article.