Click HERE to watch video.

Energy. It is one of the defining issues of our time.

The vanadium redox battery—with its ultra long life and vast capacity to hold power—is the key to our future energy storage requirements primarily in the solar and wind turbine sectors.

Vanadium has been proven to more than double the strength of steel, allowing steelmakers globally to produce the high-strength steels needed in buildings, bridges, pipelines and tool steels as well as in the aerospace, engineering and alloy sectors.

Apella Resources (TSXV:APA) could play a major role in not only solving America's energy crisis; but it could become an integral supplier of vanadium, iron and titanium to the world's steel and alloy sectors.


About 90% of global Vanadium is derived from the Titaniferous Magnetite. Presently, 98% of vanadium production comes from just three countries: South Africa, China and Russia.

Each of these countries has known geo-political, geological and infrastructure risks that could impede future production and supply to western industry.

Apella Resources has the answer.

Located in Canada, one of the world's best mining jurisdictions, Apella Resources could stand shoulder to shoulder with the world's largest vanadium producers.

Apella is rapidly expanding the known mineralization on its 100% owned Lac Dore and Iron T projects.

Both enjoy excellent infrastructure. The immediate area is serviced by the mining centres of Chibougamau and Matagami. Rail lines run to within 10-30 km of the projects. Paved roads and power run across both projects with airports servicing both mining centres.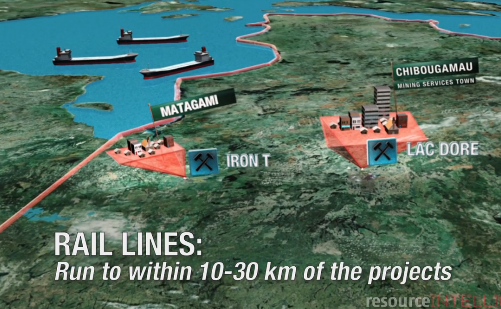 Iron T and Lac Dore: Excellent infrastructure

The advanced-stage Lac Dore project is the company's priority target.

Totalling 1,600 acres. Lac Dore is located 70 km southeast of the mining centre Chibougamau.

The historic Lac Dore deposit measures approximately 3.5 km x 150 metres and extends to a depth of at least 150 to 200 metres.

Drilling by past operators occurred from 1958 to 2002. Drill hole assays reveal multiple zones of vanadium, iron and titanium downhole. For example, drill hole S-20 had 7 mineralized zones including 21 metres grading 0.61% V2O5, 36.66% Fe2O3 and 10.38% TiO2.

The value of past exploration and development is approximately $15M.
To Apella Resources, its value in guiding present exploration and planning has been immeasurable.

In 2002, SNC-Lavalin completed a Positive Feasibility Study for the project, including a non-43-101-compliant resource estimate.

This resource totals 102 million tonnes grading 35% iron, 17.4% titanium dioxide and 0.5% Vanadium pentoxide.

Now that Apella has been awarded full title to its Lac Dore claims, the company will commence drilling its phase I drill targets to confirm and qualify the resource size and continuity.

250 km to the west of Lac Dore, Apella's vanadium, iron, titanium project, the Iron-T lies adjacent to the mining centre of Matagami.

Like Lac Dore, infrastructure in the region is excellent.

Remarkably, Mineralization appears to be nearly identical to Apella's Lac Dore deposit with one important exception: The project has a mineralized footprint at least 5-7 times larger, with an initial deposit target size of 250 million tonnes.

Mineralization is evident over a strike length of 22 kilometres by approximately 300 metres.

To date, 61 drill holes have been completed at Iron-T, with each hole appearing to extend mineralization to the east and west along strike.

Recently, Drill hole MA-09-11 totalled 309 m and included multiple significant intersections, as follows:

    31.98 m @ 0.57% V2O5 eqv
    4.50 m @ 0.20% V2O5 eqv
    72.30 m @ 0.74 V2O5 eqv
    4.88 m @ 0.16% V2O5 eqv
    99.89 m @ 0.83% V2O5 eqv
    8.75 m@ 0.25% V2O5 eqv

This drill hole remains open at depth.

This drilling has already produced an inferred mineral resource within the Genesis zone.

The Genesis Zone only represents one and a half kms of the 22km strike and it alone now totals an impressive 14,380,000 tonnes averaging 0.77% V2O5 Equivalent. (0.42% V2O5, 39.04% Fe2O3 and 6.55% TiO2).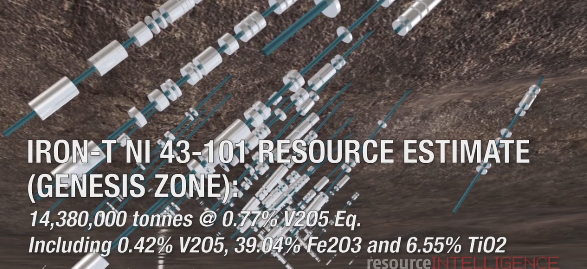 Iron T Resource: This could grow to 5 - 7 times larger than Lac Dore

Tonnage at the Genesis zone is expected to grow significantly with more drilling.

The last drill program added additional layers to the Genesis and confirmed consistent results along the entire 22 km strike.

Both the Iron-T and Lac Dore Deposits display striking resemblance with other typical world-class magmatic Fe-Ti-V oxide deposits like the Bushveld Complex in South Africa where the majority of current Vanadium production comes from.

Apella Resources is fully committed to developing these important new sources of vanadium, iron and titanium in an environment of global growth and demand for these commodities.

Disclosure: No Positions.