Click HERE to Watch Video.
What materials make wind turbines turn? Why are hybrid vehicles so clean? And what makes smart phones so smart? For all these modern technologies, and more, there are rare earth elements.
Quest Rare Minerals. (TSX.V: QRM) An advanced Canadian rare earth investment.
The Strange Lake rare earth element property is located near the Quebec-Labrador border about 220 km northeast of Schefferville and 125 km west of the Voisey's Bay nickel copper mine.
The project covers 42,700 hectares.
Within this area, two mineralized zones have been identified: The B Zone and the Main Zone, as well as several areas of elevated values such as A, SLG, Apurna and B East.
In 2008, an airborne survey identified a 2.2 km by 500 m radiometric anomaly 2.5 km east of the Main Zone.
This new area, now known as the B-Zone, contains the bulk of the known mineralization on the project.
Two hundred and fifty-six exploration drill holes have been completed in the B-zone delineating a known mineralized area measuring 1,500 x 750 metres, and mineralized to a depth of 325 metres.

In January 2012, Quest reported that new drill results from the project continue to confirm consistently high grade, horizontally lying, near surface resources, rich in both heavy and light rare earths.
The project is particularly rich in Tb, Dy, Nd, Y, Nb and Zr.
Drill hole BZ11218 intersected 144.4 metres grading 1.14% TREO.
Multiple, high-grade intersections of between 1.12% (BZ11125) and 6.11% TREO over thicknesses of between 2.34 m to 144.3 m characterize all holes drilled into the zone.
These intersections are contained within a large mineralized envelope ranging between 95 and 147 m-thick.
Drilling has proven that mineralization remains open at a depth of 325 meters to the south, southeast, north and northeast.
In April 2011, the company released an updated resource estimate for the B-Zone.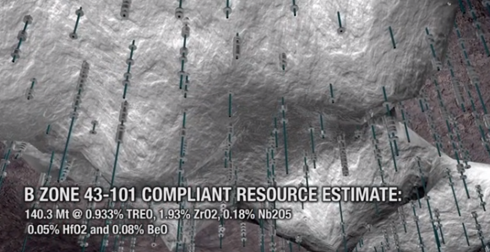 The zone hosts an indicated resource of 140.3 million tonnes grading 0.933% TREO, 1.93% zirconium oxide (ZrO2), 0.18% niobium pentoxide (Nb2O5), 0.05% hafnium oxide (HfO2) and 0.08 beryllium oxide (BeO).
A further inferred resource of 89.6 million tonnes has also been identified.
It is estimated that heavy rare earth oxides (HREO)-considered to be substantially more valuable-represent 40% to 51% of the TREO in the B Zone.
The mineralized system is capped by a core, pegmatite-dominant zone of mineralization that will provide higer-grades of rare earths in the early years of production.
The 2010 Preliminary Economic Assessment (PEA) for the B-Zone envisaged a 25-year mine life with total capital costs of $563.4 million that can be paid back in just four years.
This 4,000 tpd conceptual plan would generate cash-flows of up to C$368.2 million per year and almost $8 billion over the life of mine…
an Internal Rate of Return (NYSE:IRR) of 36.4% and a Pre-Tax Net Present Value (NYSE:NPV) of C$1.41 billion at a 12% discount rate with strong Net Present Value metrics at discount rates of up to 20%.
Quest Rare Minerals is poised to be a potential long term provider of critical heavy rare earths to world markets.
Efforts have now transitioned to tightly spaced infill drilling in an effort to upgrade more of the resource to reserve categories.
Quest plans to complete a Pre-feasibility Study by H2, 2012 that will more accurately depict the revenue model for the potential mining operation.
Quest remains on track for production startup by 2017.
Disclosure: No Positions