By Doug Hadfield, resourceINTELLIGENCE TV| This article is an update. Read the original story here.
Investors keen on green stocks may soon be able to add titanium explorers and miners to their portfolios. Scientists from the University of Leeds last week announced that they had discovered a way to recover rare earths essential to green technologies from the by-product titanium processing.
In an interview with resourceINTELLIGENCE TV, the lead scientist on the project, Professor Animesh Jha, said that the new process could be a boon to titanium miners on several levels, particularly new projects.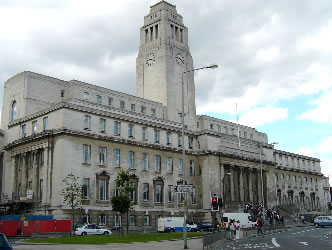 University of Leeds
Professor Jha said that not capturing these rare earth by-products will soon no longer be an option. "Worldwide richer grades of titanium dioxide minerals are disappearing fast which means we have to process lower grades of titaniferous minerals and extract the REO as co-product and not waste them."
With concerns about global warming mounting on an international scale, such as the recent Copenhagen Climate Conference, new technologies that lower emissions and reduce the carbon footprint are gaining popularity. The Leeds team say they have developed a technology that addresses this head on and could eventually effect all future titanium deposits.
"Because our process is fundamentally different from the current one it will make a huge difference to new projects. We can recycle CO2, heat and water – can you imagine that in the current process?"
Others have questioned the practical application of the breakthrough. Resource analyst John Kaiser told resourceINTELLIGENCE TV that even if the team can produce rare earths from titanium waste, the quantities may be too little to make an impact on the growing demand for rare earth oxides.
The problem with these scenarios is that the by-product supply is a function of primary product demand," he said, referring to the fact that Professor Jha's team produces rare earths only as a by-product of titanium production waste. He compared the method to others where primary ore processing results in a by-product, but in very limited quantities, such as bauxite which produces as its by-product gallium, or zinc which produces as its by-product indium.
"Nobody processes extra bauxite or zinc because gallium and indium prices are high," the founder of Kaiser Bottom Fish Online said.
Professor Jha doesn't believe the analogy is accurate. He said the reasons for high gallium and indium prices are their relative lower abundance and inefficient recycling by the semiconductor industry. Rare Earths grades in titanium waste, on the other hand, can be relatively high. "Grades vary from less than 1 wt% in ilmenite to several wt%. I have seen up to 8 wt% of REO," said the Leeds professor.
The Leeds breakthrough came as Professor Jha and his team were fine-tuning a patented industrial process to extract higher yields of titanium dioxide and refine it to over 99 per cent purity.
"Our recovery rate varies between 60 and 80 per cent, although through better process engineering we will be able to recover more in the future," says Professor Jha. "But already, the recovery of oxides of neodymium (Nd), cerium (Ce) and lanthanum (La), from the waste products — which are most commonly found with titanium dioxide minerals — is an impressive environmental double benefit."
Neodymium magnets are the strongest magnets known and, like lanthanum, are widely used in the manufacture of hybrid vehicles. Cerium oxide is a catalytic converter for the reduction of carbon dioxide emissions in the exhaust gases from motor vehicles.
The group anticipates beginning pilot scale trials within the next 12 months.
Resource Intelligence TV is a web-based resource investor program with interviews and articles on some of the brightest minds in mining investment.
According to Professor Jha, all titanium deposits may impacted by the findings. Here is a list of companies with interests in titanium oxide projects around the world from shareknow.net:
Adriana Resources Incorporated – Research


Tiomin Resources Inc. -Research
Disclosure:
"No Positions"