Background
On January 20, 2009 Barrack Obama assumed the role as 44th President of the United States, inheriting a weak economy and the inherent presidential duty to try and fix it. The U.S. housing markets had recently collapsed, and consumer confidence was down.
Situations have gotten better since then. How much better? That depends on which metrics you choose to compare. The one thing we are concerned with however, are the markets and how they react. With an election later this year, we refined this question further. How do markets react towards the end of a presidency?
We broke down the markets so that we could do a side-by-side comparison of the terms to see how markets acted as they came to a close. The last three consecutive presidents have been double-term presidents which turned out to uncover an interesting market phenomenon. We also include a list of ETFs to gain exposure to these observations at the end.
The Presidential Terms
It must be noted that our charted date ranges overlap since they start on the election date rather than the inauguration date so to show any changes in market sentiment due to election results. Below is a table of the four most recent presidents/terms selected for this historical market comparison.
| | | | |
| --- | --- | --- | --- |
| President | Election Date | Inauguration Date | End of Term |
| Barrack H. Obama | 11/04/2008 | 01/20/2009 | 01/20/2017 |
| George W. Bush | 11/07/2000 | 01/20/2001 | 01/20/2009 |
| William J. Clinton | 11/02/1992 | 01/20/1993 | 01/20/2001 |
| George H.W. Bush | 11/08/1988 | 01/20/1989 | 01/20/1993 |
Double-Term Phenomenon?
The major market indices representing large cap. and small cap. companies both declined in the approximately 10-month period leading up to the election that would end the respective double-term presidency. This market decline was not observed in the selected single-term presidency. We came up with one simple conclusion as to why this is: uncertainty.
A U.S. presidential election already brings a certain level of inherent market uncertainty with it. An election brings about opportunity for a major change to occur. As well, the U.S. president is arguably the most powerful leader in the world.
The key phrase is opportunity for change. Just because there is a chance that someone new will be elected to office does not mean that someone will... unless it is their second term. In this case, due to the 22nd amendment to the U.S. constitution, change is guaranteed, and in lays the market uncertainty.
As we will see below are the markets of the current and former U.S. presidents respectively. We have charted the normalized (%) change of the following metrics for each of the four presidential terms:
Barrack H. Obama: 11/04/2008 - Today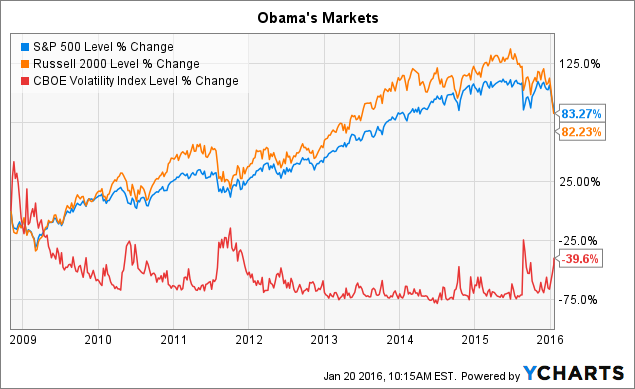 George W. Bush: 11/07/2000 - 01/20/2009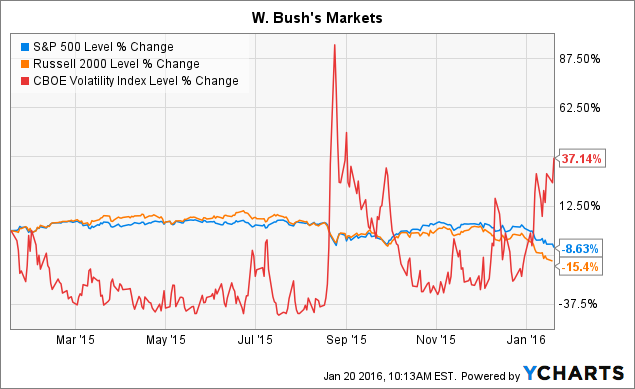 William J. Clinton: 11/02/1992 - 01/20/2001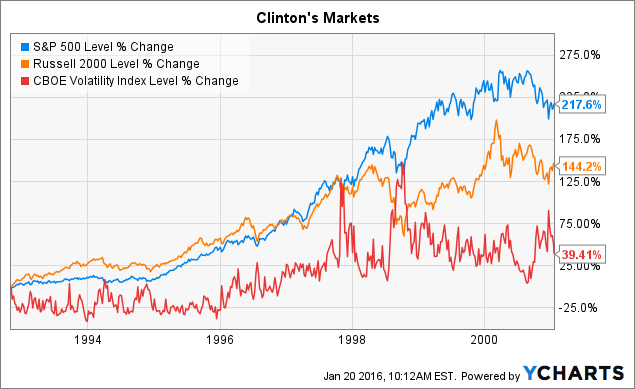 George H. W. Bush: 11/08/1988 - 01/20/1993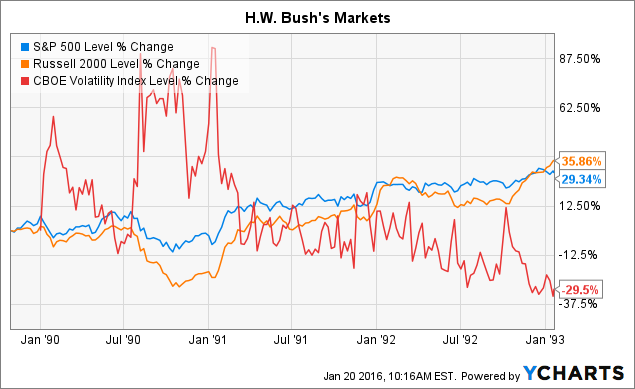 Getting Exposure With ETFs
We are just at the start of this roughly 10-month cycle of historically negative pre-election markets. Additionally this cycle shows charicteristicaly higher volatility. This means that if the aforementioned double-term phenomenon occurs this year, that investors still have time to place their bets, although the S&P 500 is down over 5% year-to-date.
Pre-election bears could use many different instruments to take this position. Selected ETFs offering short exposure to major U.S. indices are as follows:
Selected ETFs offering exposure to volatility are as follows:
VXX: S&P 500 VIX Short-Term Futures ETN
VIXY: VIX Short-Term Futures ETF
VIIX: VelocityShares Short-Term VIX Futures ETN
VXZ: S&P 500 VIX Mid-Term Futures ETN
VIIZ: VelocityShares Daily Medium-Term VIX ETN
VIXM: VIX Mid-Term Futures ETF
CVOL: C-Tracks Citi Volatility Index Total Return ETN
Conclusion
We have no idea who will be elected as our next president, but we are certain that it will be someone new. With this market uncertainty will be selling. And, as we all know selling begets selling.
As we crawl closer to the election season, we urge investors and traders alike to consider the phenomenon uncovered in the charts above. We look forward to seeing if this phenomenon reoccurs as we near November, and will make sure to publish any pertinent updates.
Be sure to read our other articles here.